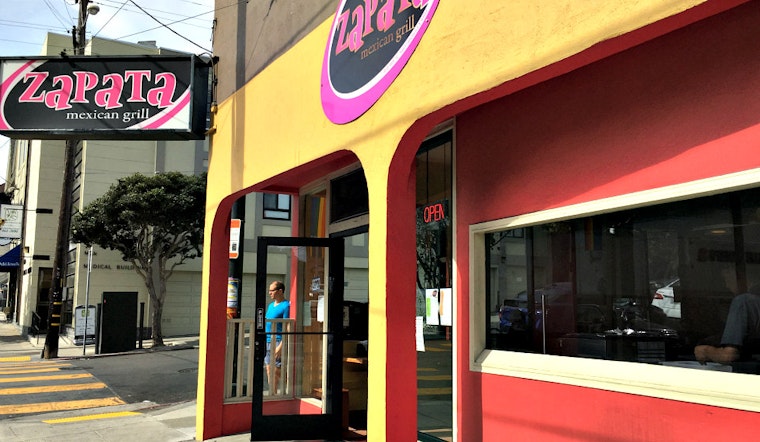 Published on August 11, 2017
After 23 years in the Castro, today is Zapata Mexican Grill's last day in business. 
According to a post yesterday on the taqueria's Facebook page, it will wrap its last burrito at 10pm tonight. Here's what owner Jorge Perez had to write:

"We'll try to keep it short and sweet this time. Zapata's last day will be tomorrow, Friday August 11th. 
We are tremendously grateful to our staff, customers and community for supporting us over the years. 
The Castro will always be a magical place of rainbows and love to us. Thank you for sharing it with our Zapata family.
"
We confirmed the news with an employee, but we were unable to connect with Perez to see if he's found another location in the neighborhood, or if another last-minute lease-extension from Natali is in the cards.
The story stretches back to 2015, when Perez announced the eatery would shutter that October. However, just days before the closing date, we reported that Perez and commercial landlord Les Natali verbally agreed to a one-year lease extension, extending the restaurant's 18th Street operation until October 31st, 2016.

Last year, Perez reportedly tried to negotiate a long-term lease with Natali (rather than month-to-month), but those talks dissolved last September. Once again, the restaurant announced it would be forced to close shop. A last-minute deal, however, was signed and Zapata's lease was extended by 10 months—the planned memorial service was turned into a party.
Today, however, the restaurant isn't celebrating.
Although it sort of is. To commemorate its long run in the neighborhood, Zapata's is offering closing-day drink specials ($2 beers and 50-cent cans of soda with an order of $5 or more). There are also $10 T-shirts while supplies last.

We'll keep you updated.
Thanks to tipster Daniel L. for keeping us in the loop on this one!