Tomorrow, San Francisco residents will elect a new mayor.
To learn more about the eight candidates on the ballot, we sent them a questionnaire asking about a wide range of issues. Click here to read all of their responses.
London Breed, President, Board of Supervisors
Why are you running in the June special election?
I am running for mayor because I believe we are in a historic moment, an opportunity to change direction, share ideas, and strengthen our city.  I want to tackle the challenges we are all facing: housing, homelessness, and public safety. I want to create a city where everyone can succeed, no matter who you are or where you come from.  
I was raised by my grandmother in public housing in the Western Addition.  My family didn't have much, but I had a grandmother who loved me and a community that looked out for me. After graduating from Galileo High School, I earned my undergraduate degree from UC Davis and went on to earn my master's in Public Administration from USF. I returned to the community and city that raised me where I served as Executive Director of the African American Art and Culture Complex. I spent a decade focused on saving and changing the lives of young people.
Having lived here all my life, San Francisco is more than just a city.  It is a place of hope, innovation, and rich diversity, a city where a girl from public housing could one day become mayor. But the city we live in now is not the same San Francisco I grew up in. We are in one of the greatest urban economic booms in a century, yet right at our doorsteps, thousands battle homelessness and mental illness. Our families, teachers, and neighbors are moving out of the city due to rising housing costs, and our cars and homes are broken into on a daily basis.
San Francisco needs and deserves a mayor who will fight and work tirelessly to tackle the biggest crises our residents are facing. Our city needs a mayor who will represent all San Franciscans. We have a responsibility to everyone; people are depending on us to work together to attack these challenges not to attack each other. I am running for mayor because I believe, together, there is no problem we can't solve, with bold and creative solutions.
Based on the last homeless census, there were 7,499 unhoused San Francisco residents in 2017. What's your plan for reducing this number?
As supervisor, when I heard we had empty public housing units and families waiting for months in our shelters, I worked to find resources to renovate those units and move 179 homeless families into permanent, safe housing. I am focused on keeping people in their homes, taking street behavior seriously and addressing mental health and substance abuse issues, and building more housing. I have committed to ending long-term tent encampments within my first year of office; because living on our streets is not safe, humane or compassionate. Keeping people housed is one of the most cost effective ways to address homelessness. I will pass and fund my right to civil counsel legislation to ensure residents have legal support when facing eviction, acquire and stabilize rent-controlled housing units, and expand rent subsidy programs to help those struggling stay in their homes.
I will also take street behavior seriously and invest in mental health and substance abuse treatment services. I created the Safe injection Services Task Force to help get IV drug users off the streets and into treatment. I consulted with medical professionals and visited safe injection facilities in Vancouver, Canada, and I am leading the effort to bring these services to San Francisco. These facilities don't just help get the needles off our streets, they also help us save lives and city resources, to the tune of $2.7-$3.5 million a year. Recently, the Board of Supervisors passed legislation decriminalizing our conservatorship programs, which will allow a court to appoint a guardian for someone who is too mentally ill to care for themselves and I am actively supporting changes on the state level to expand our ability to conserve those struggling with substance abuse, chronic homelessness and mental illness in order to get them healthy, housed and stabilized for the long term. I also plan to expand our street medicine team, hours at our shelters, build more Navigation Centers and pass a $50 million bond that would fund hundreds of modular homes.
You can read my full platform by visiting www.LondonForMayor.com. 
What are your plans for expanding the city's supply of affordable housing?
We all know San Francisco is experiencing a housing crisis; since 2010 we have built one unit of housing for every eight jobs, resulting in skyrocketing housing costs. Housing insecurity is not just an abstract policy for me, I have lived it. As a tenant in a rent-controlled apartment, who until recently had a roommate, I understand firsthand the impact that housing affordability crisis is having on almost all San Franciscans. When I was in college, my grandmother and I were told our home was being torn down and it was up to us to find a new place to live. When the public housing development I grew up in was rebuilt it had fewer units, demonstrating clearly that they did not intend for all of the families living there to return.
As mayor, my plan to address our housing affordability issues includes: protecting and expanding our our city's most valuable affordable housing stock -- rent-controlled units, and increasing funding for all types of housing preservation and creation, which includes passing Proposition D, which will provide nearly $1 billion to purchase, rehabilitate, and build affordable housing for seniors, teachers, and families. Additionally, I have committed to building at least 5,000 units per year and reforming San Francisco's archaic approval process to make it easier and faster to build code-compliant and 100% affordable housing projects. We also need to build more housing on underutilized sites all across San Francisco. I successfully negotiated the acquisition of the blighted McDonalds site at Haight and Stanyan Streets, where the city is now planning to build 100% affordable housing.  There are more sites like this one all across our city and we need to work with community and private partners to build more housing on these sites. I also plan to fund the construction of modular homes which we can build faster and are less expensive, for those individuals exiting homelessness using local labor.
You can read my full housing platform at: www.londonformayor.com
Given the increasing number of vacant ground floor retail spaces in the neighborhoods like the Castro, Richmond and other districts, should developers be required to continue incorporating them in new construction?
This is a very timely question and we've seen some excellent reporting on the issue in a few different media outlets. Retail is changing around the country in the face of ever-growing e-commerce. Certain retail uses, especially experiential ones like bars, restaurants, nail salons, etc., are doing quite well, but others like toy and clothing retailers are often struggling. This graph of retail bankruptcies is very telling, and we feel the local impacts of this national trend. We lost American Apparel on Haight Street in my district; we're losing Macy's stores. Many small, local retailers are facing rising rent and labor costs, and declining customers.  
Meanwhile, there are some large new projects with required ground floor retail that sit empty, yet to find a retail tenant, and we have neighborhoods in some parts of the city that desperately want additional retail in their communities.  I think we need to reevaluate ground floor requirements as the landscape changes and perhaps consider requiring less overall square footage—smaller, more flexible spaces instead of larger consolidated spaces. We also need to look at each neighborhood's area plan and its retail needs in working with our communities. The retail needs of the Dogpatch are different than those of the Haight and requirements for new retail in new development projects should reflect those differences.
The overall goal remains the same: 1) support the small businesses and retailers who drive an enormous amount of our local jobs; 2) create inviting, safe streets with ample foot traffic; and 3) foster vibrant neighborhood commercial corridors. How we go about achieving this, like all good policy, will have to evolve with the times. 
What are your plans for reducing the number of thefts from automobiles once you are elected? 
With an average of one car burglary happening every 17 minutes, we need to give SFPD the resources it needs to help tackle the city's property crime epidemic every day. We need to hire more police officers — and I am the only candidate who has done that in the past and will do it again. As supervisor, I helped put 400 new police officers on the street, including bilingual officers, as mayor, I will add 200 more officers to our streets by the end of 2019. The public safety challenges facing our city are personal for me. I know what it's like to have your car window broken not once, but repeatedly, even when you had nothing inside to steal. I've already written legislation to curb car break-ins in tourist hot spots and commercial corridors, through collaboration with rental car companies, but we need to do more.
There must be real consequences for those who commit crimes in our neighborhoods. I will add more neighborhood prosecutors in our district stations to work with residents, crime victims, and police, to prioritize and prosecute these crimes. I will reform the Public Safety Assessment (PSA) system so that the worst re-offenders are not mistakenly released just to victimize residents again. If someone is charged with a felony home or auto burglary, for example, they should at least have to go before a judge before being released. I will also introduce legislation empowering the City Attorney to pursue repeat offenders in Civil Court, so that if the criminal justice system doesn't stop them, a lawsuit will. I did this already with graffiti offenses and it is working.
You can read my full public safety platform at www.Londonformayor.com
How frequently do you ride Muni, and what's your top priority for improving service?
I've ridden Muni my entire life. As a kid, I remember taking the bus with my friends to buy my first pair of jeans in the Mission. We need a mayor who will champion public transit, because it's the smart thing to do. I have a strong record on transportation policy at the Board, having led the effort to replace hundreds of old MUNI buses and trains with newer, cleaner, and more efficient models, and working to preserve and launch some of our most-used lines, including the N-Judah and 5 Fulton Rapid. I co-sponsored the legislation to develop a Subway Master Plan so the City begins planning for new subway lines.
We need to make public transit more reliable and, frankly, a more attractive option for more people. Muni moves through our city at an average of about 8 MPH, with frequent bunches and gaps, and far-too-frequent delays. I will reduce switchbacks, upgrade "Nextbus" arrival predictions, and improve Muni vehicle and station cleanliness.  I will champion Muni's efforts to get buses and trains separated from traffic and to time signals and locate transit stops so Muni can move faster and more reliably. And I will hire more police officers and tackle our homelessness crisis, so waiting at a Muni stop is not a harrowing experience.
I will work with Muni to phase out diesel fuel and get ALL of our buses running on 100 percent clean electricity, setting an ambitious goal to make EVERY City vehicle zero emission by 2030.
You can read my full transportation platform at www.londonformayor.com
Many small business owners we interview complain about the city's permitting and approval processes. What are your plans for making it easier for San Franciscans to become entrepreneurs? 
What makes this city special is that we are a city of neighborhoods and our neighborhoods are formed by our small businesses and merchant corridors.  I have gone to the same dry cleaner for decades. City Hall has a reputation of being anti-small business — I am not.
As supervisor, I passed legislation to protect music venues, led the effort to re-activate the famous Harding Theater on Divisadero Street, and wrote legislation getting rid of outdated laws to help three small businesses open, including one which is activating the Harding Theater.
The way we change City Hall's reputation is to make the process easier for small businesses to start, grow, and survive. We know we ask a lot of small businesses in this city, and we know it's expensive to operate here. The least we can do as leaders is make the process work better for our small business owners by reducing red tape and onerous fees. I think it takes too long to open a business in San Francisco or just make a minor change. The Ice Cream Bar in Cole Valley was a perfect example. It took them two years to open because of numerous fees and permits. Two years just to open a small neighborhood ice cream store! This is unacceptable. A business shouldn't take years to open or months to add outdoor seating.
What I want to do as mayor is streamline things for the small guys by comprehensively evaluating all small businesses fees and permits to ensure we don't layer small businesses with unnecessary fees and costs; ensure there are construction mitigation efforts in place so our small businesses can continue to run while we make needed infrastructure improvements, and streamline our permit processes.
As mayor, small business will have a voice with me and I will be focused on helping small businesses throughout this city thrive. 
Please share a candid photo you took in the last week with your smartphone; not necessarily a campaign event, but just something interesting you saw in the city.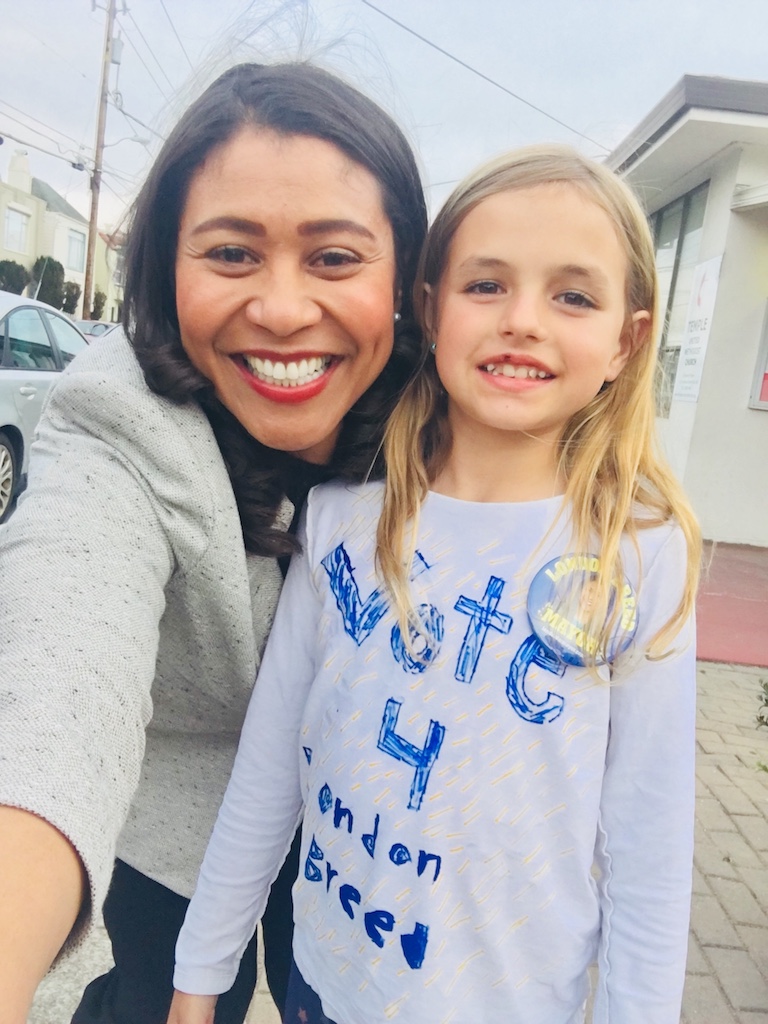 Late Mayor Ed Lee's Middle School Leadership Initiative aims to support STEM education. How do you plan on continuing his legacy?
As an alumna of San Francisco's public education system, I know how important it is to improve our schools. My high school French teacher, Madame Z, played an instrumental role in getting me to college. When I was a junior at Galileo High, I was scheduled to go back East to visit historically black colleges. One day I came into Madame Z's class crying and told her I couldn't go on the trip because there was no money to pay for it. She pulled me aside after class the very next day. "Pack your bags," she said.
Madame Z's friend, Karen, a woman who had never even met me, gave my teacher a blank check and said, "London is going on that trip." And so I went. It was my first experience seeing people who looked like me, people who could be my own peers, actually going to college. I walked those campuses and knew success was not impossible, not for them, not for me.  Madame Z showed me that. Later, I received my bachelor's degree from UC Davis and eventually my master's degree from the University of San Francisco.
Without the mentorship from public school teachers like Madame Z, I would surely not be where I am today. To make sure that our children are receiving a top-notch education, they need to have quality teachers.  Unfortunately, our housing crisis is making it increasingly difficult to attract and even keep high-caliber teachers; it is nearly impossible to live in the city on a current teacher's salary. We need to make it more affordable for teachers to live here, and start paying them more. As mayor, I will fight to raise teacher salaries; create more affordable housing; and make housing accessible to teachers through our Small Sites Acquisition program, rent subsidies, and down payment assistance programs.
As the Executive Director of the African American Art and Culture Complex, I took a failing center and transformed it into a thriving haven for afterschool and summer programs, extracurricular and theater classes, mentorships, tutoring, and support for kids from all parts of San Francisco. As mayor, I want to include those same types of programs on a larger scale, so that no child gets left behind.  
I plan to reform the school selection process with a focus on prioritizing neighborhood schools. Kids and families should be able to walk to school in their community, as my friends and I did when I was a student.  I also plan to launch universal pre-K; provide mental health and wellness services for students; and secure the necessary funding for our public schools.
One of the most exciting parts of my plan as mayor is the opportunity to create pathways for students to get jobs after they have graduated from our public schools, and while they are still attending them. I will work with our local industries from the healthcare and technology sector, and the city to secure paid internships for any high school student who wants one. We need to connect the dots between our local talent right here in our own backyard and our economy. We have thousands of extremely talented students in our district who have tremendous potential, and what they need are more concrete pathways towards gainful employment.
You can read my full education platform at www.londonformayor.com
Do you own or rent?
I have been a renter all my life and currently live in a rent-controlled apartment. 
What's your favorite piece of public art?
There are so many great options all around our city. Some of my favorites are the beautiful murals that line the alleyways in the Mission District.