Tomorrow, San Francisco residents will elect a new mayor.
To learn more about the eight candidates on the ballot, we sent them a questionnaire asking about a wide range of issues. Click here to read all of their responses.
Mark Leno, Small Businessperson
Why are you running in the June special election?
San Francisco is at a defining moment in our history. With the crises of housing affordability and homelessness out of control, the economic growth in our city is squeezing San Franciscans more every day. I believe that our city can and should be doing better. I'm running for mayor because we need a leader who will take on the special interests, lobbyists and their Super PACs who have too much influence at City Hall. We can't settle for caution and status quo solutions. We need a mayor who will think big, reject cynicism and demand results. Above all, we need a mayor who will bring people together to get things done. If elected mayor, I intend to shake things up.
I am the only candidate in the race who has not only served on the Board of Supervisors, but has also served 14 distinguished years in leadership roles with an accomplished legislative record in both the Assembly and the Senate. Throughout my 18 years of public service, I have successfully undertaken some of the hardest-fought battles and most impactful policymaking by uniting stakeholders, advocates, community members, policymakers, and innovators to come up with effective solutions. I am proud of my record as a coalition-builder, and believe that this will be key to continuing healthy and constructive relationships. I have championed and fought for universal healthcare for all, renters facing unfair eviction and securing $120 million in emergency stabilization funding for City College when enrollment dramatically dropped and the future of our public institution was at risk. I've passed landmark legislation establishing our state's $15 minimum wage, created our city's first inclusionary affordable housing law, and solidified protections and equal rights for many who face discrimination.
I will work with all stakeholders, as mayor, to create a vision for our city — to balance stability in our neighborhoods, engage the community and collaborate with supervisors across the city, maintain economic, racial and cultural diversity and lead the way for smart growth and planning with our regional partners. Undertaking this delicate balance of competing needs can only move forward if we maintain an open dialogue with various stakeholders, have strong leadership and don't settle for the status quo. 
Based on the last homeless census, there were 7,499 unhoused San Francisco residents in 2017. What's your plan for reducing this number?
For far too long, the city has not treated our homeless problem as a public health issue. Our city's homelessness crisis is out of control and often the result of mentally ill and addicted residents being left on the streets, untreated, then shuffled in out of our criminal justice system.
I will focus relentlessly on the crisis of homelessness, to provide shelter and end street homelessness by 2020. I support a new mental health justice center so that those in need of mental health services will no longer be recycled through our criminal justice system, or left to fend for themselves on our streets. Given that 40 percent of our jail inmates receive mental health services, our county jail is currently the largest mental health provider in the county. That is unacceptable and I'm committed to ending this trend.
Please refer to my detailed and serious plan to end street homelessness by 2020, which can be found at MarkLeno.com/issues#homelessness
What are your plans for expanding the city's supply of affordable housing?
For decades, the Bay Area's housing supply has not met its demand. When it comes to housing in San Francisco, we need to think big. As mayor, I will work to create, build and refurbish 5,000 low-income, workforce, and supportive housing units annually. It's time to think bigger and think out of the box - that means thinking regionally, and even statewide. You can read the entirety of my housing plan at MarkLeno.com/issues#housing.
Given the increasing number of vacant ground floor retail spaces in the neighborhoods like the Castro, Richmond and other districts, do you believe developers should be requires to continue to incorporate them in new construction?
Yes, developers should be required to incorporate vacant ground-floor retail spaces into new construction. There should be feasibility studies and proposals that set parameters around the level of reasonable rent increases on vacant units and stops speculation-fueled rent increases.
What are your plans for reducing the number of thefts from automobiles once you are elected? 
Every victim of a car break-in should have the opportunity to have their case investigated. Currently, that isn't happening. When a car break-in occurs, SFPD needs to have the tools and resources at their disposal to respond swiftly and diligently. Instead, victims of car break-ins who report a crime to SFPD are directed to file an online police report.
Clearly, this response is not meeting the needs of our neighborhoods. As we work to better prevent these crimes from happening, we must do everything we can to catch perpetrators and enforce consequences -- this will help to reduce crime rates by showing repeat offenders that we're serious about stopping them. If we know that 70 percent of those committing car break-ins are repeat offenders, working to solve crimes and catch perpetrators is the best shot we have at curbing this epidemic.
Every SFPD patrol car should have a fingerprint kit to use at crime scenes when a break-in is reported. Cities like Los Angeles are already doing this. As Mayor I will work with SFPD to encourage the implementation of this policy. Even a low rate of 1-2 percent matches could result in the apprehension of hundreds of offenders, bringing crime rates down and providing some much-needed relief to San Franciscans.
How frequently do you ride Muni, and what's your top priority for improving services?
I'm on Muni every day — I love my Clipper card!
MUNI needs a new and dedicated revenue source for both capital improvements and ongoing operations. I worked for years in the legislature to grant San Francisco the authority to ask our voters whether or not to restore their own vehicle license fee to where it had been between 1947 and 1997. This effort had the universal support of the San Francisco Chamber of Commerce, SF Labor Council, the entire Board of Supervisors, and the Mayor. It could provide $80-million that I would like to see directed towards MUNI, and will lead this charge should I become mayor.
I am also a dedicated proponent of expanding our subway system as our street surface opportunities are at capacity. Without a more comprehensive and reliable subway system, our surface congestion will only get worse. This will successfully complement a new Transbay tube, which can extend a subway line out Geary Blvd., as well as to Mission Bay.
Many small business owners we interview complain about the city's permitting and approval processes. What are your plans for making it easier for San Franciscans to become entrepreneurs? 
I am a 40-year small business owner, I am well aware of the assistance and support that small businesses need to thrive in our economy. When I served on the Board of Supervisors, I created the San Francisco Small Business Commission. In 2015, I also supported Proposition J which established the Legacy Business Program.
Today, one of the greatest roadblocks to the expansion and success of our small business community is the difficulty many face when working their way through our permitting and approvals processes. No small business owner or prospective entrepreneur should have to hire an expediter to do what city government itself should be doing. Far too often I've heard from small business owners who find themselves forced to pay for services that city government should provide. As mayor, I will be looking closely at the many hurdles our small business community faces, including the permit and appeals processes.
Rising commercial rents have driven many small businesses out of business, leaving vibrant corridors with an abundance of vacant storefronts throughout the city. Furthermore, delays and construction costs on transit improvement projects have been a major source of frustration - for residents, merchants and visitors. As a small business owner, I absolutely understand the negative effects merchants in the impact zone are facing.
One of my first priorities will also be to ensure there is a small business voice on the SFMTA, where the lack of small business representation is so clearly hurting our small businesses citywide. One example of this impact can be seen in the ongoing delays of the Geary BRT. Small business owners and prospective business owners along Geary struggle with the uncertainty of the completion of a project which would greatly affect their ability to attract and retain customers amid construction. SFMTA should be working with business owners to ensure important decision-making takes into consideration the impact on merchants and merchant corridors.
Please share a candid photo you took in the last week with your smartphone; not necessarily a campaign event, but just something interesting you saw in the city.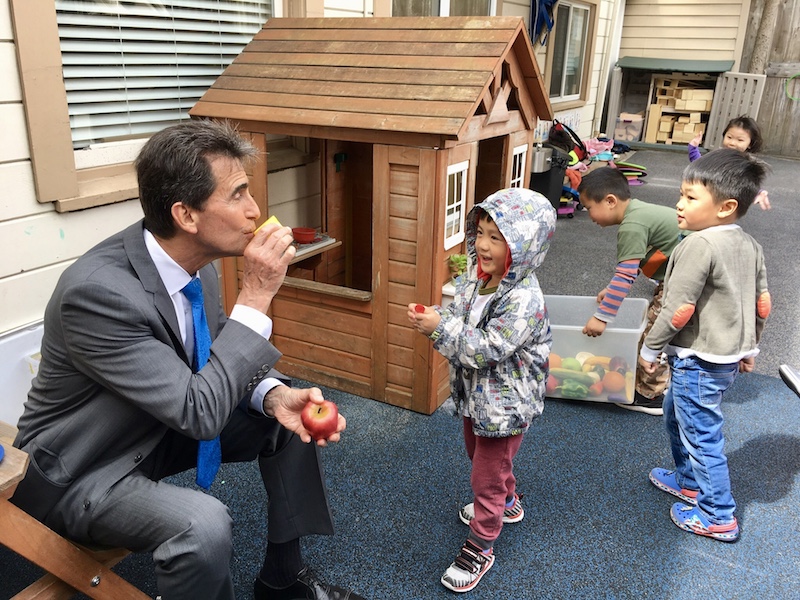 Late Mayor Ed Lee's Middle School Leadership Initiative aims to support STEM education. How do you plan on continuing his legacy?
As mayor, I will work with school board members, teachers, administrators, parents, the Youth Commission, and youth-serving nonprofits in order to certify that our curriculums are appropriately preparing students to appreciate different perspectives, life experiences, and cultural histories. Additionally, I will ensure that our city continues to invest heavily in public-private partnerships so that our most vulnerable students aren't falling behind.
Using the Long Beach Promise as a blueprint for success, I will renew the San Francisco Promise to ensure that all San Francisco students are set up for academic excellence by increasing access to and streamlining the funding structures for school resources, academic counseling, and after-school programs, essentially giving a boost to college-going activities for all students but with particular emphasis in those who historically do not attend at the rates we would like them to – our African American, Latinx, and Pacific Islander students. Please refer to my plan on education, which can be found at MarkLeno.com/issues#education
Do you own or rent?
Shortly after moving to San Francisco in 1977, I was able to borrow a small sum of money to open my own small business, and four years later bought my home in Noe Valley where I've lived since 1981. 
What's your favorite piece of public art?
Moraga Steps.