Tomorrow, San Francisco residents will elect a new mayor.
To learn more about the eight candidates on the ballot, we sent them a questionnaire asking about a wide range of issues. Click here to read all of their responses.
Michelle Bravo, Holistic Health Practitioner
Why are you running in the June special election?
I am firmly against Taser weapons and spoke out publicly numerous times last year. Please see my No Tasers page on my campaign site.
I've been worried about the state of San Francisco, the filth, excrement, urine and seeming increase in transients. It seems the administration under the late Ed Lee is more concerned about economic interests over the care, cleanliness, safety and other pressing issues of San Franciscans. Rather than continuing to complain about things, I decided to take action and run for mayor. I'm glad I did.
As a sixth-generation Californian who grew up in the Sunset District, attended Abraham Lincoln High School and was former Student Representative to the San Francisco School Board for all public schools, it has always been a dream of mine to be mayor of San Francisco.
Based on the last homeless census, there were 7,499 unhoused San Francisco residents in 2017. What's your plan for reducing this number?
San Francisco owns 54 parcels of land, 8 of which have buildings. One of the biggest opportunities I see is to turn this transient/homeless issue around by working with the state of California and the federal government, utilize our state's budget surplus to fund and build a holistic mental health & wellness facility on one of the 54 city-owned properties. This premier medical facility would set San Francisco apart as a leader in training holistic health teams of doctors, nurses, social workers, psychotherapists and career counselors who are all, like the SFPD, well versed in de-escalation tactics.   
Placing transient individuals into temporary housing like we see during natural disasters built near this mental health and wellness facility and holistic health teams would allow access to immediate care for addicted, mentally ill, and physically disabled individuals who are currently on our streets unhoused. Once again, we could use any of the 54 parcels of land for transitional and eventually permanent housing. Permanent housing would be micro-apartments that are easy to keep clean, manage and the individuals receiving an apartment would need to check-in with the wellness teams on a periodic basis to ensure they stay on the straight and narrow in terms of taking responsibility for their bodies and thus the homes they're issued. Period.
Permanent housing would only be available to those who had received treatment and are able to self-responsibly care for themselves and thus the home they'll be living in. For those who've managed to make their way successfully through the holistic mental health and wellness facility and/or are willing to work with these holistic health care teams and thus the city and county of San Francisco to better their lives, these individuals could then work with career counselors and other specialists to help them integrate back into society.  If they're unable to do so due to severe mental illness, the county may need to look into other resources outside of San Francisco like [Department of State Hospitals, Napa].
For those who are "hardcore" transients who refuse care, have a police record and/or are creating a menace, danger or other physical harm toward San Franciscans, and willfully choose do so to themselves, they would be housed in a different area, banded with leg bands to monitor their activity by the SFPD and would work with teams of individuals who specialize in this area of hard-core homelessness/transiency issues. San Francisco needs to get OUT of the business of "homelessness," and into the business of creating, documenting and regularly auditing all programs receiving City funding to ensure the programs actually WORK.
For most of those on the streets, I envision teams of medical and career counseling professionals would work with the SFPD to permanently get transient individuals off the streets and moving forward into healthy, productive lives as contributing citizens. All of this would be documented and analyzed to ensure effectiveness for future budget expenditures. Please refer to my campaign website which further confirms some of my ideas for reducing the number of unhoused residents: 
What are your plans for expanding the city's supply of affordable housing?
As San Francisco mayor, I would mandate sixty percent or more of first responders, cops, firefighters, EMT's and other municipal workers to live in San Francisco by 2025. For the purpose of long term infrastructure, better service and safety of all San Franciscans we need our cops and firefighters to live and vote in San Francisco alongside members of the community they are paid to serve. Connection to our community and physical proximity and access to San Franciscans especially in the event of a major earthquake must be made mandatory.
As mayor, I will hold ALL developers accountable to the city of San Francisco so they supply enough middle class income rate homes for first responders to buy. Low-interest home loans, opportunities for tax breaks and other incentives would be part of my plan as mayor. My goal is to reseed the middle class in San Francisco by giving priority housing benefits for our municipal workers first thus re-introduce the middle class back into our community. How many homes are "enough," is TBD given my plan is contingent on getting all first responders to live in the city.
Given the increasing number of vacant ground floor retail spaces in the neighborhoods like the Castro, Richmond and other districts, do you believe developers should be requires to continue to incorporate them in new construction?
As mayor of San Francisco, I would work with developers to actually put together a plan to see what retail services are needed in the neighborhood, i.e. grocery stores, restaurants, etc. and then work to recruit businesses with incentives from developers to open their store once the units have been sold.  
I don't have enough information to really comment on why this is currently a requirement.  Since we're definitely in need of re-seeding the middle class and I'm advocating doing so with first responders, why not include more middle-class rate affordable units that are, similar to BMR's, specifically set aside by developers for cops, fire fighters, EMT's, teachers and other important city workers who are the backbone of our community? We need better infrastructure and preparedness when it comes cops and firefighters actually living here especially during a natural disaster like an earthquake. If the retail spaces are not necessarily a good fit for certain developments, I say that space should become more housing toward bringing back the first responders to live in San Francisco.
What are your plans for reducing the number of thefts from automobiles once you are elected?
"In an effort to prevent the crimes before they even start, San Francisco police will increase training and resources for fingerprinting services, including the training of up to 36 members to fingerprint at all 10 district stations. With the increased training, police will be able to have a stronger fingerprint database, resulting in more efficient ways to solve the crimes and also catch serial vehicle burglars. By requesting that their vehicles be fingerprinted, auto burglary victims can help our investigators develop leads on these types of cases," Scott said in a statement. In addition to the increased police efforts, Farrell and Scott announced the "Park Smart" campaign that is geared toward tourists to remind them not to leave valuables in unattended vehicles." (San Francisco Examiner, 4/12/18). 
I would continue to allow Chief Scott, or his future replacement should he return to LAPD, to work with officers to do exactly what the above news source stated. Perhaps installing cameras along the most hard-hit areas might help to further reduce theft.
How frequently do you ride Muni, and what's your top priority for improving services?
Due to the fact that our transient populations current use MUNI as a public toilet and mobile home and we've sketchy and unreliable MUNI service, I don't take MUNI at all nor do my clients nor does really anyone I speak with these days. I've actually encountered on my drive, either on my 1980's scooter or car, into work three MUNI buses blow by me that were completely empty in the morning on a workday.  
My priority as mayor would be to have an independent audit of the entire MTA, especially regarding the tunnel through Chinatown and probably fire the current MTA Director for his poor performance. I would put ALL management and directors on notice. They would then work with the independent auditors to determine what the "fixes," are, how much they'll cost and whether or not the organization is staff-heavy and cuts need to be made in order to work out better efficiencies.  
I would incentivize safe driving as well as work with the MTA to find out which lines are most efficient, on time (or mostly on time) and also work to improve better access for outlying neighborhoods for Visitacion Valley, Bernal Heights & Bayview districts. 
Many small business owners we interview complain about the city's permitting and approval processes. What are your plans for making it easier for San Franciscans to become entrepreneurs?
My priority as mayor would be to have an independent audit of the entire permitting and approval processes at City Hall. Any inefficiencies would be documented. I would put ALL management and directors on notice of review. They would then work with the independent auditors to determine what the "fixes," are, how much they'll cost and whether or not the organization is staff-heavy and cuts or early retirements need to be made in order to work out better efficiencies. I would get whatever feedback I could from small businesses to find out what's most irritating, slow or simply inefficient and work to resolve those issues.
Please share a candid photo you took in the last week with your smartphone; not necessarily a campaign event, but just something interesting you saw in the city.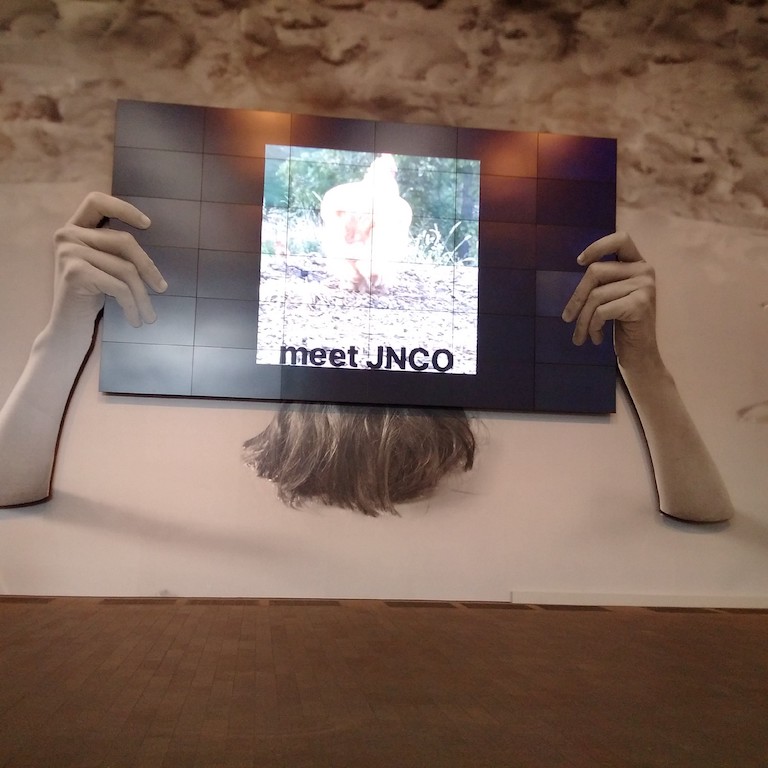 The Meet JNCO photo is from the De Young Museum exhibit, "Cult of The Machine." My husband and I had just arrived, he had to use the bathroom so I waited in front of the pictured exhibit dressed in some comfy JNCO khaki jeans from the mid-90's. I had spoken to only my husband and web designer about an inspirational idea I had planned for the next mayoral forum to speak out against Taser weapons. It involved playing, very loudly, the sound of a human heart beat to emphasize how Tasers can actually cause cardiac arrhythmia and death with either myself or another person in the audience holding up a boom box, a la this well-known image from the 80's movie, "Say Anything."
The image was very strong in my mind for the last few days and nights prior to arriving at the museum. We had no idea what exhibit was there we just thought it was time to get out of the house to do something other than play videogames!  We walk into the DeYoung museum, me in my khaki JNCO jeans, this image burning in my mind, and suddenly there's this video that pops up with a voice that states, "Meet JNCO!" and it's an image of a khaki-colored chicken! I quickly took three photos of the image of this chicken and the word JNCO and showed it to my husband and several other people including my web designer at the museum.
I teach my clients per my trademarked methodology, "The Body Astrology," that the physical BODY not the universe is the attractor of all people, things, etc. to you. 
As you can see, the image of the "person" holding up the screen, which you can go to the museum and see for yourself, is very much like the John Cusack one from Say Anything.  
JNCO = Judge None Choose One  The jeans were known as raver-jeans or skater jeans and were unisex…which actually goes well with the De Young exhibit where I took the photo!
Late Mayor Ed Lee's Middle School Leadership Initiative aims to support STEM education. How do you plan on continuing his legacy?
I would meet with the SFUSD to discuss the long term plan for STEM education and ask for regular community input on how the program can be improved.
Do you own or rent?
I'm a homeowner in District 10.
What's your favorite piece of public art?
Right now? The image of the art exhibit I just shared with you per the phone photo! LOL!