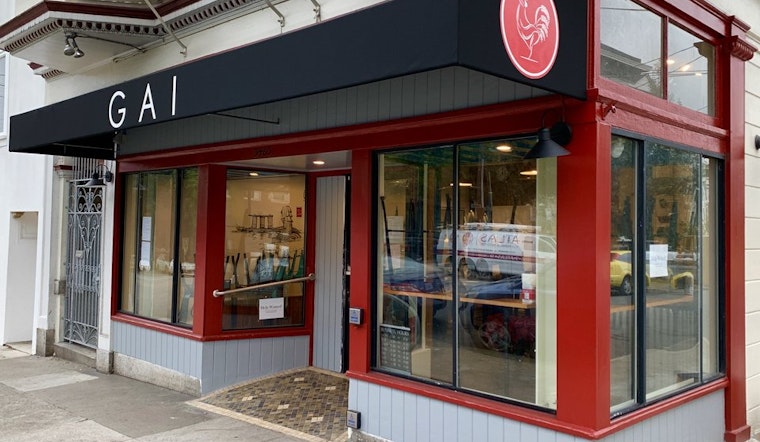 Published on December 05, 2018
Gai, the Castro's new fast-casual chicken-and-rice restaurant, is set to open this Sunday.
Back in October, we announced the new restaurant would be taking over the space previously occupied by Sofia Café (3463 16th St., at Dehon). 
Gai (pronounced "guy-ee") means "chicken" in Thai, Vietnamese and Cantonese. It will serve a classic dish in all three cultures: poached chicken with rice, a selection of sauces, and soup on the side. 
Customers will first choose a base of white rice with chicken drippings, brown rice or salad, followed by a protein — tofu, chicken thighs and breast, or only chicken breast. It's finished with one of three sauces: Hainan onion-ginger, Vietnamese Hoi An sweet and sour, or Thai soy sauce.
During the soft-opening phase, a chicken-and-rice meal will go for $10.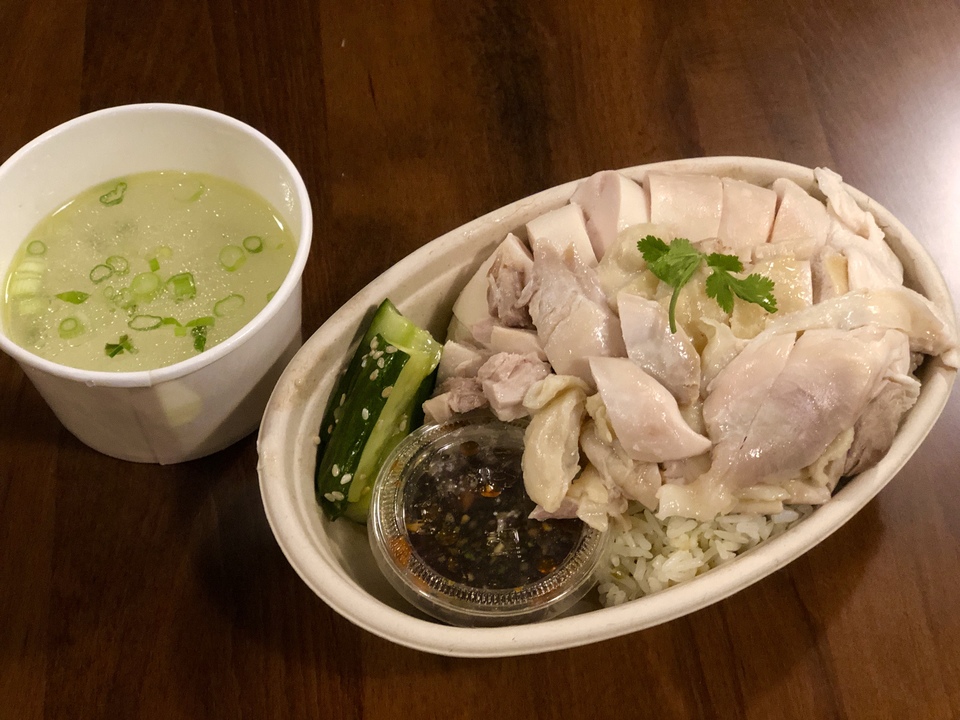 "We're going for something nostalgic," first-time business owner Kevin Lieu says of the restaurant's signature dish, noting that he's designed the menu to operate on a no-food-waste model passed down from his mother. 
After the chicken is poached in water, Lieu uses the resulting broth to cook the rice, and dresses the resulting "chicken rice" with leftover chicken drippings. Any leftover meat is rendered into the broth to make it more flavorful. 
"Every single part of the chicken is used," he said. "Back then, we would just use one pot to make everything, but with technology today, we can achieve the same thing."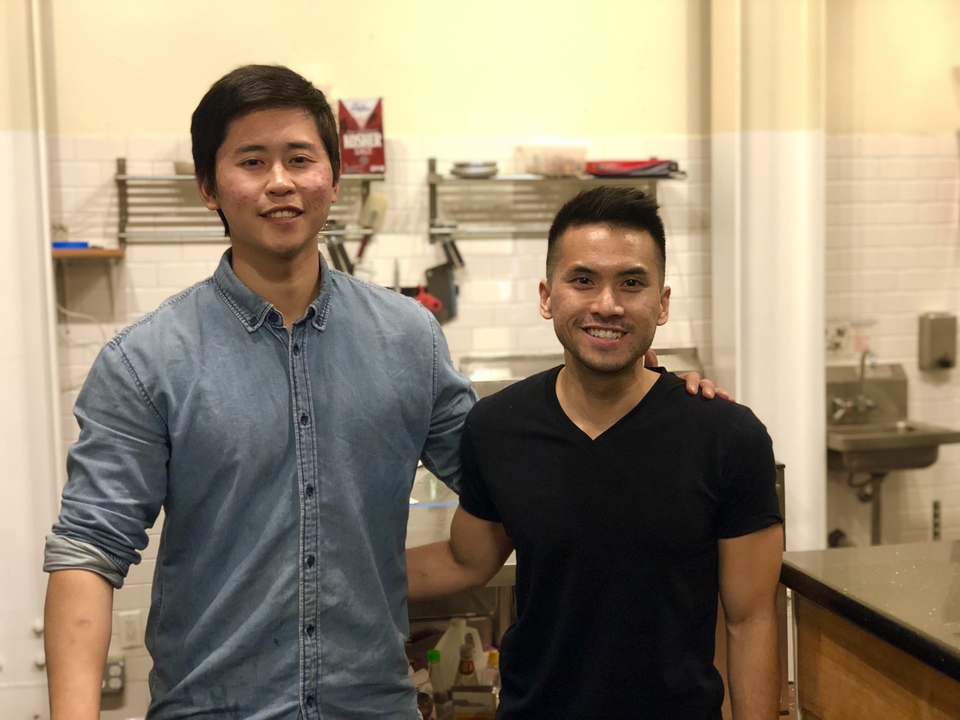 Once Lieu gets settled in, he said he plans to expand his menu to add more snacks and sides. For now, there are a few smaller options, like cucumber salad, sticky rice, and five-spice-roasted nuts. Diners can also order the chicken soup on its own. 
Currently, five wines and four draft beers are available, as well as soda. Lieu hopes to add sake cocktails in the future.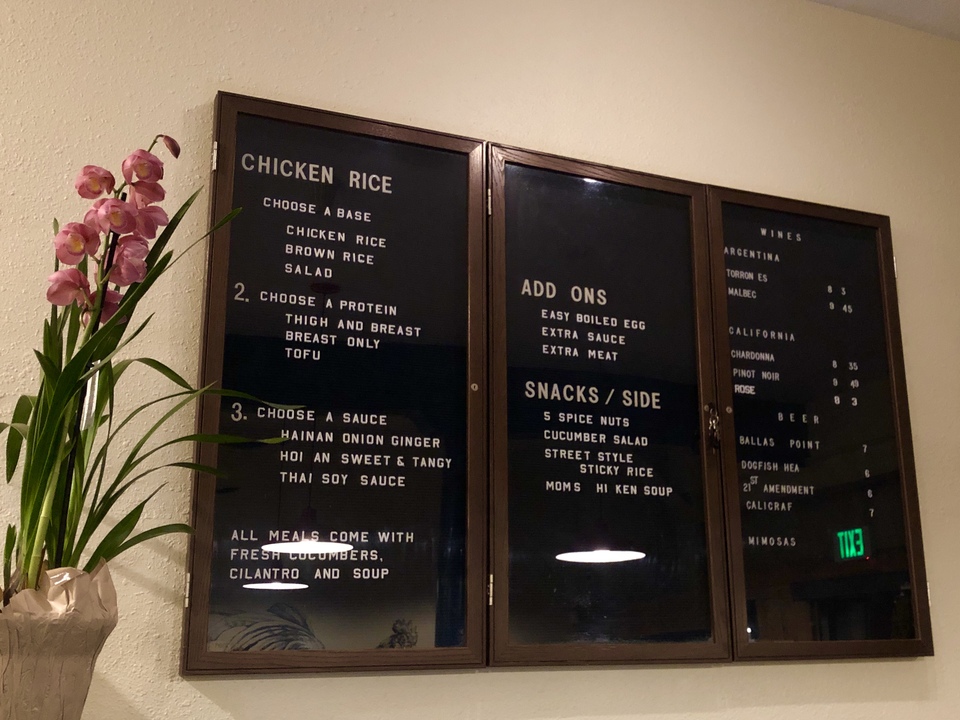 The restaurant also boasts a new mural, depicting the origins of chicken rice in Hainan, China. 
"Through the years it traveled through Southeast Asia and multiple locations, like Singapore, with different variations based off of the local ingredients," Lieu explained. 
While Lieu, a Sunset resident, initially told Hoodline that Gai would open in October, construction delays caused its opening date to be pushed back.
"It took us a longer time to renovate the space than we projected," Lieu explained. "And we wanted to put in the right amount of time testing the kitchen and the menu."
He also wanted to enough time to properly hire and train staff — though he's still looking to fill a few more positions at all levels. (Interested parties can email [email protected].)
Starting this Sunday, Gai will be open seven days a week, from 11 a.m. to 9 p.m.