As children, Diandra Thompson and Liza Fernandez were fascinated by martial arts.
Fernandez watched the 1984 classic "The Karate Kid" when she was around 5-years-old, and the next day, signed up for karate lessons at Lama's Kenpo Karate (461 Cortland Ave.) in Bernal Heights.
Thompson, who also grew up in the neighborhood, had an affinity for the movies, too, and was a big fan of the "Power Rangers" and the "3 Ninjas" franchises.
Thompson was 8 years old when she joined Lama's Kenpo Karate, and the pair became fast friends.
"Once we [met] and got to know each other, we clicked instantly," Thompson said of their friendship. 
And while the duo was initially attracted to the principles learned in class, like discipline, respect and how to defend themselves, what kept them coming back for more was the family environment fostered in the studio, said Thompson. 
"Even as kids, we were always close with our classmates and our instructor, and that has carried on into adulthood," she said. "We were always taught that yes, we may bicker and argue from time to time, but at the end of the day, we are family." 
But as the story sometimes goes, "life takes you in different directions," Thompson said, and there was a period of time the duo had lost touch with each other. 
And Maurice Lama, their beloved instructor and owner of Lama's Kenpo Karate, had outgrown the space on Cortland Avenue and relocated the studio to San Bruno.
Fernandez worked at the new space for a spell, but ultimately Lama decided to return to San Francisco. Upon reopening, he tapped Fernandez to manage the school. 
Thompson learned of the news and came by the studio one day to simply say hello and reconnect, but Fernandez offered her a job instead. She needed some temporary help with office work and Thompson obliged. But what was intended to be temporary, turned into roughly five years of employment.
"We fell right back into the swing of things," said Thompson. 
In 2015, Lama announced to the pair that he wished to retire and wanted them to take over and "come up with a new name and a whole-new identity," Thompson said. 
Now, the studio is known as FTK, short for Fernandez Thompson Kenpo. 
At FTK, they teach students as young as 4 years old, and there are family classes for parents and children to learn together. They're also hoping to add self-defense programs for women and teens in the near future, too, said Fernandez. 
But Thompson and Fernandez said their work goes beyond the studio as well. They check their students' report cards and progress reports to make sure they're succeeding in school.
And if a student needs a ride, "we'll also pick them up after school and bring them to the studio," Fernandez said. "And if they're struggling, we'll hang out with them after class," Thompson added. 
"Sometimes they feel more comfortable talking to us than their parents or teachers," Fernandez explained. "We are also counselors and tutors to them. They see us as a confidant, not just instructors." 
"There have been many nights when we've been on the phone talking kids off of metaphorical ledges," quipped Thompson. "We have a bleeding heart for these kids; they are a big part of our lives." 
Once Thompson and Fernandez took over the studio, they immediately realized that the space needed some upgrades. 
"We wanted to make the space special and brighten it up," Thompson said. "And renovations needed to be done, so, there was more an urgency [to secure additional funding] to be able to do what we wanted to do."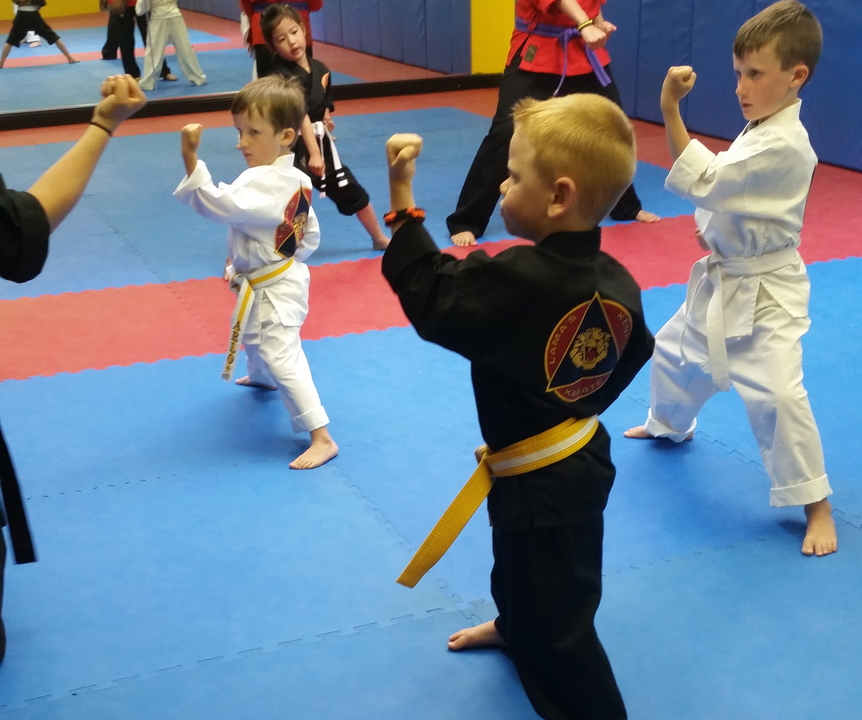 And they needed help with branding and marketing their new business. In the martial arts community, it's often tough for women-owned businesses and instructors to be taken seriously, they said. But they see it as an advantage, as families feel comfortable dropping off their children in their care. 
Earlier this year, FTK received the leg up they needed. The business won a $5,000 women entrepreneurship grant from the Office of Economic and Workforce Development (OEWD) to help. 
OEWD introduced the grants earlier this year, which aim to support women entrepreneurs who wish to expand operations, finance new projects, make improvements to facilities or create additional marketing campaigns.
So far, the funding has helped move the business forward significantly, Thompson and Fernandez said. They've used part of the cash for branding and marketing efforts, ripped out old carpet and installed hardwood floors, and have upgraded the restrooms.
"We also brought in a new computer because our previous one was on its last leg," Thompson said. 
The money also came at a time when "we've come up against a few other hiccups as well," she explained. An unidentified car crashed into the wall of the studio one Saturday night then fled the scene. "Someone hit the gas instead of the brakes and hit the wall, so, we have to pay for that to fix it as well," Thompson said. 
Thankfully, their landlord is also their head instructor, Thompson added. While Lama gave them the business, "He's never left our side," she said. "He's taking care of [the damage] as best as he can." 
Looking ahead, FTK's owners hope to groom a future generation of kenpo instructors. "We'd love for the kids that we teach — some of whom are becoming black belts — to have them on staff to teach while we take care of the business end, to provide a paycheck for them," Thompson said. 
"We have a lot of teens in the neighborhood that we keep in contact with," she added. "Just because you're not a student anymore, doesn't mean we don't care about you."