DT, short for "Double Trouble," is an 11-year resident of the Hotel Iroquois, a single-room-occupancy hotel at O'Farrell and Larkin streets in the Tenderloin. Living on disability benefits after three hip replacements, DT has found an affordable home at the Iroquois, which is owned by the nonprofit Community Housing Partnership (CHP) and provides supportive services and community to 63 individual residents and 11 families in need.
DT knows that many San Franciscans have misconceptions about SROs like the Iroquois. But "just because we live here, doesn't mean that we don't have nothing," he emphasized. "We're people too."
That's why DT and other Iroquois residents will be inviting an audience into their homes this weekend, as part of an innovative performance art piece developed in partnership with community-based arts organization Skywatchers.
Over the past eight years, Skywatchers has worked with tenants in supportive housing sites across the Tenderloin to create innovative performances about their lives. But its newest piece, titled "Inside Hotel Iroquois," is unique, marking the first time Skywatchers' work has been presented directly inside a supportive housing site.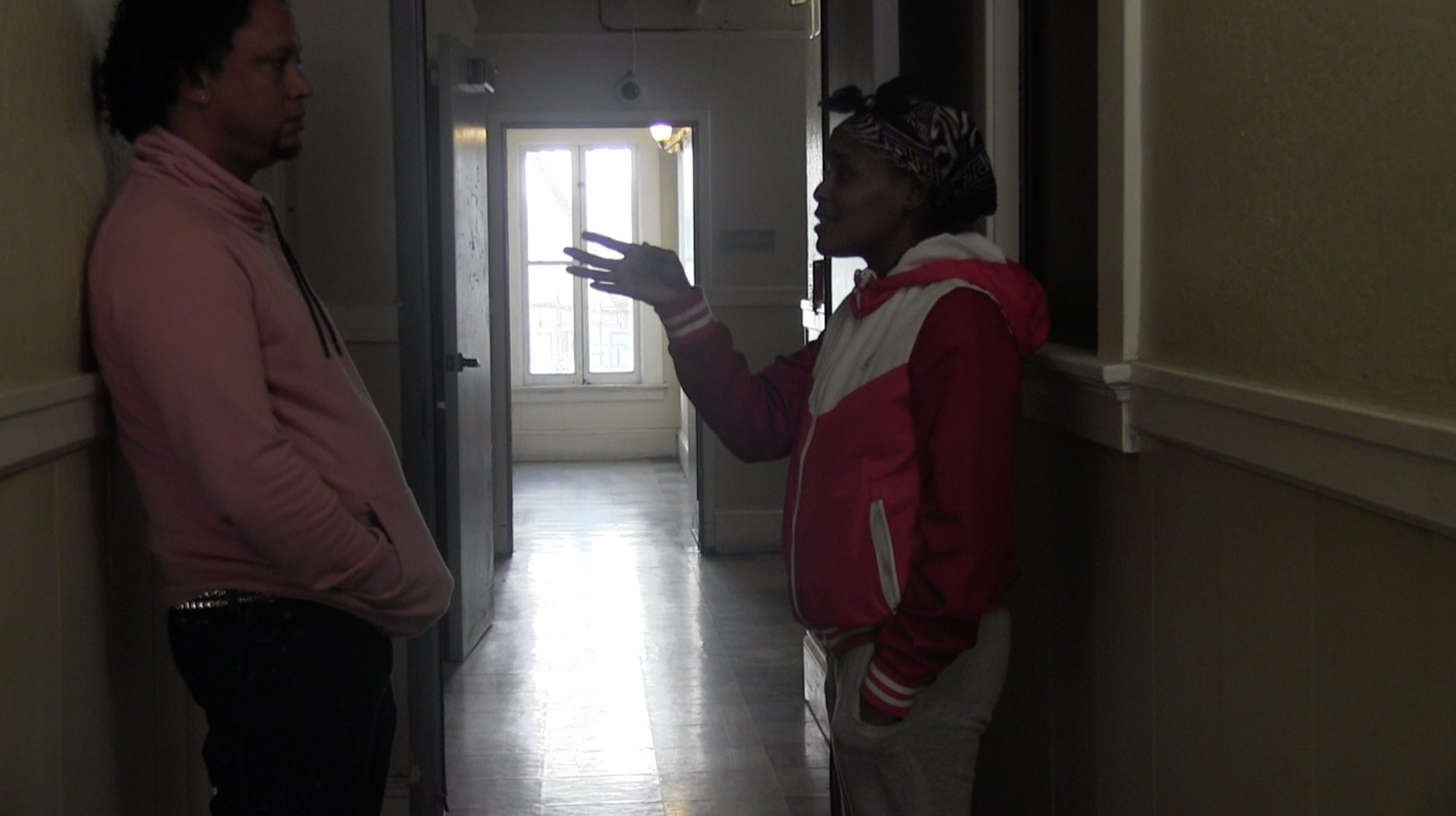 A riff on historic San Francisco home tours like the Victorian Home Walk, "Inside Hotel Iroquois" offers a different perspective on living in San Francisco. The 90-minute show will take the audience on a historic tour of the surrounding neighborhood, then through five floors of the hotel, where residents will share their stories.
One resident will discuss life before supportive housing, when buying a burger at McDonald's was their only opportunity to rest their head and dry off in the rain. Another will invite the audience into her home to admire her earring collection.
The show is timely. Last year, San Francisco voters passed Proposition C, the ballot measure that levies a gross receipts tax of 0.5 percent on corporate revenue above $50 million, in order to raise $300 million per year for homeless services in the city. 
Known as "Our City Our Home," the measure was written by formerly homeless people and service providers. A full 50 percent of the money it raises will go towards the purchase, development, and rehabilitation of supportive housing — including SROs like the Iroquois. 
Emboldened by the support for the measure, SRO residents are eager to have a say in its implementation, in hopes of improving their standard of living.
Enetra, a Hotel Iroquois resident, is hoping the performance will bring awareness to safety issues in the building. She says that while CHP has been focused on developing new supportive housing sites, it's failed to properly maintain the Iroquois.
According to Enetra, Iroquois residents have had to cope with leaking pipes, infestations of mice, and vomit in hotel common spaces. Broken security cameras have yet to be replaced, leaving residents vulnerable to people who might wander in off the streets.
Residents of other single room occupancy hotels often come to Hotel Iroquois to ask residents for advice in dealing with their own buildings' management. Enetra hopes the show will be an opportunity to compare notes about similar issues, and organize around solutions.
But despite their concerns over maintenance and management, the people who call the Hotel Iroquois home consider their building to be a family. Working on the show with Skywatchers' artistic director Anne Bluethenthal and lead artist Deirdre Visser has been an empowering experience, they said.
"I've got a lot of love for Anne and Deirdre," DT said. "I'm not usually very open as a person, and this has enabled me to open up and trust more."
Visser feels similarly. "Every day, I'm moved by the generosity of the residents."
---
"Inside Hotel Iroquois" will be performed twice daily this Saturday, March 30 and Sunday, March 31, at 2 and 4 p.m. at 835 O'Farrell St. Tickets are free; to reserve a slot in advance, go here.