After a year overlooking Patricia's Green, Charles Gadeken's supersized light sculpture "Squared" is on its way out of Hayes Valley. After a farewell event last weekend, the tree-like structure, decorated with colorful LED boxes, is in the process of being taken down.
In its place will rise a new creation: "Tara Mechani," a 17-foot figurative female sculpture by San Francisco-based artist Dana Albany. First displayed two years ago at Burning Man, the sculpture is set to make its official Patricia's Green debut on June 4.
Albany, whose work has been shown at the California Academy of Sciences, the De Young Museum, and the Exploratorium, first moved to San Francisco about two decades ago, where she lived very close to Patricia's Green.
"Never in my wildest dreams did I imagine [that I would put up a sculpture here]," she said, adding that it was a very different neighborhood back then, with the central freeway still up. "I am very honored."
Albany, whose studio is in Bayview, says that "Tara Mechani" is inspired by aspects of the ancient female Buddha, Tara, as well as Maria, the Art Deco robot in Fritz Lang's classic silent film "Metropolis."
"She is larger-than-life, yet intimate," Albany said.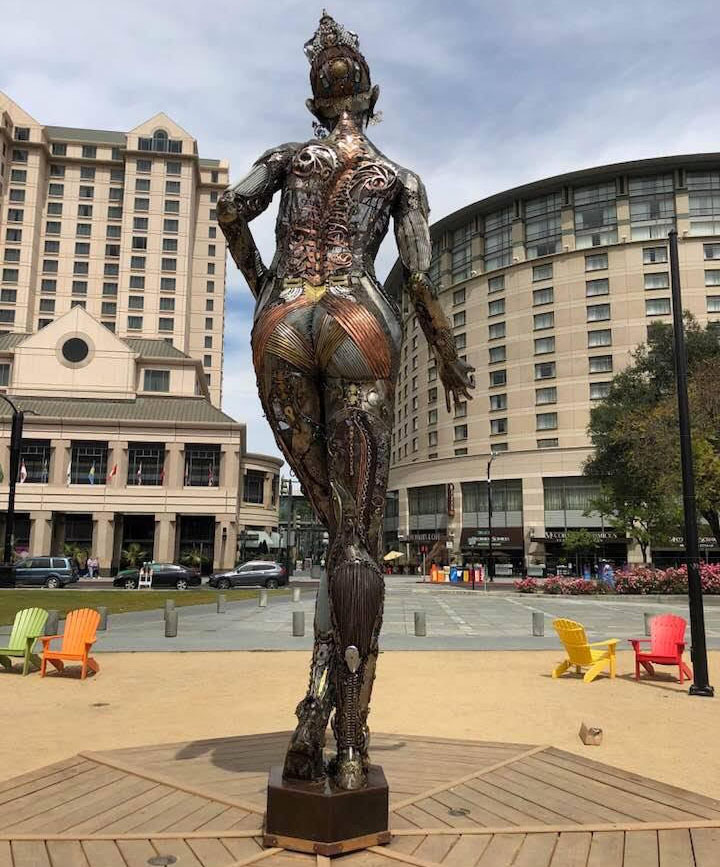 Like "Squared," "Tara Mechani" will be sponsored by the San Francisco Arts Commission and SF Rec & Park, and funded by developer impact fees. 
"Dana Albany's piece is a conversation starter, which makes it a perfect fit for Patricia's Green, a vibrant oasis where people from all backgrounds visit to enjoy beauty and community," said Rec & Park general manager Phil Ginsburg in a statement.
The sculpture also has an environmental message. It's largely composed of recycled materials from local flea markets and from Building Resources, a local nonprofit offering reusable building and landscaping materials.
Much of the hardware that comprises "Tara Mechani" once belonged to San Francisco-based lighting manufacturers and cabinet makers, Albany said. The statue's "ribcage" is made from a repurposed brass light fixture, with arms that have been bent and reworked to extend around its sides.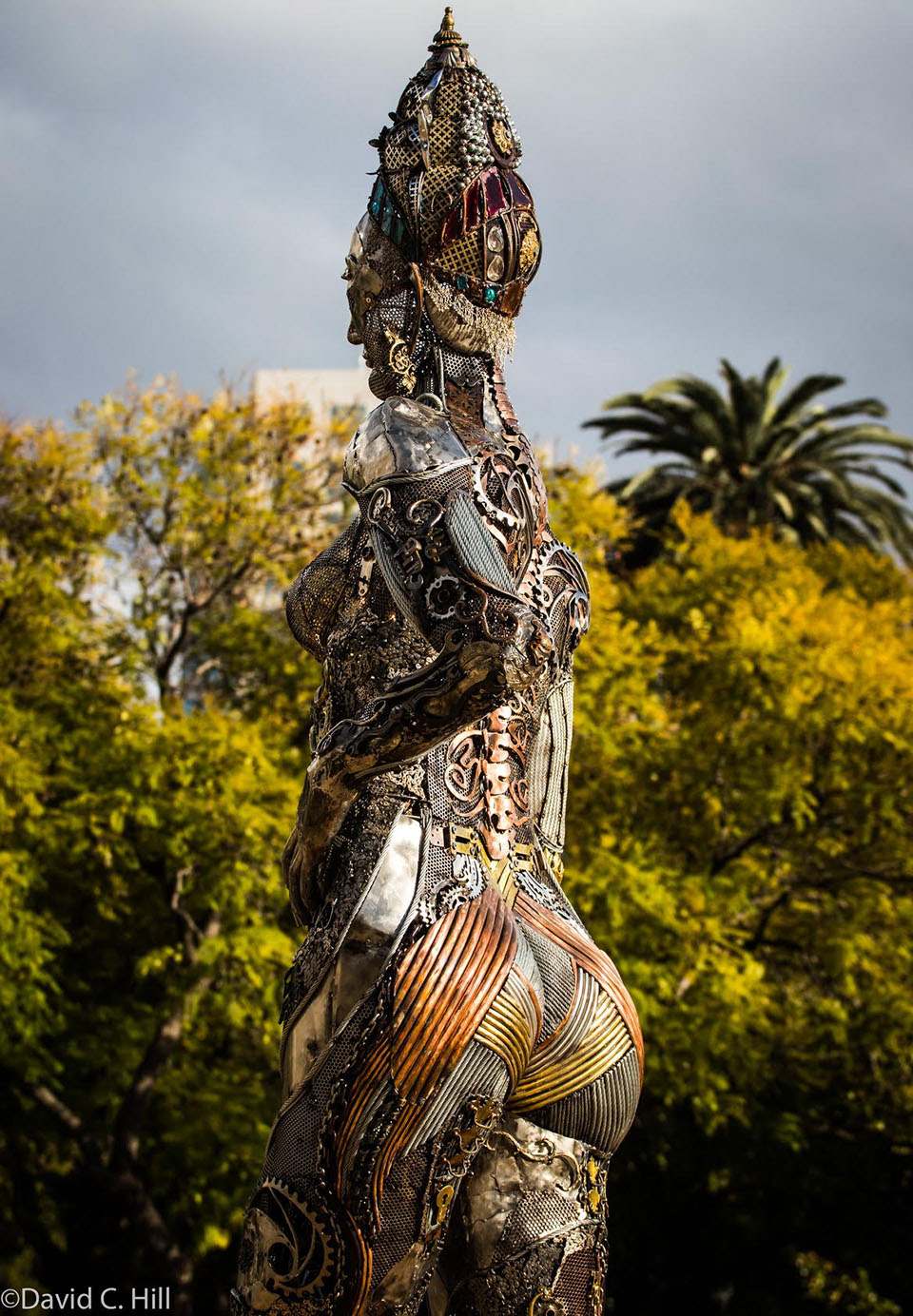 The sculpture will be displayed in the same location as "Squared," resting on an octagonal wooden platform. Unlike "Squared," it won't change colors, but it will glow in "soft, warm colors" at night, Albany said. 
"Tara Mechani" has already had a public test run, appearing last year in San Jose's Plaza de Cesar Chavez.
"She was really well-received by people of all ages," said Albany. Concerned the statue might be vandalized, "I was prepared to be her caretaker," but instead of harming her, "people left things for her, offerings."
The statue will remain in Hayes Valley until next June.
"She represents peace," said Albany. "You see a lot of [statues of] generals in parks holding weapons, so I like the idea of a woman's sculpture in a public space."