Brewcade (2200B Market St.), the Castro's popular arcade bar, is set to close next week for a month-long remodel and expansion, which will include a name change. 
Hoodline readers will recall that Brewcade, open since 2014, was officially given the green light to expand into the neighboring former Botellón space earlier this month.
Now, owner Shawn Vergara has announced the business' new name: District 8, a reference to the Castro's supervisorial district.
"The name is inspired by the Castro, our richly diverse neighborhood that we know and love," reads a message from Vergara in the bar's window. "Bringing you 'booze, buttons, and bites,' this new fast-casual restaurant will be a safe and inclusive space for our LGBTQ+ community and all."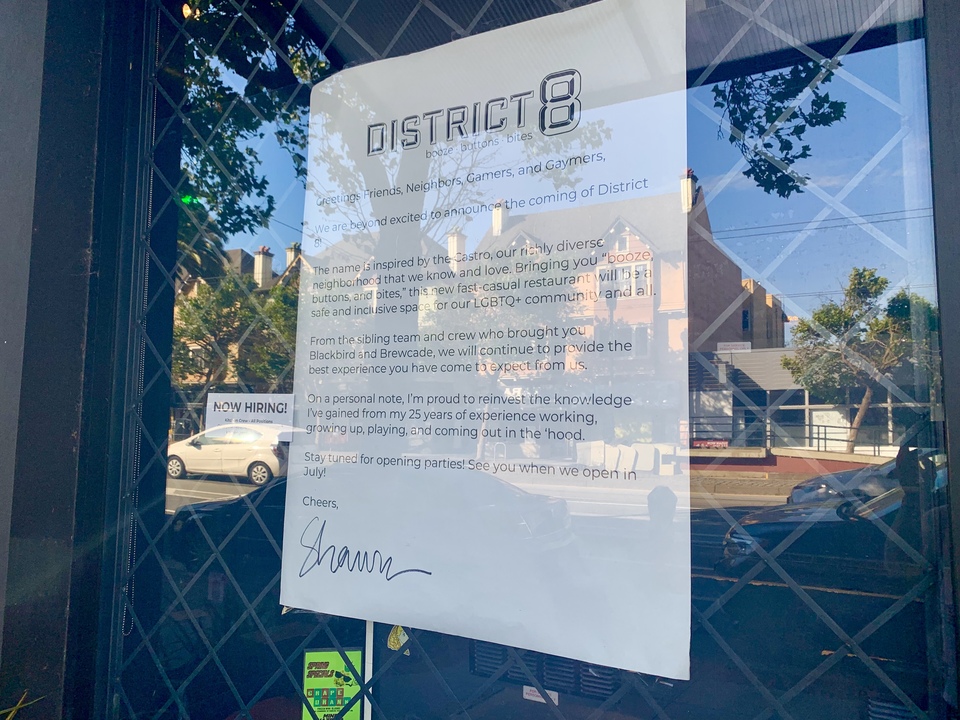 Vergara told Hoodline that he and his sister and business partner, Tiffny Vergara Chung, decided to change the name because they no longer wanted customers to only associate the business with arcade games and beers.
While District 8 will continue to offer both items in its new format, "we didn't want to have a name that was too on-the-nose," he said. The new eatery's primary focus will be on food and drinks, with games as more of an accessory use.
"We want people to think of it more as a restaurant," said Vergara, who said his goal is to draw repeat customers with strong food and drink options.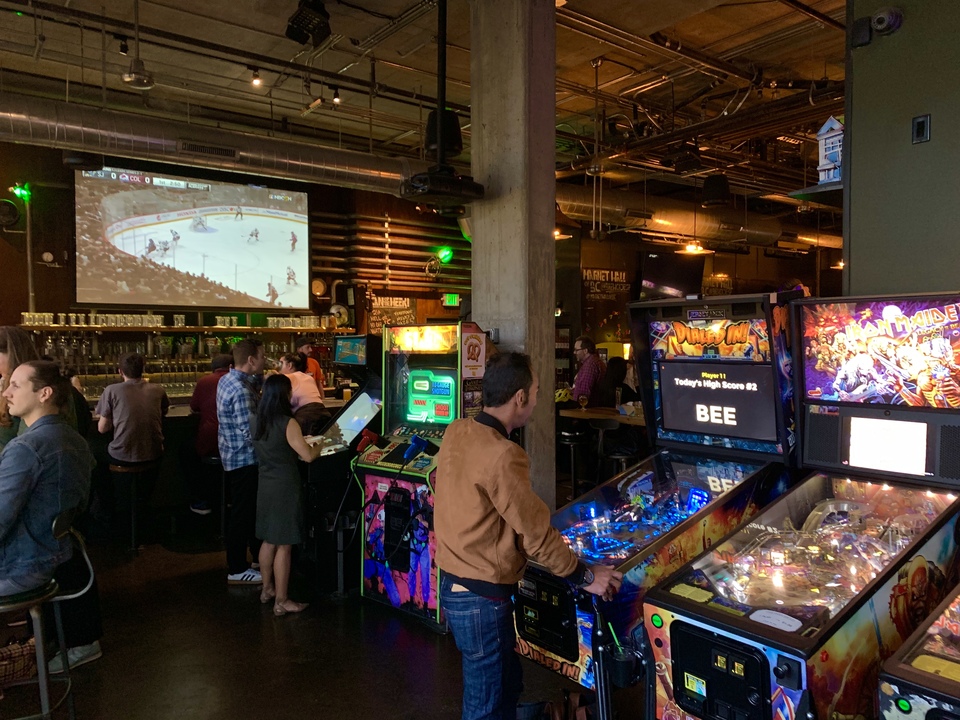 The new eatery will have "a simple comfort food menu showcasing food purveyors from the Bay Area," said Vergara. Offerings will range from fresh-baked pizza to lemongrass beef sandwiches, and Acme Bread, Tomales Bay Foods, and Straus Creamery will be among the restaurant's purveyors. 
Vergara and Chung, who also own nearby cocktail bar Blackbird (2124 Market St.), have purchased Botellón's Type 47 liquor license, allowing them to serve full liquor and cocktails for the first time.
In addition to its central bar, District 8 will have a roving cocktail cart, offering pre-bottled cocktails, one liquor and one mixer. Vergara's hope is that it will cut down on lines and allow customers to get their drinks more quickly. 
"The last thing I want guests to do is wait in line," says Vergara, who said he may add a second roving cart with beer if the idea proves successful.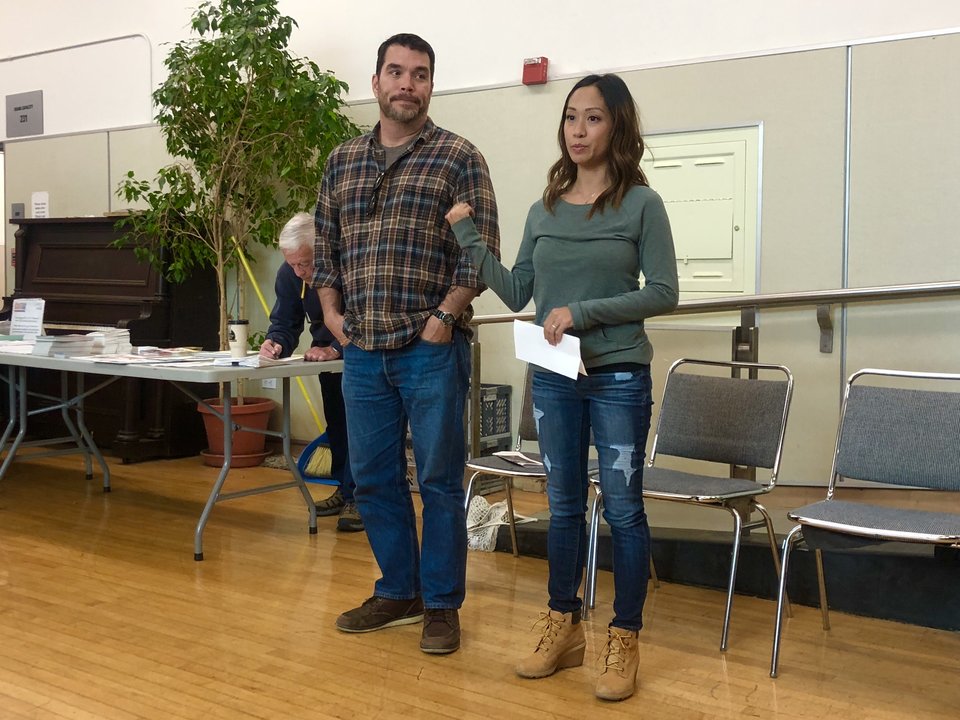 Customers will also be able to order a limited selection of beers and cocktails from the walk-up food counter.
"Our goal is to make guests' experience as smooth as possible," says Vergara.
Construction is currently underway inside the former Botellón space, which closed last October after less than a year in the neighborhood. Much of the work, estimated to cost $250,000, will involve the removal of a non-load-bearing wall that currently separates the two spaces.
District 8 will be accessible through the former main entrance of Botellón, while Brewcade's current entrance will be exclusively used as an exit.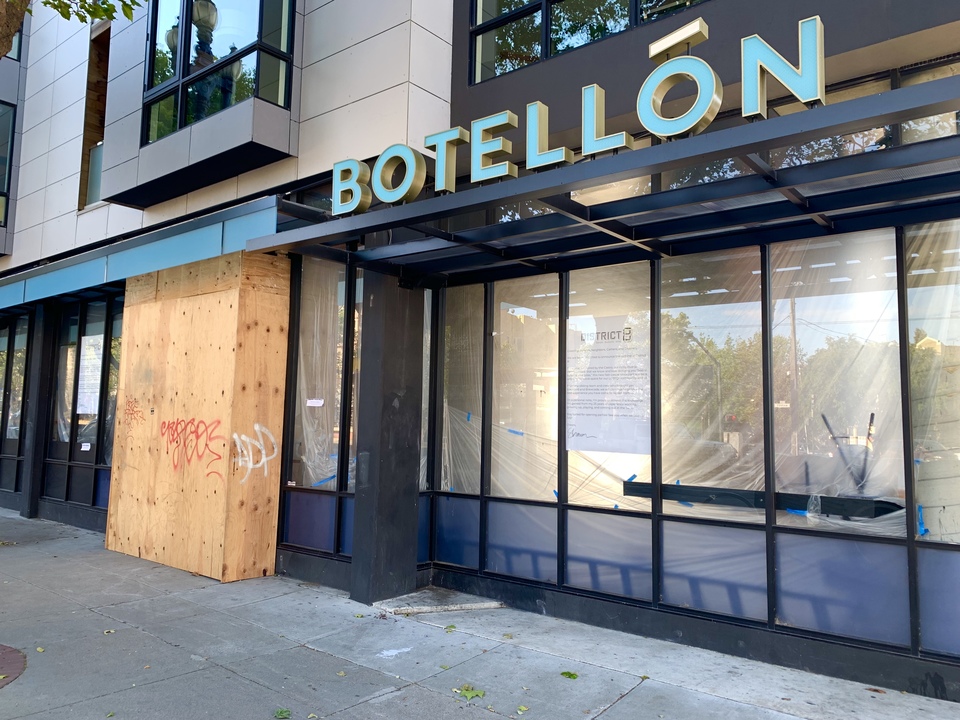 Brewcade is set to close this Monday, June 3. The day before, it will host a farewell party, starting at 4 p.m. 
Due to the construction timetable, it will be closed during Pride Month, an often busy time for Castro restaurants and bars.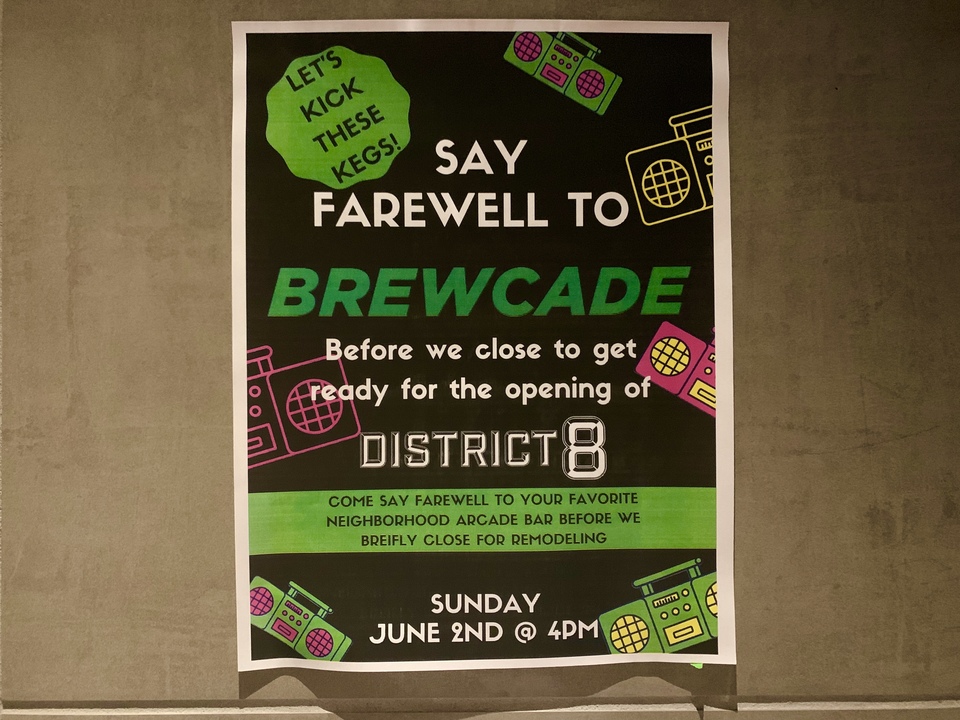 The temporary closure comes nearly three weeks after indoor beer garden Willkommen opened across the street.
By mid-summer, both businesses should be up and running at the same time, adding some much needed vibrancy to an area that's struggled with multiple retail vacancies.
District 8 is currently hiring kitchen staff. Those interested should drop off their resume at the bar or email it to [email protected].
---
Thanks to tipster Zach Z.! See something interesting while you're out and about? Text Hoodline and we'll try to find out what's going on: (415) 200-3233.