By
Hoodline
- Published on July 10, 2019.
Want the inside word on Washington's most happening local spots?
We took a data-driven look at the question, using Yelp to analyze which restaurants have been on the tips of diners' tongues this month.
To find out who made the list, we looked at Washington businesses on Yelp by category and counted how many reviews each received. Rather than compare them based on number of reviews alone, we calculated a percentage increase in reviews over the past month, and tracked businesses that consistently increased their volume of reviews to identify statistically significant outliers compared to past performance.
Read on to see which spots are getting plenty of attention, right now.
Slapfish
Open in the District since 2018, this seafood restaurant is trending compared to other businesses categorized as "Seafood" on Yelp.
Citywide, seafood spots saw a median 2.1% increase in new reviews over the past month, but Slapfish saw a massive 109.1% increase, maintaining a mixed 3.5-star rating throughout.
Slapfish, which originated as a West Coast food truck, is located at 1800 M St. NW (between North Connecticut Avenue and North 18th Street) downtown. It offers street tacos with grilled or fried fish, New England clam chowder, shrimp ceviche, lobster and fish and chips.
Busboys and Poets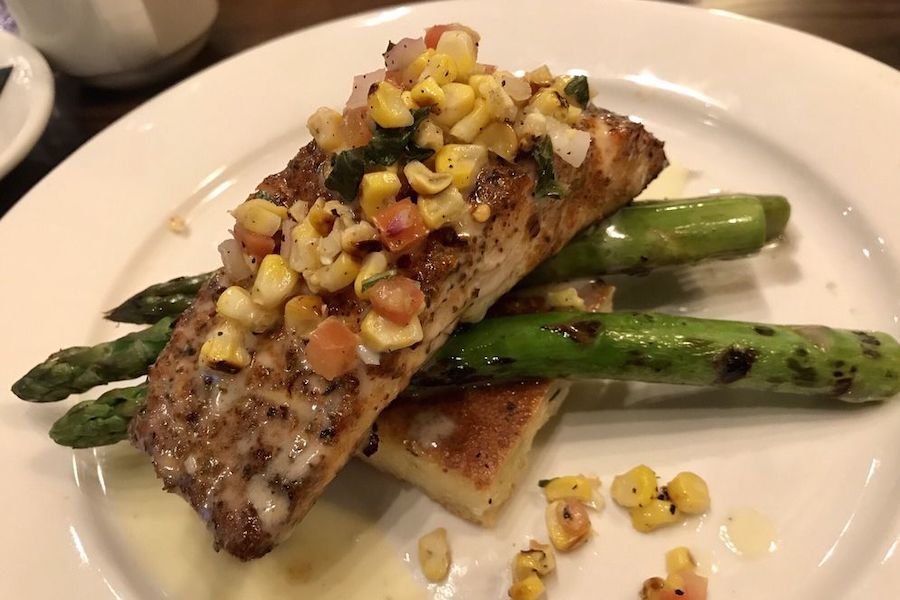 Whether or not you've been hearing buzz about Busboys and Poets, the breakfast, brunch and New American restaurant is a hot topic according to Yelp review data.
While businesses categorized as "Breakfast & Brunch" on Yelp saw a median 2.1% increase in new reviews over the past month, the restaurant bagged a 24.1% increase in new reviews within that timeframe, maintaining a sound four-star rating.
There's more that's trending on Washington's breakfast and brunch scene: The Milk & Honey Cafe has seen a 12.8% increase in reviews, and The Smith and Unconventional Diner have seen 6.5% and 8.9% increases, respectively.
Open at 2004 Martin Luther King, Jr. Ave. SE in Anacostia since March, Busboys and Poets, which has several other locations in the area, offers three types of eggs Benedict, a vegan egg wrap and pancakes and French toast. It also serves lunch and dinner, featuring soups, sandwiches and mains, such as blackened salmon.
Seven Reasons
The U Street Corridor's Seven Reasons is also making waves. Open since April at 2208 14th St. NW (between North Florida Avenue and N West Street), the cocktail bar and Latin American spot has seen a 55.9% bump in new reviews over the last month, compared to a median review increase of 3.9%  for all businesses tagged "Cocktail Bars" on Yelp.
Seven Reasons, under Venezuelan chef Enrique Limardo, offers high-end cuisine, including garbanzo and black bean pizzella, cauliflower tartare with squash mayo, and breast of Moulard duck with salsa verde. It also features a variety of craft cocktails. Over the past month, it's maintained a strong 4.5-star rating among Yelpers.
Mission 
Mission is the city's buzziest Mexican spot by the numbers.
The bar and Mexican restaurant, which opened at 1221 Van St. SE (between South M and South N streets) in 2018, increased its new review count by 8.7% over the past month, an outlier when compared to the median new review count of 1.6%for the Yelp category "Mexican."
The eatery offers eight kinds of tacos, including slow-braised Berkshire pork and cornflake-crusted local fish, as well as chile rellenos, chorizo flautas, a burrito with habanero basmati rice and crispy cauliflower florets with chipotle aioli.
Supra
Shaw's popular Supra is currently on the upswing in the bar category on Yelp.
While businesses categorized as "Bars" on Yelp saw a median 2.2% increase in new reviews over the past month, this bar and Georgian spot increased its new reviews by 8.4% and kept its rating consistent at four stars. Review counts increased by more than 310% on a month-to-month basis.
Open for business at 1205 11th St. NW (between North M St. and North North Street) since 2017, the menu features dishes such as salt-roasted beets with grilled fennel, toasted hazelnuts and Georgian-spiced yogurt, and lamb in a broth of sour plum sauce, white wine and tarragon. Supra also features cocktails "with a Georgian accent," beer and wine.
---
This story was created automatically using local business data, then reviewed and augmented by an editor. Click here for more about what we're doing. Got thoughts? Go here to share your feedback.