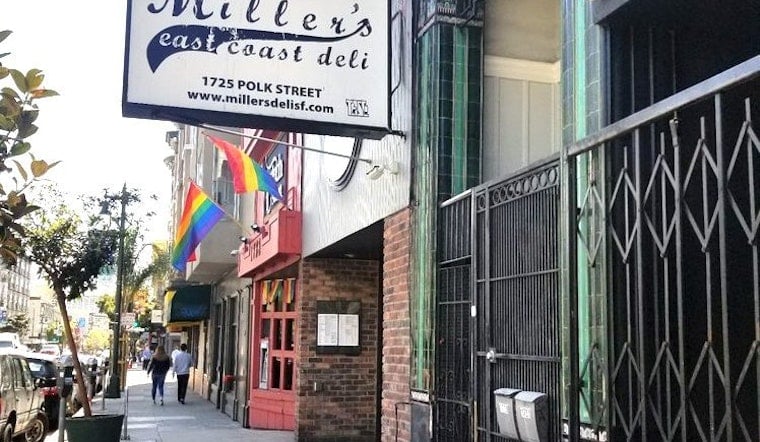 Published on September 26, 2019
Fans of Jewish delicatessen fare have one fewer spot to enjoy reubens and matzo ball soup, as Miller's East Coast Deli has called it quits after 18 years on Polk Street. The deli's last day in business was Monday, Sept. 23.
Hoodline tipsters Bill O. and Chris S. alerted us to the closure. A sign from owner Robby Morgenstein in the deli's window thanks its staff "for all their efforts and hard work ... I loved all of it and I hope to see many of you down the road."
Morgenstein did not return a phone call requesting comment on reasons for the closure. Miller's first opened on Polk in January 2001, and also had a second store in San Rafael, which debuted in 2012 and closed in 2015. It racked up accolades for its food, including an appearance on Guy Fieri's "Diners, Drive-Ins and Dives."
At the time of the San Rafael deli's closure, Morgenstein told The Jewish News that he'd been struggling with high food costs and an oversized space, and that the smaller original San Francisco space was more profitable. 
Miller's fans will have one final chance to indulge their pastrami cravings — the deli's Polk Street sister bar, The Cinch Saloon, will host a "last hurrah" event this Saturday, Sept. 28 from 4-7 p.m., with a $20/plate buffet featuring favorite dishes from Miller's. 
"The staff have been so good to us all for so long, and we want to return the favor by giving a little love to the people behind the scenes who have worked so hard to give us such great food and friendship over the years," the Cinch's team noted on Facebook. 
---
Thanks to tipsters Bill O. and Chris S.! See something interesting while you're out and about? Text Hoodline and we'll try to find out what's going on: (415) 200-3233. If we use your tip in a story, we'll give you credit.