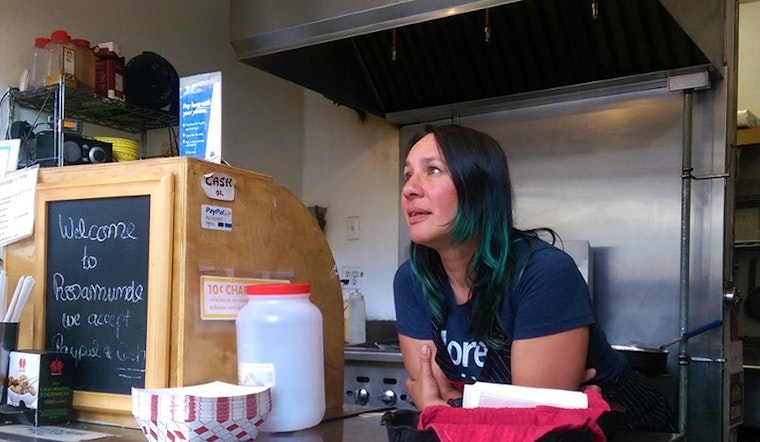 Published on October 01, 2019
As we reported yesterday, Rosamunde has closed its doors in the lower Haight after 21 years of business.
The good news is that Christine Blunck, who has worked at Rosamunde since its inception in 1998, will be the owner of a new eatery at 545 Haight St. It will be called Berliner Berliner after her birthplace, Berlin, Germany.
We spoke with Christine this morning, who said she is very happy about taking over the space and  making it her own. She plans to still serve sausages and carry on the Tuesday burger tradition.
Over the past 24 hours, several neighbors have reached out to us about Blunck's new venture, such as Samson Shirakhon, co-owner of Noc Noc in the Lower Haight (and co-owner of Barbary Coast Tap Room in North Beach). Shirakhon said that Blunck has always been "the heart and soul" of Rosamunde and that he couldn't be happier for her about her new venture.
Blunck also has close ties to Toronado next door, and other local businesses whose employees have expressed full support for the eatery's new incarnation. 
While some menu items will remain generally similar to Rosamunde's, Blunck said she will add some of her own German specialties. She didn't want to specify what those will be, as she wants to surprise her customers. 
Berliner Berliner's grand opening will be on October 31 to celebrate what Blunck cheekily calls "Hallow-weenie." She plans to have an "all day party" to launch the new restaurant.
"A lot of long-time people have been living here and also people are moving into the Lower Haight, and I want to bring everyone together to enjoy the food and celebrate," she said.
Hours will remain the same as the former Rosamunde's, 11 a.m. to 10 p.m., and Blunck said she intends to keep all the current employees on staff.