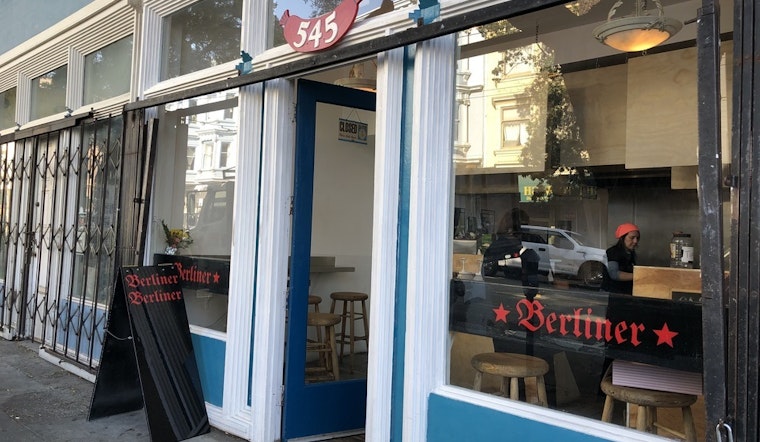 Published on November 08, 2019
The much-anticipated Berliner Berliner is now open in the Lower Haight, in the former home of Rosamunde Sausage Grill at 535 Haight St.
Christine Blunck, the sidecar-racing German native who's worked at Rosamunde since its inception in 1998, has been working to open her own eatery in the space since it closed in September. Her opening night was Halloween, when she gave out free food and drinks to neighbors as a thank-you for all their help.
"This will become a Halloween tradition, just as a thank you to all and to give back to the neighborhood," she said. "I love my neighborhood. It's awesome."
During the monthlong closure, Blunck undertook some minor renovations to the space, including a fresh coat of paint and brand-new kitchen appliances. 
Her father even flew in from her native Germany to help her get things up and running — his first visit to San Francisco since she moved here over two decades ago.  
Fans of Rosamunde's grilled sausages on a roll will be pleased to find many of the same items on the menu, including both classic (beer sausage, sweet Italian) and unusual (duck, wild boar) sausages. The coveted "Burger Tuesdays" remain in place.
But Blunck has also introduced some new items, like a Kringel bratwurst, and shaken up the selection of vegan sausages (there's a frank and a chipotle sausage, both different from Rosamunde's). Sausages run $8-9, with toppings like giardinera, grilled onions and beef chili for an additional $0.50-1. 
Some of Blunck's new dishes involve gold flakes, which are a popular ingredient in Germany: the currywurst (sliced sausages in a curried tomato sauce), and a jam doughnut she's dubbed the "Golden Berliner."
And of course, Berliner Berliner's food will still be welcome inside neighboring beer bar Toronado — whose owner, Dave Keene, is Blunck's landlord. 
A native of Berlin, Blunck said she enjoyed the timing of the restaurant's opening with tomorrow's 30th anniversary of the fall of the Berlin Wall. She said that she will celebrate, and is thinking of having artists come in and paint a mural in the space.
Berliner Berliner is now open daily from 11 a.m. - 10 p.m.