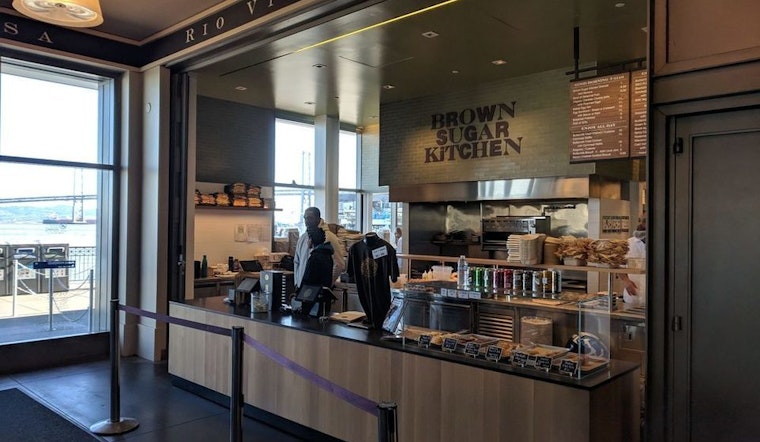 Published on January 13, 2020
Here's the latest in SF food news. In this edition, a popular Southern eatery will close in the Ferry Building while a bagel shop plans to expand there. Plus, an Afghan restaurant reopens after closing for renovations.
Closings
Embarcadero
Brown Sugar Kitchen (One Ferry Building, Suite 4)
After less than a year, Oakland's popular Brown Sugar Kitchen will close its Ferry Building location. The eatery, known for its buttermilk fried chicken and waffles, will have its last day of service on January 19. (The flagship Brown Sugar Kitchen in Oakland is not affected, and will remain open.)
Holland confirmed the closure to Eater SF, but did not provide a reason. She told Eater that she is working on some new projects in 2020.
Despite the closure, "I'm personally deeply proud to have established the first black female-owned restaurant in the iconic San Francisco Ferry Building," she told Eater.
The news of the closure seems to indicate a bit of trouble for female restaurateurs at the Ferry Building. Last week, Traci Des Jardins shuttered her Ferry Building Mexican restaurant, Mijita, which had operated for 15 years.
Openings
Embarcadero
Daily Driver (One Ferry Building)
However, there's also some good news at the Ferry Building: six-month-old Dogpatch bagel shop Daily Driver plans to expand there. It's taking the space that formerly housed Chris Cosentino and Mark Pastore's Boccalone Salumeria, which closed in 2017.
As reported by the Chronicle, Daily Driver's duo of husband-and-wife teams —David & Hadley Kreitz and Tamara Hicks & David Jablons — will debut the new shop as a pop-up, with the goal of going permanent. 
Unlike the original Daily Driver, the Ferry Building shop will focus on a limited menu of take-out items, with no seating. The centerpiece will be hand-rolled, wood-fired bagels, with build-your-own topping combos of housemade cream cheese or cultured butter, sliced tomato, onion and capers.
Also on offer: pretzels and drip coffee from Red Bay Coffee. Bagel sandwiches could be added down the line. 
A representative for the company told Hoodline the new location could open as early as next weekend. Once it debuts, it will open at 6 a.m. seven days a week; closing times are TBD.
Russian Hill
Helmond Palace (2424 Van Ness Ave.)
After a nearly nine-month closure for a seismic retrofit, Helmand Palace, one of SF's only Afghan restaurants, reopened its doors in mid-December.
During the closure, the owners decided to spruce up the space, and diners will see new floors, new paint, and a relocated bar, which was moved from the front of the restaurant to the side wall.
Most of the menu items, like baked baby pumpkin and chargrilled leg of lamb, have stayed the same. But there are a few new items, such as a Mediterranean plate with fresh hummus, tabouli and baba ganoush.
A representative for the restaurant said it's nice to be open again, and to see many of the restaurant's old customers returning.
Hours are 5:30 – 10 p.m. on weekdays and 5:30  – 11 p.m. on weekends.