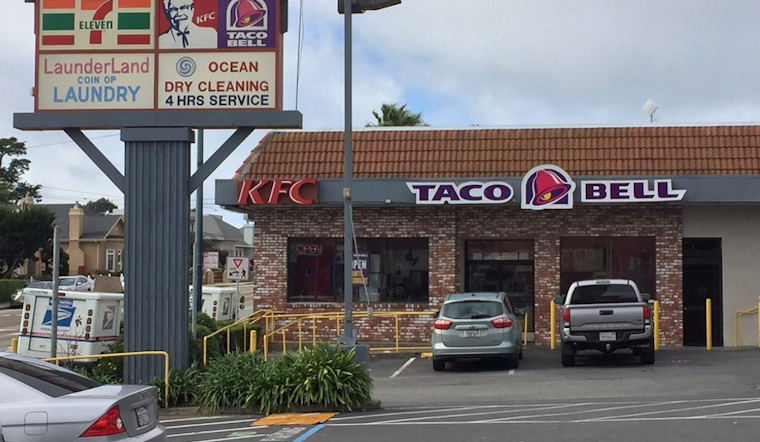 Published on February 14, 2020
Another KFC/Taco Bell location has shuttered in San Francisco. The fast food spot over at 2040 Ocean Ave. closed this week, a tipster told Hoodline.
KFC spokeswoman Lori Eberenz confirmed today via email that the location is no longer in business, but did not provide further details. Tipster Curtis Chude brought the closure to our attention, stating that the lease was not renewed at the chain's Ocean Avenue location and that it closed Monday.
Taco Bell media relations did not return requests for comment, and calls to the shuttered spot were picked up by a fax machine.
Customers on Yelp were often none too pleased with this location.
"Taco Bell or should I call you Taco Smell? This is probably the worst taco bell that I have been to," wrote one Yelper, Annie Y., in June last year.
The closure is the latest in a string of KFC/Taco Bells that have departed San Francisco in the past five years. We saw three go under in 2016: locations on Geary and on Lombard closed up shop, and shortly afterward, one of them shuttered on Irving Street, as well.
Then in 2017, we lost another KFC/Taco Bell on Jerrold Ave.
If you're a fan of fried chicken and Doritos Locos tacos, fear not: there are still six locations operating within city limits. According to the Taco Bell and KFC websites, their remaining joint locations are at 200 Duboce Ave., 1150 Taraval St., 4150 Geary Blvd., 4285 Mission St., and 691 Eddy St.
There's also the stand-alone Taco Bell Cantina at 710 Third Street.