After six years in the Castro, Slurp Noodle Bar (469 Castro St.) quietly closed on Thursday — marking the second closure in a week for the prominent 400 block of Castro Street, between Market and 18th streets.
Premium hot dog shop Dapper Dog, just up the block from Slurp at 417 Castro, closed on Friday.
Slurp owner Nam Kim did not respond to multiple requests for comment on the closure. A sign in the noodle bar's window simply states "Sorry, Slurp is closed."
469 Castro was previously home to Fork Cafe, which Kim took over in 2013. A year later, he decided to change concepts to Slurp, serving noodle dishes from a variety of Asian countries, including Japan, Korea, China, Indonesia, Philippines and Singapore.
"It took a while to figure out the right concept for that location that [would] be both unique and exciting," Kim told Hoodline at the time.
Two notable factors may have contributed to Slurp's closure. The first is the suspension of Slurp's beer and wine license, which began in October 2019 and has yet to be lifted. 
Last fall, California Department of Alcoholic Beverage Control (ABC) spokesperson John Carr told Hoodline that the suspension was related to an issue with the California Department of Tax and Fee Administration (CDTFA).
A CDTFA representative informed Hoodline that Slurp was currently in collections, but declined to provide more details.
Kim's father, Kil Kim, is the co-owner of Japanese restaurant Osaka Sushi, located across the street at 460 Castro. Along with three neighboring businesses, it sustained serious damage in a four-alarm November fire. 
One of the businesses damaged by the fire, men's clothing store Body, closed the following month. Cafe Mystique reopened quickly after sustaining minor damage, and Q Bar is set to reopen later this year.
But Osaka's fate remains unclear. A permit was filed last month to begin removal of fire-damaged debris at 460 Castro, with costs estimated at $60,000. Kim and Hwang also did not respond to a request for comment at that time.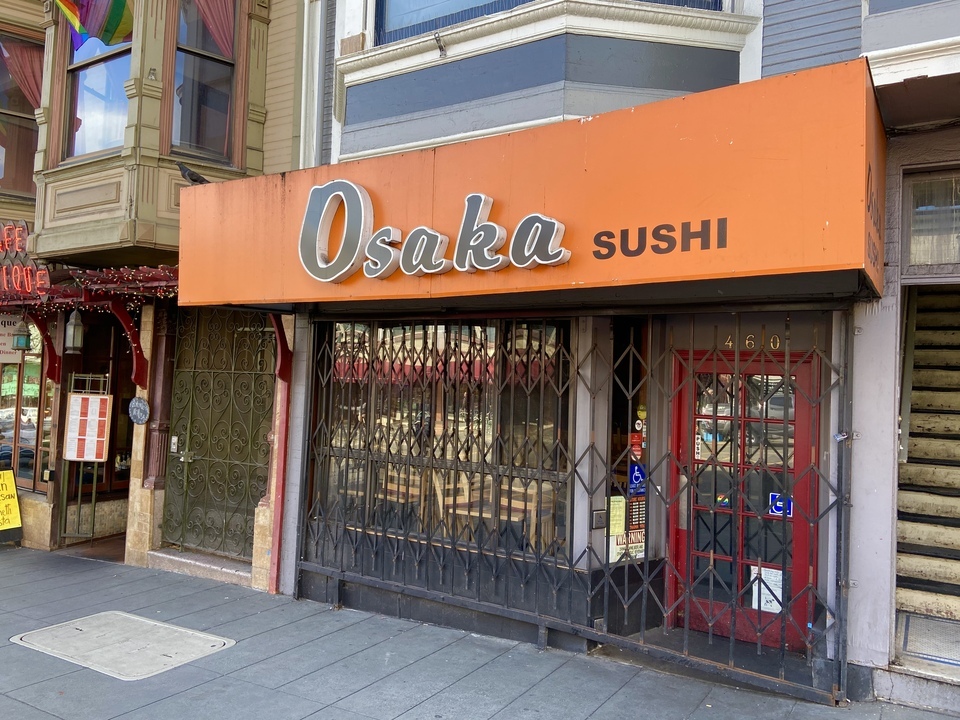 Alongside Slurp, Dapper Dog and Body, the 400 block of Castro has two other vacancies: the former homes of Sunglasses on Castro and Sweet Castro/Park Gyros. There's also Flying Falafel/Socialhaus, which is mired in ongoing permitting issues with the Planning Department, and may or may not reopen. 
Hoodline has reached out to Castro leaders, including District 8 Supervisor Rafael Mandelman, Castro Merchants president Masood Samereie and Castro/Upper Market Community Benefit District executive director Andrea Aiello.
Expect a full story on their plans to combat the neighborhood's growing retail vacancy issues in the coming days.
---
Thanks to Hoodline tipster Michael Petrelis. See something interesting while you're out and about? Text Hoodline and we'll try to find out what's going on: (415) 200-3233.