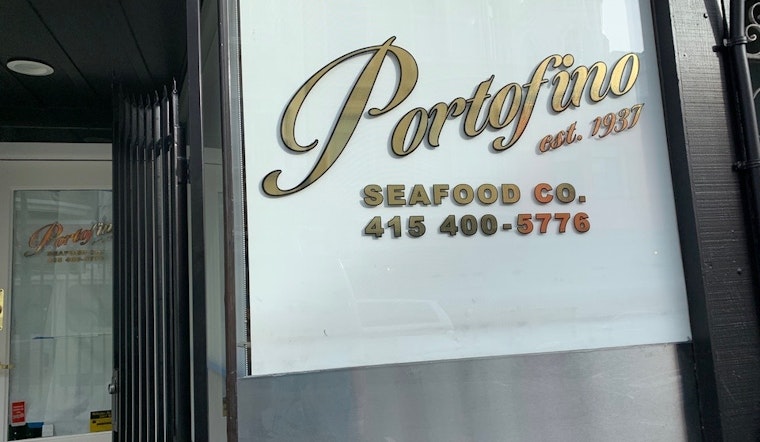 Published on February 07, 2020
Portofino Café's presence in North Beach dates back to 1937. But after a more than two-decade closure, it's returning to the neighborhood.
Tipster Karen K. alerted us that Frankie Balistreri plans to reopen the seafood-centric Italian restaurant, which was owned for 26 years by Balistreri's father, Gaetano, before it closed in the late '90s.
Balistreri, who was raised in North Beach, says he's been searching for years for a space to reopen Portofino. Previously located on Columbus Avenue, the restaurant will re-emerge at 1318 Grant Ave., the former home of Adolfo's and  DIP Bistro.
The Balistreris have a long history of running eateries in North Beach. In 2018, Frankie's brother Vincent and son Tommy opened Palermo Delicatessen II (658 Vallejo St.), a spinoff of Frankie's onetime Italian deli of the same name (1556 Stockton St., now home to Tony's Slice House).
"It's everybody's dream to open their own restaurant," Frankie said, noting the kindness of his new landlord, Mahmoud Khossoussi (of neighboring burger joint Mo's Grill).
Portofino's decor is still a work in progress, but it already has old-school gold window signage noting its historic pedigree. Balistreri said he has some memorabilia in storage that he plans to dig out and put on display.
The selection of seafood items includes New England clam chowder (with Manhattan clam chowder coming soon), fish and chips, oysters on the half shell and tuna tartare. At lunch, sandwich options include an oyster po'boy, lobster roll and housemade salmon burgers.
For dinner, Balistreri will feature rotating specials, depending on what he gets fresh from his fish purveyor. This week, he's been serving cioppino, a scampi dish and seared ahi tuna.
Portofino doesn't have a license to serve alcohol at the moment, but that could change, Balistreri said.
So far, Balestreri said, Portofino has had "a good takeoff," with people in the neighborhood excited to stop by and check it out.
Hours are Tuesday through Sunday, from 10 a.m. to 10 p.m.
---
Thanks to tipster Karen K. If you've seen something new (or closing) in the neighborhood, text your tips and photos to (415) 200-3233, or email [email protected]. If we use your info in a story, we'll give you credit.