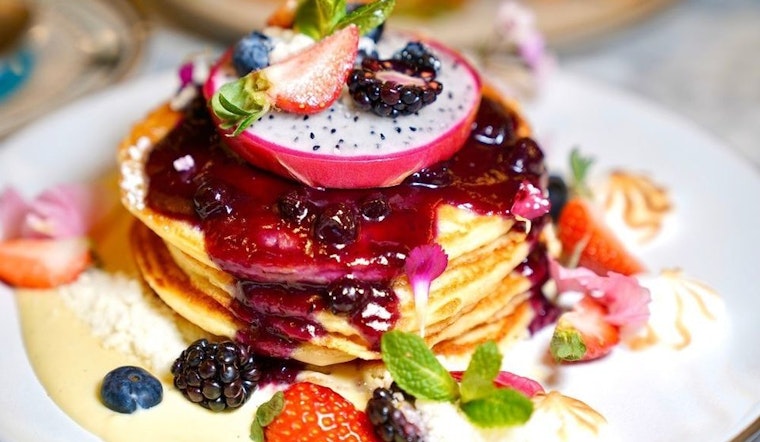 Published on February 24, 2020
Here's the latest in SF food news. In this edition, a new restaurant with a "whimsical touch" softly opens in the Tenderloin, a Brazilian cafe softly opens in the Castro, and a popular food truck event celebrates 10 years in Fort Mason.
Openings
Tenderloin
Son & Garden (700 Polk St.)
After two years in the making, Son & Garden has quietly debuted at 700 Polk St. According to its Facebook and Instagram pages, it serves breakfast and lunch with a "whimsical touch." Its grand opening is set for March 12.
It's a creation from Chef/Owner Kasem Saengsawang, also the owner of  popular Farmhouse Kitchen Thai in San Francisco at 710 Florida St., and additional locations in Oakland and Portland. 
Its decor is not shy with its use of color and splashy, Instagram-friendly details, boasting flowers strewn across its interior walls and ceiling, and blue floral wallpapering throughout.
The restaurant also has a "secret bar" area, with tables and comfortable velvet lounge chairs.
As for the menu, items include ricotta pancakes made with a vanilla sauce and blueberry compote, a fried chicken donut with potato wedges and mushroom sauce, and a pasta carbonara made with homemade "bear belly bacon", peas, egg, and Pecorino Romano. The restaurant also offers tea and a full bar.
We've reached out to the owner for more information about the grand opening. We'll provide more details as they come in.
Castro
Cafe de Casa (3985 17th St.)
As we reported last October, Brazilian eatery Cafe de Casa was preparing an expansion into 3985 17th St, in the former Hearth Coffee Roasters space. Its owner Lucimer Canado has worked on the remodel for nearly a year.
Founded nine years ago, the business' new outpost on 17th St. is now softly open. Its first location was at 1165 Airport Blvd. in South San Francisco, followed by a larger location at 2701 Leavenworth St. in Fisherman's Wharf.
Using her grandmother's recipes, Canado serves traditional Brazilian pastries such as salgados (stuffed dough pockets with fillings like creamy chicken or ham and cheese), açaí bowls and pao de queijo (Brazilian cheese bread), as well as salads, sweet and savory crepes, fresh juices and pour-over coffee.
During its soft launch, its hours are 9 a.m. to 7 p.m. daily; after its grand opening next month, it will be open from 6 a.m. to 10 p.m.
Events
Fort Mason
Off the Grid (2 Marina Blvd.)
Off the Grid (OTG) will soon launch its 10th season at Fort Mason Center in San Francisco. Running from March 6 until October 30, the event will occur every Friday from 5 –10 p.m. featuring food from 30 food vendors.
Some repeating participants are included in the lineup, such as Bini's Kitchen, which is returning for its 8th year, serving up its popular Nepalese Momos, and Curry Up Now's Indian-style street food.
New participants are popular vendors such as La Cocina's Taco Thai SF, Bred's Nashville Hot Chicken, as well as donuts by Mister Bomboloni.
"The passion for creating unique experiences and commitment to building powerful community spaces continues to fuel Off the Grid," said Matt Cohen, Founder and CEO in a statement. "We are honored to serve as a launchpad for prominent Bay Area food entrepreneurs and help them refine their offerings within a welcoming environment of adventurous diners. We're proud of the magic sauce that we've co-created with this incredible community of innovators."
---
If you've seen something new (or closing) in the neighborhood, text your tips and photos to (415) 200-3233, or email [email protected]. If we use your info in a story, we'll give you credit.