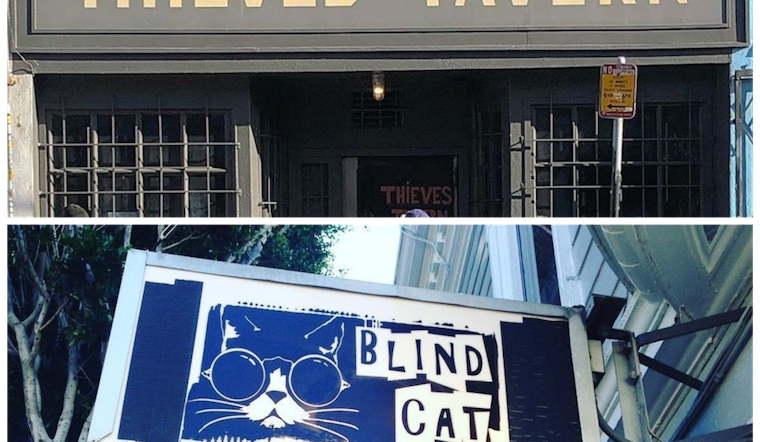 Published on May 21, 2020
Sad news for Mission dive bar lovers: Blind Cat (3050 24th St.) and Thieves Tavern (496 14th St.) are closing permanently, owner Paul Bavaro confirms.
Both bars were around 15 years old: Thieves Tavern opened in December 2005 and Blind Cat in February 2006.
Bavaro closed the two bars in March as the city's shelter-in-place order came down. At that point, he said, he was already uncertain about whether they would re-open or not. 
"This is about to become a financial nightmare in the Bay Area for service industry workers," he told Hoodline at the time.
Before laying off his entire staff, Bavaro paid them all the money he had; his landlord at Thieves Tavern also forgave two months' rent without his even asking, to help him stay afloat.
But paying rent for Blind Cat, on top of vendors and other expenses during the lockdown, has been impossible without an income. 
"I just don't see how I can battle the next 12 months of rolling closures and capacity restrictions," he said.
Bavaro got his start in San Francisco in the '90s, as a bartender at two now-closed dive bars: North Beach's Crowbar and the Western Addition's Fulton Street (which is now Barrel Head Brewhouse).
In 2004, he opened Whiskey Thieves in the Tenderloin, followed by Thieves Tavern in 2005 and Blind Cat (then known as Dirty Thieves) in 2006. In 2012, he debuted Dear Mom, at 16th and Harrison streets.
But the changing city has been hard on San Francisco's dive bars. Dear Mom closed in 2018, after an unsuccessful revamp as Darger Bar. Whiskey Thieves followed last year, after losing money for three straight years.
"That idea might be done in the city," Bavaro told Hoodline after Whiskey Thieves' closure. "A dive-y bar might not be what people want anymore."
Now, Thieves Tavern and Blind Cat have met their end. Bavaro says both bars will be fully vacated by June 1.
"The hardest part is saying goodbye to customers I've been serving for 15 years," he said.
And though he wishes he could have a goodbye party, "there's no better goodbye than the Irish exit — by just sneaking out the back door."