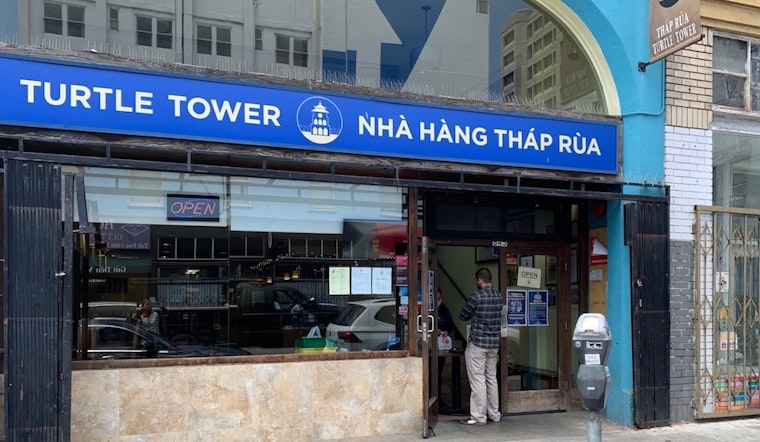 Published on May 20, 2020
Turtle Tower, the Tenderloin's popular Vietnamese restaurant, was robbed in broad daylight during lunch hours yesterday.
In the wake of the incident, police took more than two hours to respond, said owner Thao Pham.
The robbery occurred around 1:30 p.m. on Tuesday, when Turtle Tower was offering its acclaimed pho and rice bowls for takeout. When a man entered the restaurant at 645 Larkin St., Pham said she greeted him, assuming he was a customer. 
Instead, he stuck his hand in the tip jar on the counter, grabbed all of the cash, threatened Pham, and fled the store. 
Pham called the police, who took more than two hours to arrive. When an SFPD officer finally showed up, he told her she should have locked the restaurant's doors — which she had specifically propped open for touchless entry to prevent COVID-19 spread. 
"It was very insulting to have to wait so long for any response," Pham said, adding that she felt the officer was insensitive to the current crisis and to her efforts to keep her employees and customers safe.
No further details about the robbery were available from SFPD's Tenderloin Station as of press time. The incident was also not included in the SFPD's daily summary of crimes provided to the media.
Pham says she recognized the man who robbed her restaurant. She believes he resides in a tent encampment on nearby Willow Street, an alley between Larkin and Polk streets.
Even before the COVID-19 pandemic, the tent encampment on Willow had been a hotbed of drug-dealing and crime, according to local business owners. 
Prior to the pandemic, the Tenderloin Merchants Association had been working to help clear the area, but the city has stopped clearing encampments since the shelter-in-place order came down. It also installed one of its new 24/7 toilet stations on the block, attracting more people.
"That alley is the root of many safety and cleanliness issues in our neighborhood," Pham said. "Clearly this individual is comfortable committing crimes because there is no consequence."
Pham is used to the challenges of the Tenderloin, where she's operated for more than 20 years.
But "this is the worst we've ever seen it," she said. "The bottom keeps being pushed down."
She's especially galled that Tenderloin businesses like hers are paying 30-40% of their profits in taxes to the city, but can't get an adequate police response to their concerns.
Meanwhile, she notes, the city-ordained 50-tent encampment on Fulton Street, just blocks away, has two officers on site 24/7.
"Where are our resources?" she asked. 
Pham says she feels like she's on her own when it comes to protecting her staff and customers. In response to the robbery, she's constructed a barrier just inside the entryway, to allow her employees to serve customers without letting them inside. 
But that won't solve the root of the issue, she said. The city needs to take responsibility.
"There is no accountability or authority [in the Tenderloin]," Pham said. "I want to be a part of this community and come out of this on the other side, but it is so, so hard. There needs to be a change."