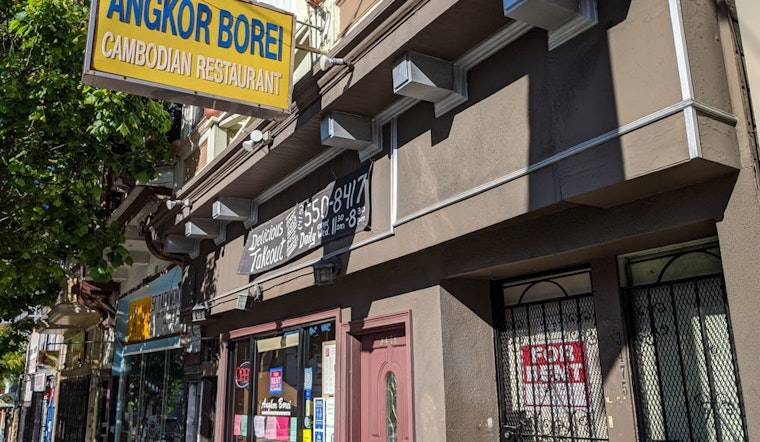 Published on June 08, 2020
For years, Angkor Borei (3471 Mission St.) was the only Cambodian restaurant in San Francisco, serving curries and ahmohk in a cozy space on the border of the Mission District and Bernal Heights.
Featured on KQED's restaurant review show "Check, Please!" in 2013, it's still one of just a handful of Cambodian restaurants in the Bay Area, which has made it both a destination for out-of-town visitors and a favorite for locals.
But with shelter-in-place orders keeping the majority of its customers at home, Angkor Borei has taken a hard hit. After struggling to stay afloat for several months, married owners Tom Prabpan and Chin Han Yat made the difficult decision last week to close their doors permanently.
Yat confirmed with Hoodline that Angkor Borei's last day of business will be June 15. The pair will continue offering takeout and delivery through that date; after the restaurant closes, they both plan to retire. 
Yat said that she and Prabpan experienced a significant drop in sales after shifting to takeout and delivery only. They were forced to reduce their staff to just three employees, but there was still not enough income to pay rent and keep operations going.
Although the business applied for both rounds of the SBA's Paycheck Protection Program, as well as local funding, it was unable to receive a small business loan.
"Our daughter helped us apply, but we never got anything back," Yat said. "We were told there was no money left."
Yat knew that the restaurant was in trouble as early as February, when she heard about businesses in China closing during lockdown. "I thought, 'As soon as that happens here, that's it for us.'" 
Located on a busy corridor of Mission Street, near the western end of Cortland Avenue, Angkor Borei has been a well-known presence for over 30 years.
Yat started as a waitress at the restaurant soon after it opened — "1986 or 1987," as she recalls — before eventually taking over ownership, along with Prabpan, in in the early 2000s.
As chef, Prabpan constructed a menu that was reflective of both their cultures: Thai curries and Cambodian specialties like ahmohk (a mild fish curry steamed in a banana leaf) and banh chiao (savory egg crepes).
The restaurant is also known for its vegetarian-friendly dishes, including a popular appetizer of spinach leaves surrounded by various fillings, which guests use to assemble their own personalized finger foods.
Along with Hillside Supper Club in Bernal Heights and Café du Soleil in the Lower Haight, Angkor Borei joins a growing list of permanent restaurant closures in the city since the start of shelter-in-place.
In a message posted on the restaurant's window, below a "For Rent" sign, Prabpan and Yat thanked customers for their years of support.
"We wanted to let you all know, how very grateful and blessed we have felt to serve you the past 30-plus years," they wrote.
Since posting the message, Yat has had many loyal customers come by to offer their support. Some have offered to set up fundraisers, but she has politely declined.
"Even if we opened again," she said, referring to the eventual reopening of dine-in service in San Francisco, "it would be too hard to keep going."
Under the state's health and safety guidelines for dine-in restaurants, which would be adapted by San Francisco's Department of Public Health, Angkor Borei would likely have to cut down service to just a handful of tables at a time, which would not bring in enough revenue to stay afloat.
"I've had lots of people come by and cry and say how much they'll miss us," she said. "I've cried, too. They love us and we love them."