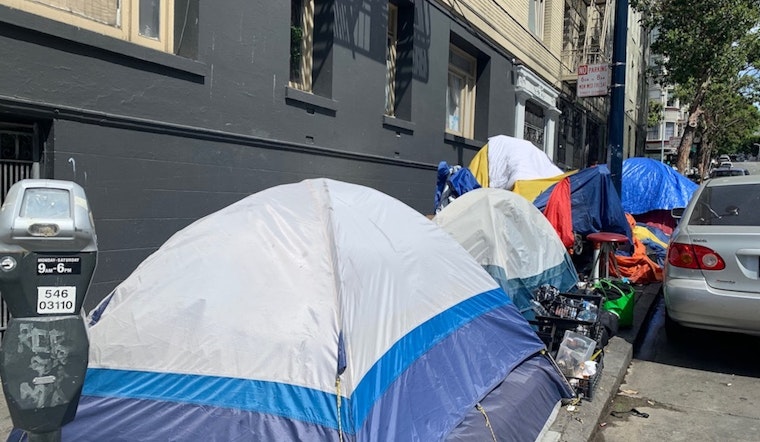 Published on June 12, 2020
UC Hastings has reached a settlement agreement with the city and county of San Francisco, which it sued over "deplorable" conditions in the Tenderloin last month.
Via an injunction issued today by the US District Court for the Northern District of California, the settlement requires the city to move 70% of the unhoused residents currently living on the Tenderloin's sidewalks into hotel rooms or tent villages (known as "safe sleeping sites.")
A recent estimate found that the Tenderloin has about 450 tents on its sidewalks, some with multiple residents. 
"The settlement does exactly what the Board of Supervisors' legislation tried to do," said Randy Shaw, director of the Tenderloin Housing Clinic, referring to unanimously passed legislation that would have required the city to lease up to 5,000 hotel rooms for homeless people to self-isolate during the COVID-19 crisis.
Mayor London Breed vetoed the resolution, instead issuing an eight-point plan for the Tenderloin that remains almost entirely unimplemented.
"It shouldn't have taken a lawsuit to get the city to follow the law," District 6 Supervisor Matt Haney said in a statement. "But to the extent this lawsuit actually forced the Mayor and the Department of Homelessness to take this crisis seriously and bring people inside, that's a good thing."
By June 20, the settlement says, the city will have to provide shelter-in-place hotel rooms to unhoused residents that face "heightened health risks from COVID-19." The city has estimated that about 30% of the current unhoused population meets that description.
That means that over the next eight days, over 100 people will need to be placed into hotel rooms — likely the source of a sudden relocation effort in the Tenderloin reported by Mission Local yesterday.
The city has also agreed to open new safe sleeping sites outside of the Tenderloin, to which people who aren't at a heightened risk can relocate. The city identified a list of 42 potential sites last week, largely centered on SFUSD athletic fields, Port of San Francisco property and Rec & Park parking lots. 
While the settlement states that "most people offered an alternative location will be willing to accept it," it also notes that those who don't accept a hotel bed or a move to a safe sleeping site will be subject to "enforcement measures."
Those enforcement measures seem to fall entirely on the San Francisco Police Department.
"My understanding is the police will be expected to enforce much of this, particularly when they try to prevent 'reencampment' at sites that have been cleared," Haney said.
It's the exact concern raised by a coalition of 150 UC Hastings students and alumni, who wrote an open letter to the school's dean last week. 
"We believe this suit will this displace the Tenderloin's houseless population and distribute it throughout San Francisco, limiting these individuals' ability to organize and support one another," the letter reads.
"We also believe that the city will use this suit to justify increased police repression of our unhoused neighbors, many of whom are people with disabilities, African American, and Latinx people displaced from their homes by economic and political violence."
On June 10, a group of Tenderloin nonprofits with similar concerns filed a motion to intervene in the case. They argue that an enforced relocation may not be able to fully meet unhoused residents' needs, especially those needing ADA accessibility in a new location, or those currently living with partners or pets.
It's not clear yet whether the nonprofits' concerns have been addressed, or whether they will be included in future discussions on how to help improve living conditions in the city's densest and most neglected neighborhood.
According to the settlement, once the current public health crisis ends, "the city will have [the] option to help improve living conditions in the Tenderloin neighborhood that are currently not available due to constraints caused by the pandemic."
But neighbors have already expressed concerns that once the pandemic is over, the Tenderloin will be allowed to return to its catastrophic "old normal."