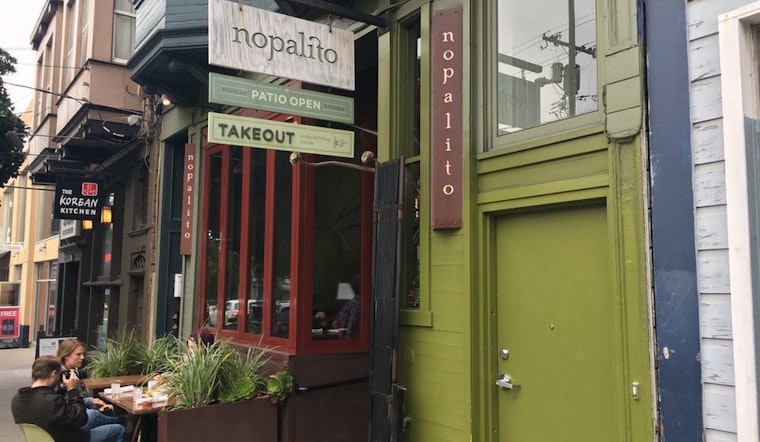 Published on June 25, 2020
When one door closes, a window opens.
That's the case for Nopalito, which has decided to permanently shutter its eight-year-old Inner Sunset location (1224 9th Ave.) and debut a takeout window adjacent to the original Mission location of Bi-Rite Creamery (3690 18th St.) 
The original Nopalito on Broderick Street will remain open, says co-owner Allyson Jossel. It's been handling takeout since the shelter-in-place order came down, while the Inner Sunset outpost has remained closed since March. 
While Jossel says she loves the dining room on 9th Avenue, she doesn't anticipate being able to use it for a while, so she and her partners — chef Gonzalo Guzman, and Nopa owners Laurence Jossel and Jeff Hanak — have decided to let it go. 
"It's a hard choice, but the obvious one with the reality with the state of what's happening," said Jossel, noting that the Broderick Street location already has a built-in to-go window that makes it easier to operate safely.
Letting go of the Sunset Nopalito also means letting go of a commercial kitchen area that Guzman and his team used for catering. With events cancelled for the foreseeable future, that part of the company has taken a big hit. But when demand returns, they want to be ready. 
So they're moving their catering operation to the 18 Reasons space in the Mission, owned by the team behind Bi-Rite. It has a commercial kitchen, and Bi-Rite's Sam Mogannam is letting them use the adjacent window (the one where soft serve is usually offered) to serve takeout.
"We are very excited to partner with them in that capacity," Jossel said. 
Jossel hopes to open the takeout window in a month or so. It will offer two to three grab-and-go tacos that people can buy and take to Dolores Park for snacking; she expects to have a couple of standbys and a rotating seasonal special. The Broderick location is already offering finish-at-home meal kits, and the hope is to expand those to the window as well. 
Doing production right next door will make it easy to eventually expand the window's offerings. Guzman is already contemplating some Mexican-inspired soft serve flavors. 
The Broderick Nopalito has a patio that could be used for sit-down service, but Jossel says she and her team are still debating whether to offer it. They may not offer full service, but let to-go customers use the patio to eat their takeout at a social distance. 
"We are taking it slow, steady and cautious," she said. "We really want our team to be on board with us — we don't want people to risk their own health and comfort."
She notes that people are anxious for the pandemic to be over — but the reality is that's it's not. "We have to be responsible and follow the guidelines to ensure that people are safe."