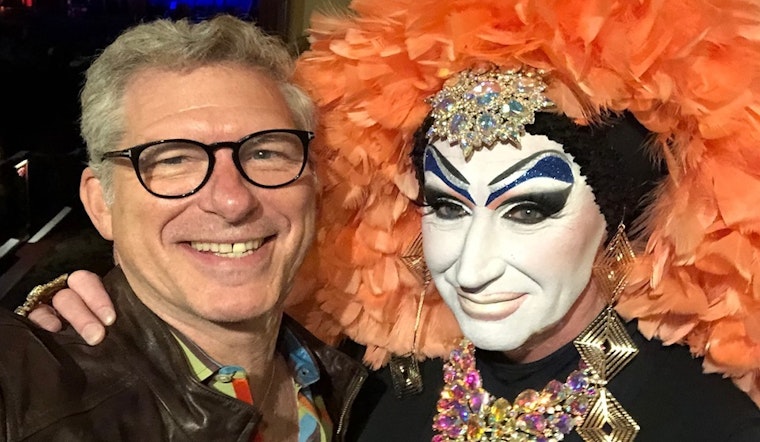 Published on June 18, 2020
For many San Franciscans, Sister Roma needs no introduction. An artist, activist, fundraiser and longtime figurehead of the Sisters of Perpetual Indulgence, she's an iconic member of the city's LGBTQ+ community. 
Which is why her close friend Matt Leum has decided to name his new restaurant for her. Located in the former home of SoMa's La Briciola (489 Third St.), Roma's will be a farm-to-table Italian eatery, with an emphasis on an inclusive, queer-friendly culture. 
"This is a perfect tribute to someone who has done so much for so many," Leum said, adding that he wants to create "a welcoming, comfortable environment where there is no judging, no bias, and everyone is welcome."
"When he asked me, I was like, are you kidding me?" Roma said. "I love the idea. It's so flattering!"
Leum and Roma are old friends. They first met 30 years ago, at recently closed SoMa gay bar the Stud.
"We became besties at first sight," said Leum. "When I hit the San Francisco scene, Roma really took me under her wing. We always shared stories about our families, and got to know each other a very deep and personal level."
Leum, whose background is in recruiting, said he decided to shift into restaurant ownership two years ago. He closed escrow on the La Briciola space on March 17 — the same day the shelter-in-place order went into effect. 
He was already well-acquainted with the location, which was once Ruby's, a late-night hangout spot where he and Roma were regulars. "It's interesting that I own it now," he said.
Leum said he's always had a love for "all things Italian." While he has yet to hire a chef, he plans to serve classic dishes like squid ink pasta with seafood; risotto; cioppino; eggplant parmigiana and tiramisu. All the pastas will have a gluten-free option. 
As for drinks, he plans to start with beer and wine, but eventually hopes to obtain a full liquor license.
During the shelter-in-place, Leum's been hard at work redecorating the space — he's redone the floors, and will install a new awning out front. When Roma's opens, the high, vaulted ceilings will spotlight eclectic work from local artists, much of it available for sale.
Social distancing has resulted in some changes to his business plan, cutting capacity down to 28 to 30 people from the original 50. To safely create room for more customers, he's applied for a permit to put a few tables out front.
He also plans to go "above and beyond" the city's safety requirements indoors, installing plexiglass panels and an air purifier.
"I want people to come feel safe from life, from covid, and just feel comfortable," he said.
Roma says she's excited to have another LGBTQ+ business in SoMa, where the Stud is the latest casualty in a long series of closures of queer spaces. 
"It's been really heartbreaking to see the community suffering, and worrying about where we are going to go," she said. "When Roma's opens with this rainbow flag of inclusivity — with the gayest faces at the front when you walk in — it's going to be a beautiful thing for the community to see."
To celebrate the restaurant's debut, the duo hopes to throw a three-day grand opening party in late July or early August.
"There's an amazing number of people rooting for this and egging me on and encouraging me," said Leum. "It's so good to be a part of something that is going to bring some life back [to the city]."