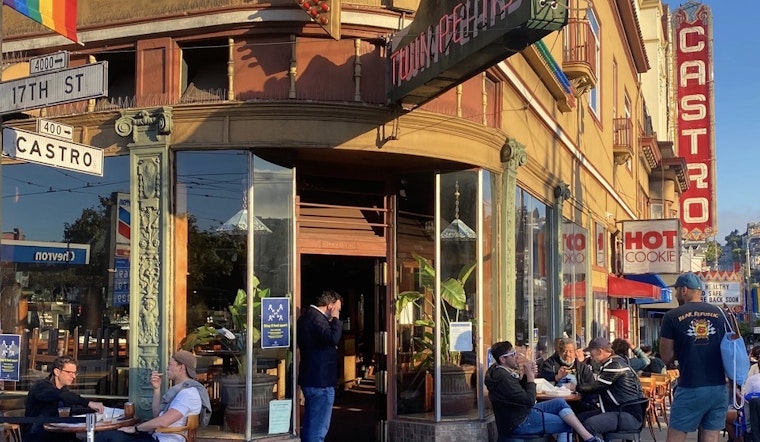 Published on July 21, 2020
Here's a brief roundup of recent changes to Castro businesses during the shelter-in-place.
Reopening

Twin Peaks (401 Castro St.)
Castro's historic Twin Peaks Tavern reopened Saturday with outdoor dining and cocktails, after closing at the beginning of shelter-in-place.
Twin Peaks teamed up with neighboring diner Orphan Andy's (3991 17th St.) to serve food alongside the bar's cocktails. Customers can now enjoy a cocktail while eating outside at 17th and Castro streets, with access to Orphan Andy's full menu.
Twin Peaks bartender Stephen Torres said bar customers will be required to order food from Orphan Andy's to get a drink, and only sit with people from the same household.
"Sometimes you want an Irish Coffee with your pancakes," he said.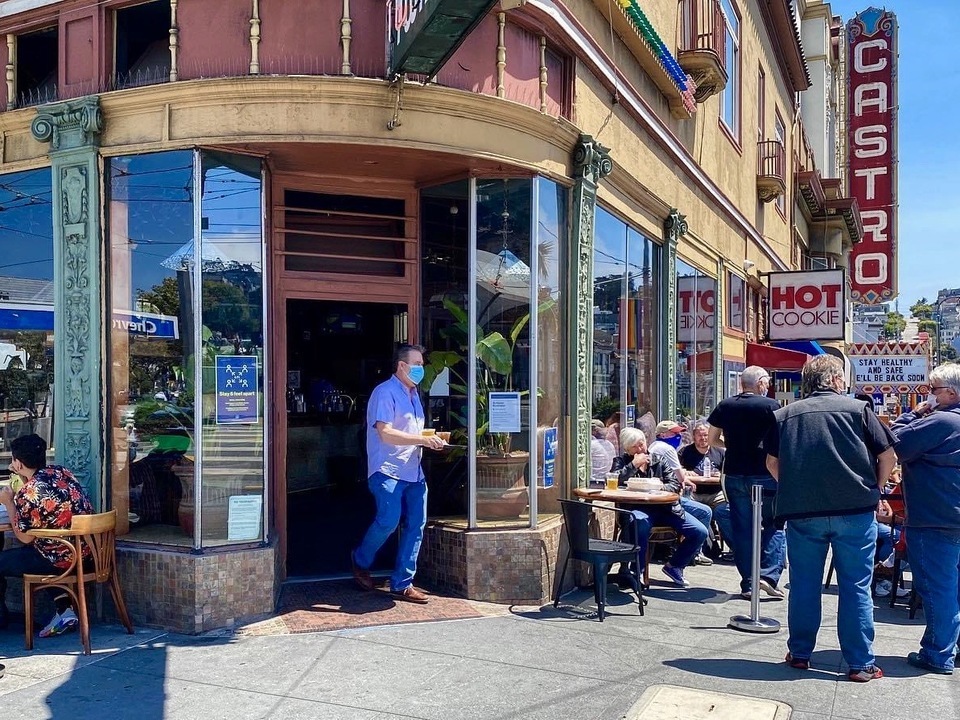 Twin Peaks will be open Wednesday through Sunday from 1 p.m. to 8 p.m.
"We are excited about partnering with Twin Peaks," said Orphan Andy's co-owner Bill Pung. He told Hoodline the collaboration has been in the works for the past couple weeks.
"Everybody's having such a hard time with bills to pay," he said, which factored into the decision of the two iconic Castro businesses to work together. Pung said he doesn't want to "go out like Louis' and It's Tops," two well-known San Francisco restaurants that closed recently.
"Other bars seem to be flourishing as well," Pung said, referring to bars The Edge, Midnight Sun and Beaux, all of which have reopened in partnership with Castro restaurants.
"They really don't have a choice if they want to stay open," Torres said.
In order to keep things clean and sanitary, Pung said he's purchased his own electrostatic mister to decontaminate Orphan Andy's nightly. According to Pung, the mister kills 99.9% of germs.
"As long as everybody complies with the regulations we can get by," he said.
Closing

Wells Fargo Home Mortgage (2258 Market St.)
Wells Fargo Home Mortgage at 2258 Market St. (between Noe and Sanchez) has permanently closed.
Company spokesperson Alfredo Padilla confirmed the closure to Hoodline.
Padilla tells Hoodline Wells Fargo is consolidating the 2258 Market St. location with the branch at 201 Mission St. All staff will move to the new location.
"Customers will continue to get their mortgage needs met at the Mission Street branch or at one of our many nearby banking locations that continue to serve the area," said Padilla.
The closure brings the total number of Castro businesses to permanently close during the shelter in place to 13.
In July, three Castro business have either announced their closure or already permanently shuttered, including restaurant Destino Latin Bistro and Pisco Bar (1815 Market), Nizario's Pizza (4077 18th) and adult store Puff 'n Stuff (504 Castro).
Since the shelter-in-place began in March, nine other Castro businesses have closed, including barbershop Male Image (2195 Market), a Verizon retailer (2199 Market), San Francisco Pet Grooming (209A Sanchez), children's clothing store Mini-Chic (4011 18th), Latin American restaurant The Castro Republic (2295 Market), diner It's Tops Coffee Shop (1801 Market), nail salon Gloss N' Glam (258 Noe), vitamin/supplement store Active Nutrition (2275 Market), and pet store Best in Show (545 Castro).
Other news

Castro/Upper Market Community Benefit District (Castro CBD)
The Castro CBD was renewed for an additional 15 years at last week's Board of Supervisors meeting.
The Castro CBD received 71.52% of the vote by Castro property owners in support of the renewal, and 28.48% against. Ultimately the supervisors voted unanimously, 11-0, to approve the renewal until 2035.
The Castro CBD provides additional street cleaning, trash removal, beautification, public safety workers and marketing for the neighborhood. During the public comment period multiple speakers, including former Castro Merchants President Daniel Bergerac, Castro Theatre owner Elaine Nasser Padian, Eureka Sky's Ray Connolly and Desmond Morgan, and landlord Helen McClure spoke in support of the renewal.
Castro CBD executive director Andrea Aiello said the organization is "delighted" by the result of the vote by Castro property owners.
"We look forward to working with them, and our community and governmental partners, to improve the Castro over the next fifteen years," she said. "We are humbled that during this public health and economic crisis, the property owners voted to continue paying the assessment fee, and in most cases a higher assessment fee."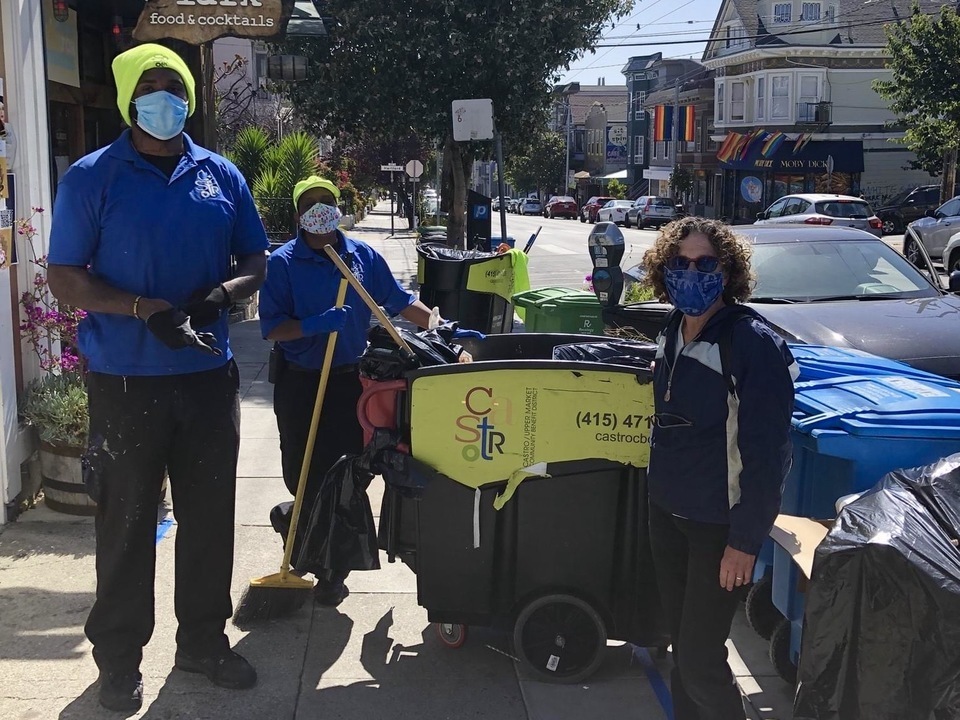 During the first year of the renewal, fiscal year 2020-2021, the Castro CBD plans to spend $866,274. 95% of that money will come from assessments on property owners, while the remaining 5% will come from donations and sponsorships.
One service notably absent from the renewal was public safety. The SF Patrol Special Police officer hired by the Castro CBD to patrol public spaces was removed from the budget.
The service was predominately funded through an Office of Economic and Workforce Development grant. Aiello previously told Hoodline the Castro CBD is working on securing a grant, but its approval is uncertain due to the city's estimated $1.7 billion budget deficit.
Two speakers in support of the Castro CBD specifically requested that funding for public safety be added back to the budget.
One speaker in opposition, John Goldsmith, questioned why property assessment dollars are needed to provide services that the city itself should be performing.
"The Castro has shown itself to be an incredibly resilient community," Aiello said, looking towards the future and overcoming the financial crisis caused by COVID-19. "We are sure that working together collaboratively, the Castro can come back to its creative and vibrant self, in an even more diverse and inclusive manner."
---
Thanks to Hoodline tipster Thang H.! If you've seen something new (or closing) in the neighborhood, text your tips and photos to (415) 200-3233, or email [email protected]. If we use your info in a story, we'll give you credit.