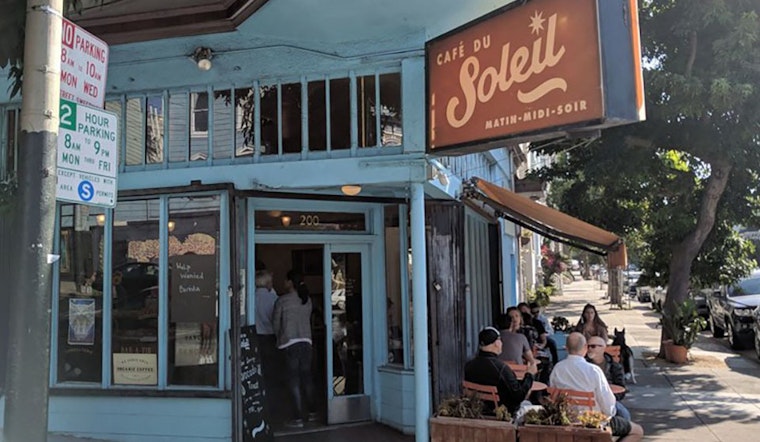 Published on July 14, 2020
Husband-and-wife team Audrey and Mario Jackson are set to open Tarragon Café in the former Café du Soleil space at 200 Fillmore St. (and Waller). Mario tells Hoodline that he hopes to open in about a month.
Cafe du Soleil closed in March after 15 years in the Lower Haight. Owner Mustapha Hakkou's lease was up, and attempts to negotiate a new lease with property owner Irene Cheung failed.
Hakkou had asked Cheung to lower the cafe's rent from the current $9,260 per month to $3,000 per month until the end of June, because of the COVID-19 crisis. Cheung declined.
Mario Jackson says he found the space through a broker, and pays about the same rent as Hakkou did.
Before the pandemic hit, Mario worked in corporate catering for Israeli eatery Oren's Kitchen in Richmond. A 2014 graduate of the now-closed Le Cordon Bleu cooking school in San Francisco, he also regularly cooked for about 700 employees at Sunnyvale-based genetic testing and analysis company 23andMe.
But after the shelter-in-place went into effect, Marino got laid off. He'd always dreamed of having a café, so the layoff "pushed me in the right direction," he said.
Tarragon Café will offer charcuterie, Greek and cheese plates, soups and a "nice salad," Mario said. Diners can also expect some dinner specials, and he plans to continue serving beer and wine.
"Lots of folks are counting on that café for their daily needs," he said.
Given the current COVID-19 restrictions, Mario plans to focus on to-go food, along with four tables for outdoor seating. He's held off on ordering indoor tables and chairs, since he wants to see how spacing will work once indoor dining is allowed.
Asked why he plans to open a business amid shelter-in-place restrictions, Mario said there is really never a perfect time to open up a business.
"It's not a race," he said. "We are going to ease into things."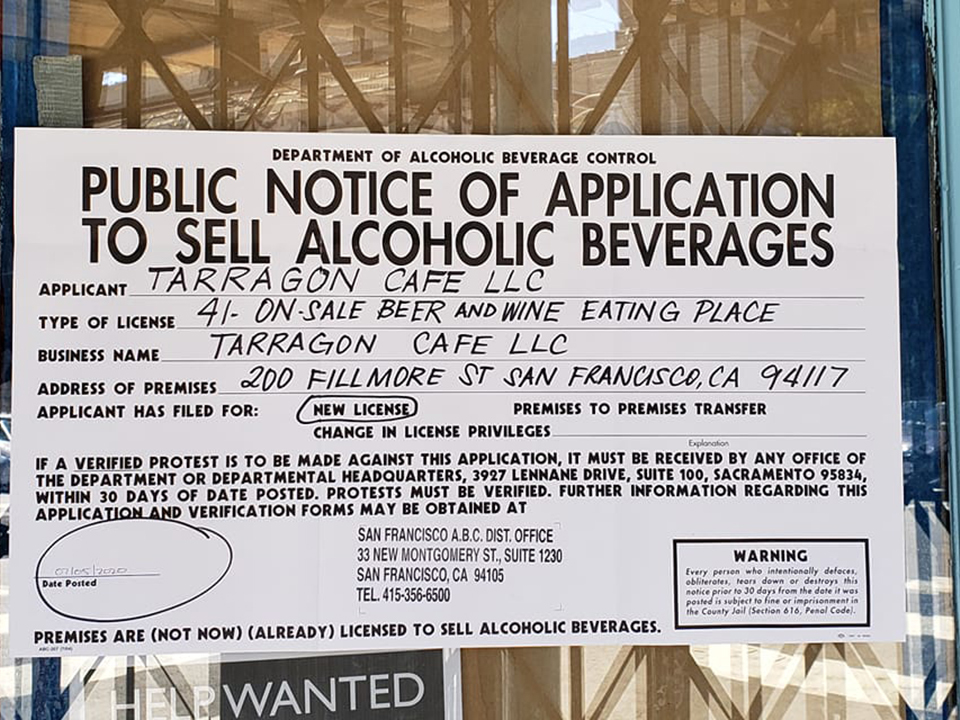 Mario said he's worked tirelessly over the last two months to paint the interior in green and white, as a tribute to the café's namesake herb. He's installed new bathroom tiles in, changed out the walls in the kitchen and deep-cleaned the space, among other small upgrades.
"It's rewarding," he said. "It's like your own home."
He also hired artist Fred Goykhman to paint a new mural on the Fillmore Street side of the building, which had a Café du Soleil-themed mural. As with the previous mural, the new mural will incorporate the name of the new spot. Mario said he told Goykhman to "use his heart" when he comes up with the design. He expects the mural to be complete in two weeks.
Mario said he hopes Tarragon Cafe will give neighbors a chance to talk with others, grab a cup of coffee or just get out of the house for a bit while sheltering in place. He said he plans to keep prices moderate — he wants to fit in with what other spots in the Lower Haight charge.
He said he'll be around very regularly even before the cafe officially opens, and folks are welcome to drop by and ask more questions.
"My wife and I are very personable," he said, noting that he wants the new spot to be family-oriented and "make everyone feel comfortable and welcome."
"I'm doing what I love to do," he said.
---
Thanks to tipster Reed M.! See something interesting while you're out and about? Text Hoodline and we'll try to find out what's going on: (415) 200-3233.