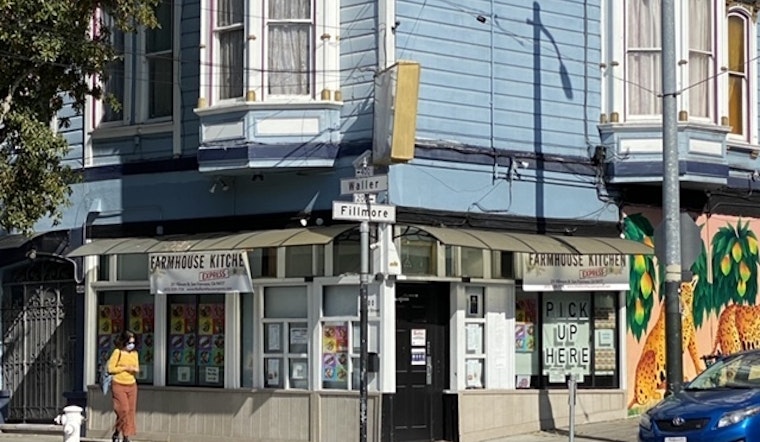 Published on August 07, 2020
Farmhouse Thai Kitchen is on an expansion tear in San Francisco.
The restaurant, which specializes in Northern Thai cuisine, opened its first location in the Mission District (710 Florida St.) in 2015. It quickly became a neighborhood favorite, and has earned four consecutive Michelin Bib Gourmands — the restaurant guide's highest rating for more casual, affordable restaurants. 
In the following years, Farmhouse debuted outposts in Oakland's Montclair neighborhood (2016); Portland, Oregon (2017); Oakland's Jack London Square (2018); and San Leandro (May 2020).
Now, the eatery has arrived in the Lower Haight, taking over the space that previously housed longtime Thai spot Thep Phanom. (It closed at the beginning of the year, after 33 years in business and a brief rebrand as Janchay's Bistro.)
Farmhouse's managing director, Wanvisa "Boom" Wattanadumrong, worked at Thep Phanom for five years as a server in the early 2000s.
"Such great memories," she said. "I love the Lower Haight neighborhood, and I love the vibes. This neighborhood has a special place in my heart."
Given the constraints of the pandemic, the Lower Haight location is now known as "Farmhouse Thai Express," with only a takeout window and delivery service. Wattanadumrong said that once the shelter-in-place order eases, the owners may reassess the possibility of serving diners in-house.
Married owners Kasem "Pop" Saengsawang and Ling Chatterjee are also running a second Farmhouse Thai Express out of Son & Garden, the restaurant they opened in March at 700 Polk St. 
Unlike Farmhouse's other restaurants, Son & Garden has more of a New American focus, with brunch items, pasta and tacos. Customers can order from Son & Garden's menu at 700 Polk, or pop next door to 708 Polk — the restaurant's onetime "secret" bar — to get takeout from Farmhouse. 
Farmhouse Thai Express has introduced some family-style meals for delivery, like a "Little Lao Set" that feeds up to four people with an assembly of bites: fresh rolls with peanut sauce, samosas, papaya salad, grilled flank steak, fried chicken, and more, plus a choice of two Thai iced teas or Singha beers.
A "Birthday Box," designed to be gifted, has four desserts and surprise gifts tucked inside.
The Polk location has a liquor license, and is offering alcoholic beverages for takeout with the purchase of a meal. For now, the Lower Haight location can only offer soft drinks. 
The two Farmhouse Thai Express locations have allowed the owners to hire back almost all of its employees they had to lay off in March, Wattanadumrong said. 
And the restaurant group is expanding even further: a Farmhouse location opened in San Leandro in May, and locations of both Farmhouse and Son & Garden will open in Menlo Park soon, with outdoor seating.