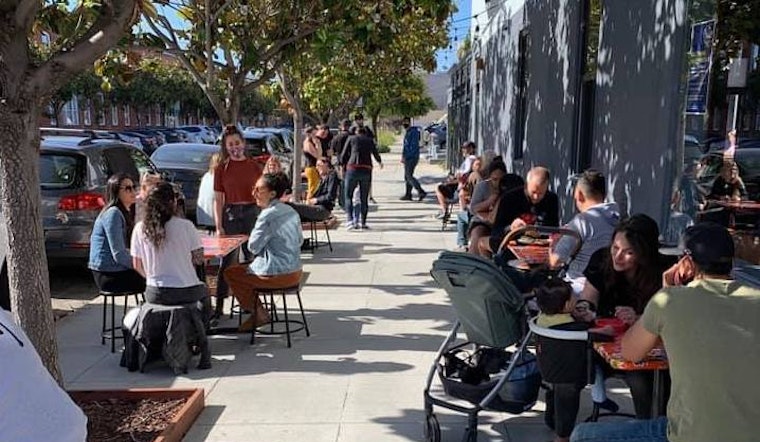 Published on August 03, 2020
Here's the latest in SF food and libation news. In this edition, a new nautical-themed restaurant opens in the Mission, a coffee and pastry-focused cafe debuts soon in Potrero Hill, a barbecue joint closes for good in SoMa, and a popular beer bar reopens with plans for new outdoor seating in the Lower Haight.
Openings
Mission
Lost Resort Cafe (2736 20th St.)
After roughly 60 years in business, longtime Mission dive bar Jay 'n Bee Club closed in February 2019 when its building went up for sale.
But last month, the space came back to life with a new business: a nautical-themed bar called Lost Resort.
The bar's menu offers small bites like Kennebec chips with Old Bay and onion dip, as well as larger plates like a low-country boil (with mussels, andouille sausage and potatoes), a smash burger and a fried chicken sandwich. There's also funnel cake for dessert.
Tiki-inspired cocktails include Mai Tais and the namesake "Lost Resort" (gin, chartreuse, lemon and hibiscus), alongside a selection of wine and local beer. 
Lost Resort is currently serving on its outdoor patio and sidewalk tables Tuesday through Saturday, 3 to 10 p.m., but the business' website indicates that it will expand its hours soon. Follow Lost Resort's Facebook page for updates.
Potrero Hill
Linea's Potrero Hill (1125 Mariposa St.)
Linea's Potrero Hill Cafe will soon debut its coffee roastery and cafe (at 1125 Mariposa St.). Its original location is at 3417 18th St.
The expansion was first announced in April of 2019, with a 5,000-square-foot roastery café in Potrero Hill.
For now, it'll serve freshly brewed coffee, bags of roasted beans, pastries from Neighbor Bakehouse pastries (and more) to go out of its Mariposa Street front door.
According to its website, it will start out serving four days a week, Wednesday though Sunday from 7 a.m. – 3 p.m. but will eventually expand its hours to seven days a week.
Stay tuned on its Facebook or Instagram page for updates. 
Closings
SoMa
CatHead's BBQ (1665 Folsom St.)
After over 13 years of business, CatHead's BBQ announced it has closed for good. Its last day of business was August 2.
The announcement said: 
"With a very heavy heart we have made the most difficult decision to close CatHead's BBQ," its website says. "We have been trying to hang in there for the last few months in this difficult climate of uncertainty but we have to face the reality that we have to move on."
We reached out to owners Pamela Schafer and Richard Park but have not heard back. We will provide updates if and when we have them.
Updates
Lower Haight
Toronado (547 Haight St.)
Popular beer bar Toronado reopened today, offering a limited number of drafts and fresh bottles and cans of beer to go. SFGate first reported the news that the bar would reopen, after closing down for shelter-in-place.
Workers spent the weekend putting the finishing touches on its newly built parklet, adding to the collection of new outdoor seating spaces that have recently opened in the Lower Haight.
In an email to Hoodline, buyer/manager Chad Calvert said Toronado is currently awaiting a decision from the city on its permit application, and they hope to open the new seating area by the end of the week. He said the plan is to start the bar's reopening slowly, with a maximum of 24 seated patrons.
Once opened, Calvert said mask wearing will be strictly enforced — patrons will be asked to keep masks on unless they're are eating or drinking.
Berliner Berliner next door will provide its popular sausage selection and other food items to enjoy along with Toronado's beer. Owner Christine Blunck said she's happy to announce she's brought back popular tradition "Burger Tuesdays," which relaunches tomorrow.
"We would like to thank all our patrons for their support and patience as we reopen," said Calvert in an email. "It will be great to be open in time for our 33rd anniversary on August 13th."
For Toronado's menu, visit their website.
Hours of operation for Toronado are Tuesday through Sunday, 12 p.m. to 8 p.m.
---
If you've seen something new (or closing) in the neighborhood, text your tips and photos to (415) 200-3233, or email [email protected]. If we use your info in a story, we'll give you credit.