Castro neighborhood bar Pilsner Inn (225 Church St.) reopened last week after a nearly one-year hiatus caused by shelter-in-place restrictions. The Pilsner's first day of outdoor drinks and food was February 5, much to the delight of customers, employees, and the bar's owners.
Originally opened by Pat Conlon and two other owners in 1980, the Pilsner Inn is now owned by Bryan Hoff and George Loudis.
"It feels good to be back seeing our customers," said Hoff. "It was very lonely in here without customers." As to be expected, Hoff said the first weekend was quiet as they reintroduced their regulars to the patio after a long closure.
Hoodline readers will recall all bars were required to close when the shelter-in-place first started on March 17. At that time business owners believed it was going to be short three-week closure, with businesses reopening on April 7.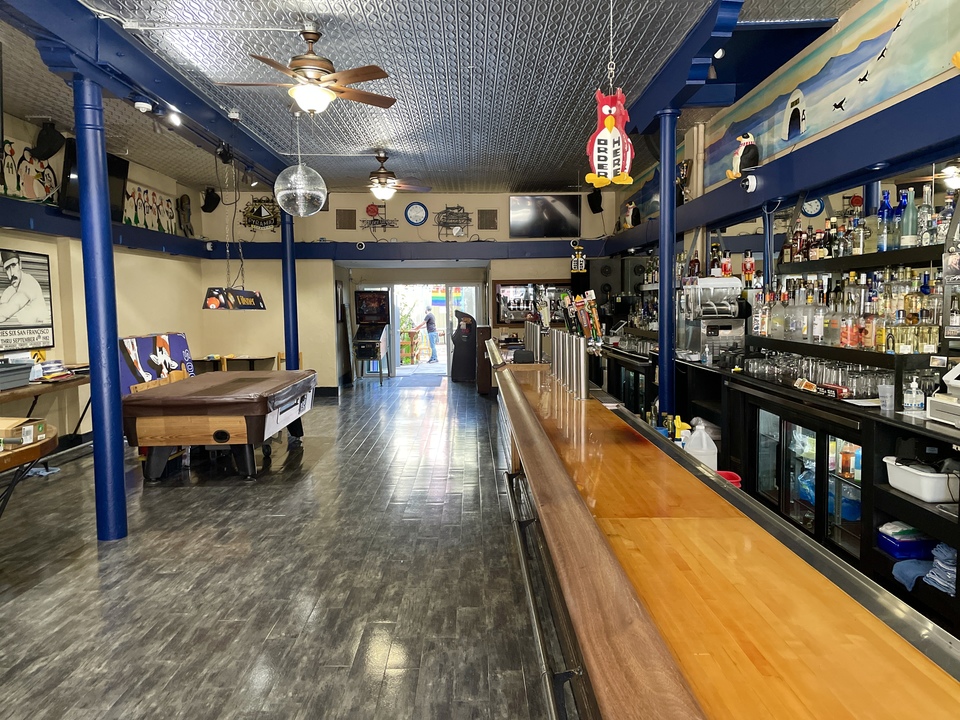 New floors have been added at the reopened Pilsner Inn. | Photo: Steven Bracco/Hoodline
Ultimately that reopening date kept getting pushed back and the future of the Pilsner Inn appeared uncertain. A message above a koi fish mural by artist Jeremy Novy read, "Pilsner Inn Re-opens May 2020." As that day came and went, the sign was recently updated to read "Pilsner Re-opens Very Soon".
While many businesses across the Castro and around the city have closed for good, Hoff tells Hoodline that was never in the cards for the Pilsner Inn. "We always knew we'd be back," said Hoff.
Enabling the Pilsner Inn to stay afloat these past 11 months was the fact that they own their building and they received a Small Business Administration (SBA) Paycheck Protection Program (PPP) loan. Public records indicate Pilsner Inn received $85,669 in May 2020.
"This is very much a community and neighborhood bar," said Hoff. "It's been a fixture for 40 years, if we lose the small businesses that have been here for a long time we'll start losing the character of the city."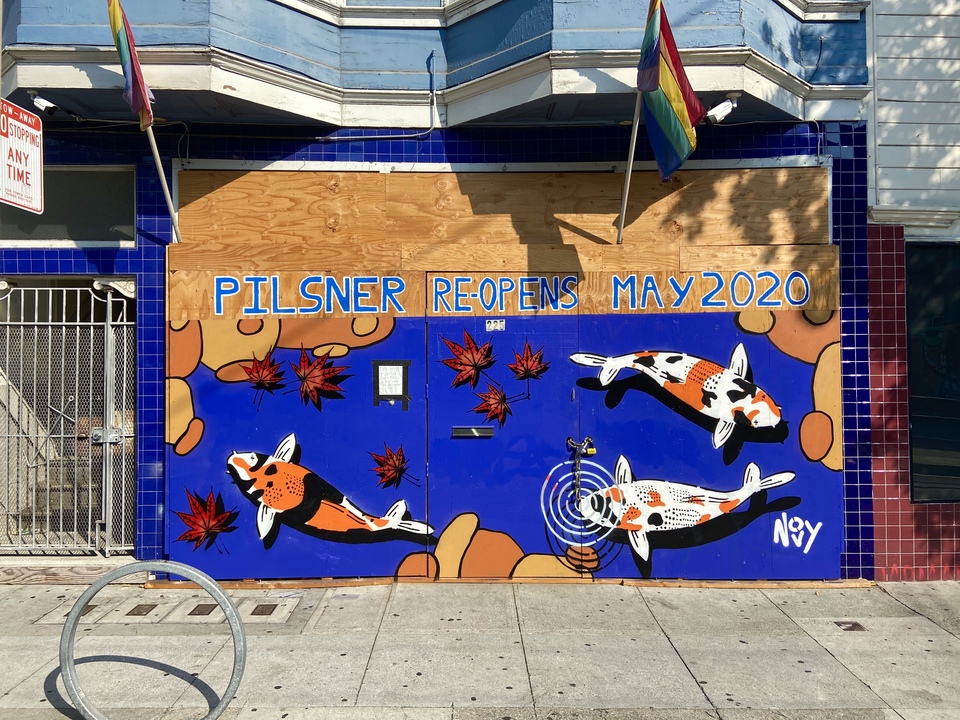 A sign above Jeremy Novy's koi fish mural read "Pilsner Re-opens May 2020". | Photo: Steven Bracco/Hoodline
"It was just a question of when it was gonna work and if we were going to be able to make the outside dining work or wait until regular bar service was allowed," explained Hoff.
However, Hoff shared his frustration with the constant changes the city has required small businesses to adapt to and overcome. "It's been a nightmare," said Hoff. "The amount of changes the city makes on a daily basis and expects people to keep up with is ridiculous."
"There's no continuity and there's no communication from the city," said Hoff. "We have to go look at stuff and the city isn't sending us anything."
Hoff called on the city's leaders to support small businesses as hundreds have already closed. "The city needs to get it together and be supporting businesses," said Hoff.
In the coming months, Hoff anticipates small businesses will continue to struggle as people are going to be understandably hesitant and uncomfortable about going out in public. "It's definitely nowhere near the number of people we'd normally have," said Hoff.
Hoff said requiring people to order food in order to have a cocktail may discourage some people from going out. "It's turning the bar experience into you're going out for dinner, not just drinks," said Hoff.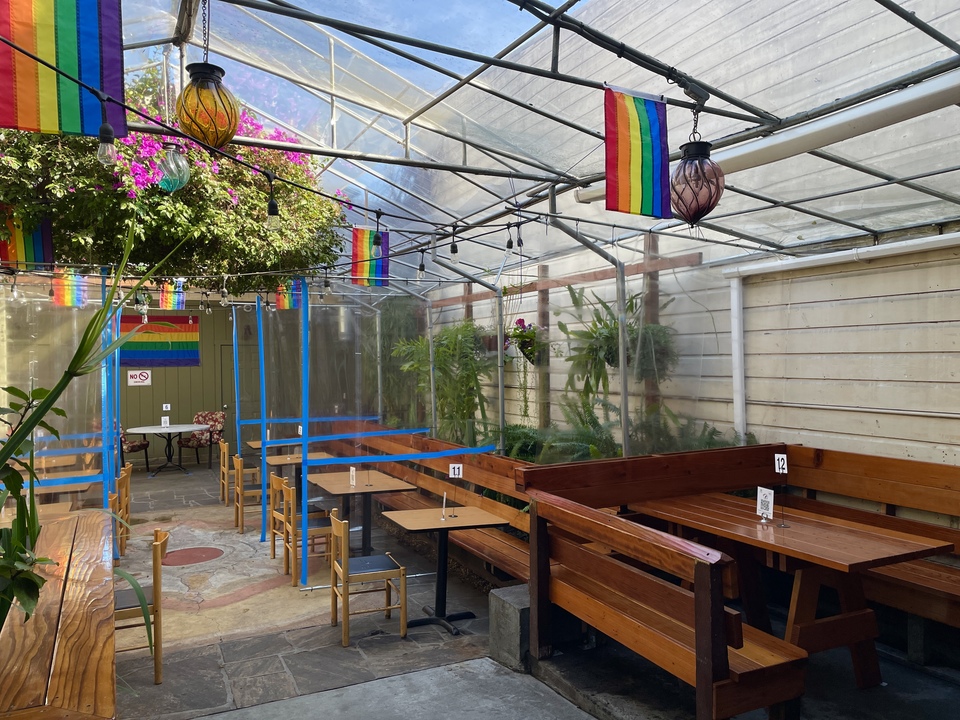 Redwood tables and benches on Pilsner's patio have been refinished. | Photo: Steven Bracco/Hoodline
According to Hoff, Pilsner Inn was ready to reopen on December 6 but they were forced to delay reopening due to San Francisco preemptively adopting the state's stay at home order.
Once outdoor dining reopened last month, Hoff says they took some additional time to prepare. "We decided to take the extra week to make sure everything was picked up, dust everything off, and clean everything again," said Hoff. "We wanted to give our staff a chance to do a little refresher before we opened and get everybody up to speed and feeling comfortable."
Customers entering the bar for the first time since last year will be greeted by some upgrades including a new floor, a fresh coat of paint, and refinished redwood tables and benches on the patio. And as a sign of the times, a wall-mounted temperature check station has been added.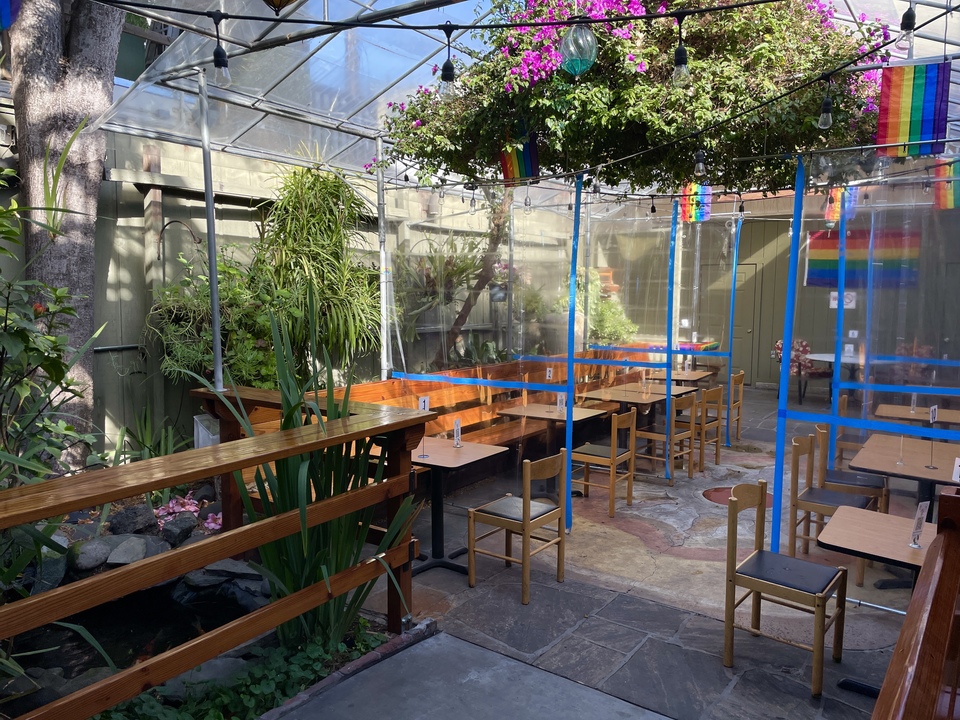 Photo: Steven Bracco/Hoodline
Pilsner Inn has partnered with neighboring Chinese restaurant Red Jade and Italian restaurant Il Casaro to comply with rules requiring bars to serve a "bona fide" meal. Customers can mix and match their food and place their order through an app or have a server assist them.
Hoff tells Hoodline the patio has been intentionally laid out with customers' safety and comfort in mind. "Whether you're more Covid restricted in how you're approaching going out or not, you should feel comfortable sitting where you are at a table," said Hoff. While the patio is allowed to have 49 customers, Hoff says they'll limit capacity to 42 people.
In the coming weeks, Hoff says additional outdoor seating will be added with a Shared Spaces platform along Church Street once their staff gets used to the changes.
Typically, the Pilsner Inn has all-day specials, but Hoff says they're still figuring out what special they'll be doing as they assess the flow of people in the bar.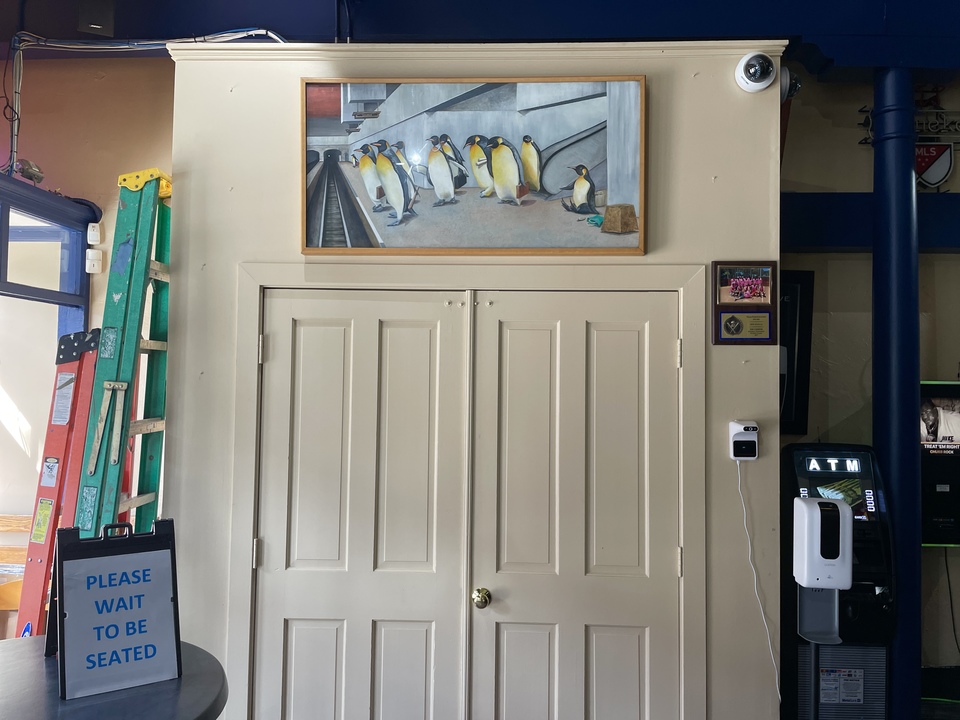 Pilsner's temperature check station. | Photo: Steven Bracco/Hoodline
A new Pilsner Inn cocktail menu has been rolled out for the reopening including drinks like Prickly Penguin (Ketel One Orangje, prickly pear, $10), Diddle My Skittle (Grand Marnier, Red Bull, $9), and Sunset on the Patio (watermelon and Ketel One Oranje shooter, $9).
Pilsner Inn will be open seven days a week from 12 p.m. to 10 p.m. Hoff hopes to extend the bar's hours once the state drops the mandatory curfew.
"We'd love to have our regular hours and have people be able to stay out later," said Hoff. "Lots of our regulars call our patio their second living room."
"Food, bars, mingling, and enjoying the company of other people is very much San Francisco," said Hoff.