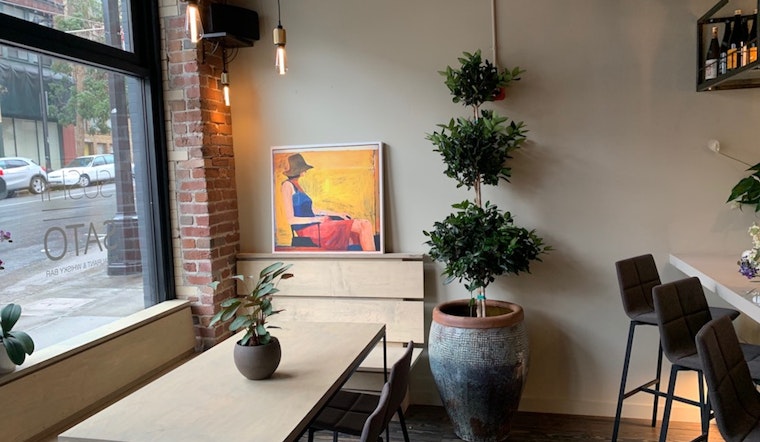 Published on November 02, 2021
A trio of upscale Japanese restaurants is coming to Polk Gulch, starting with the opening of Sushi Sato today, November 2, in a new project by Mins Group.
The project is a group effort across many of Mins Group's experts, from chief exeutive Min Choe and executive chef Alex Kim — of Sushi Hon and Sushi Hakko — and corporate chef Jason Shimizu — of Sushi Ondo and Izakaya Hon — to award winning bar director Derek Li, also from Izakaya Hon, and architech and designer Ron Stanford.
"I have good memories of Polk Gulch," Choe told us to explain why he decided to take on the long-vacant space at the corner of Post and Polk streets (1122 Post and 1117 Polk St.). The space most recently housed Bitters, Bock, and Rye, which closed in 2017.
"We pretty much stripped the space to the studs," Stanford said. "The location was great but the chi was a little off," he added. The minimalist but comfortable space has new bars and Baltic Birch wood throughout, and lighting that bounces off whiskey bottles and wooden screens. The three restaurants will be separate but have similar themes throughout and be separated minimally with sliding wooden panels.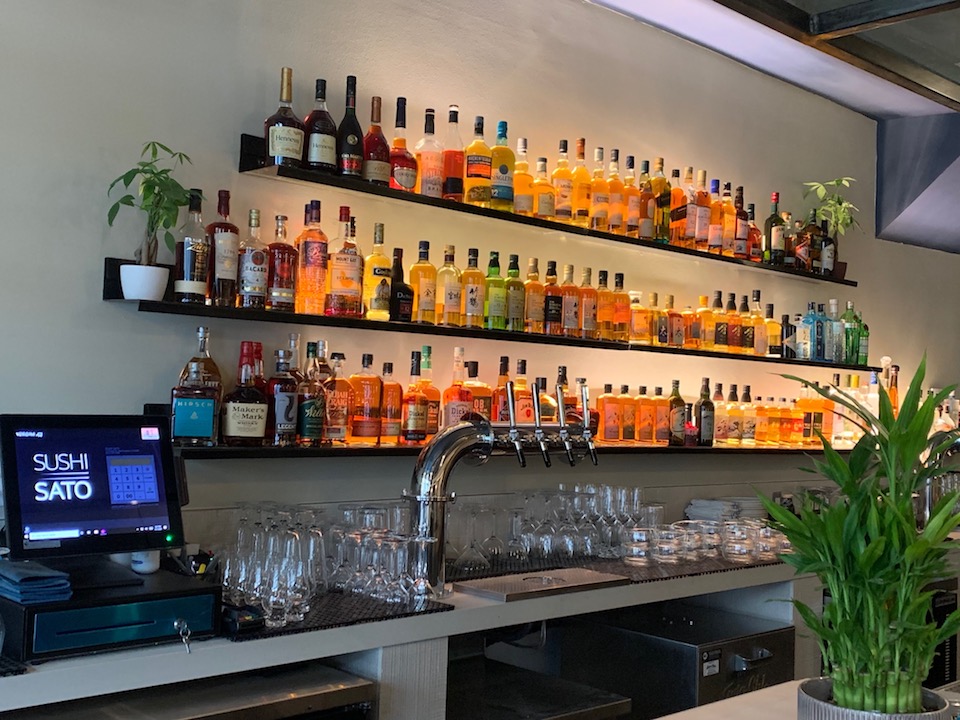 Sushi Sato will offer a range of whiskeys, champagne, cocktails, and beers to accompany small Japanese dishes.
Unlike many of the Mins Group restaurants, which offer mostly prix-fixe menus, Sushi Sato will serve a variety of a la carte selections including hot dishes — from miso soup to wagyu ribeye roast — and cold dishes from salads and salmon tartare to premium sushi. The chef's tasting menu offers six selected seasonal fishes for $40, and there is an executive chef's tasting menu that features five pieces of Nigiri, truffles, and caviar for $55.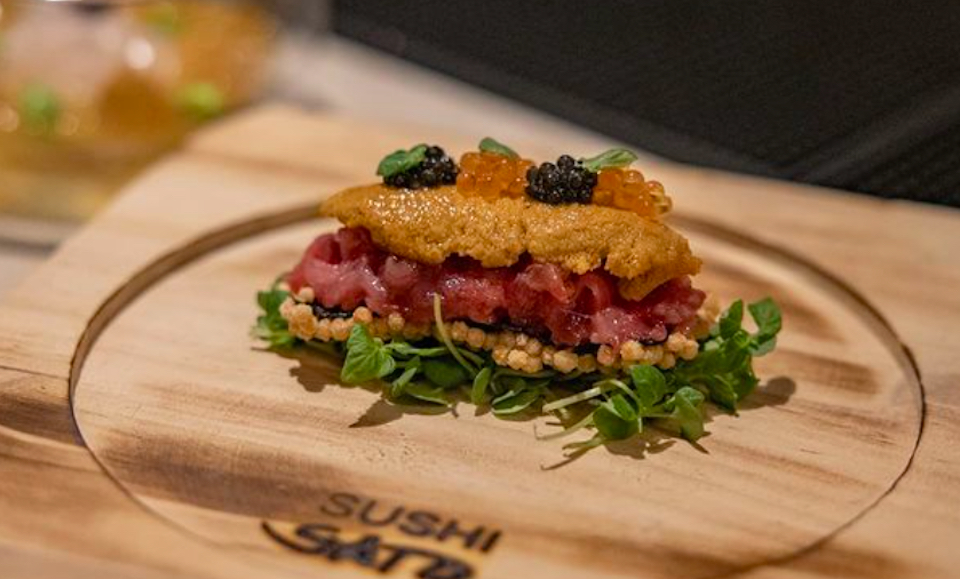 Photo: Sushi Sato | Instagram
Sushi Sato will also serve small-batch beers brewed on the premises in new equipment Stanford will offer just enough just capacity to serve on-site and potentially other restaurants in Mins Group. Dave McLean, who founded Magnolia Brewing and co-founded Admiral Maltings, will be starting the restaurant's beer program, but it will be evolving over time, Choe said.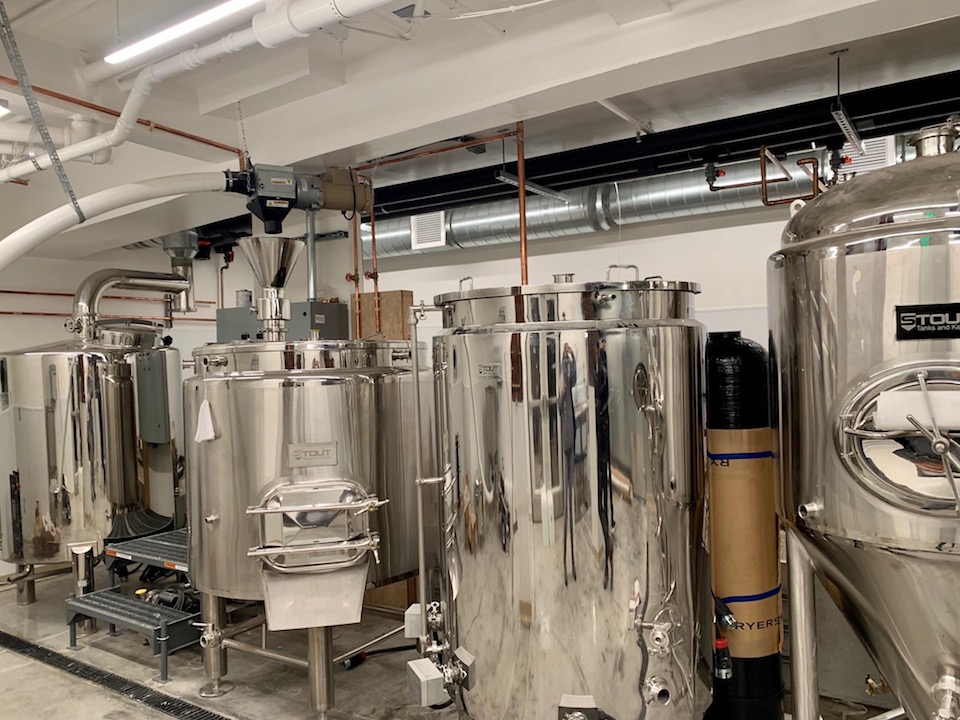 The brewery will offer small batches of beer for consumption on-site or at other Mins Group restaurants.
No house-brewed beer will be on tap when the restaurant opens today (November 2, 2021) at 5 p.m., but Sushi Sato will offer a range of whiskeys, beers, champagnes, wines, and cocktails. Hoodline readers can mention they read about Sushi Sato's opening on Hoodline when making a reservation for tonight's opening, and receive a free glass of champagne to celebrate.
In about three weeks, Choe aims to open Bar Kuro which will feature champagne, higher-shelf Japanese Whiskey, and fancier sake. The bar, which customers will enter on the Polk Street side, will also offer a selection of small plates for sharing, including caviar. The space is minimal currently, with a red accent wall and built-in benches, but the wall will feature some custom mural art as part of the decor, Stanford said.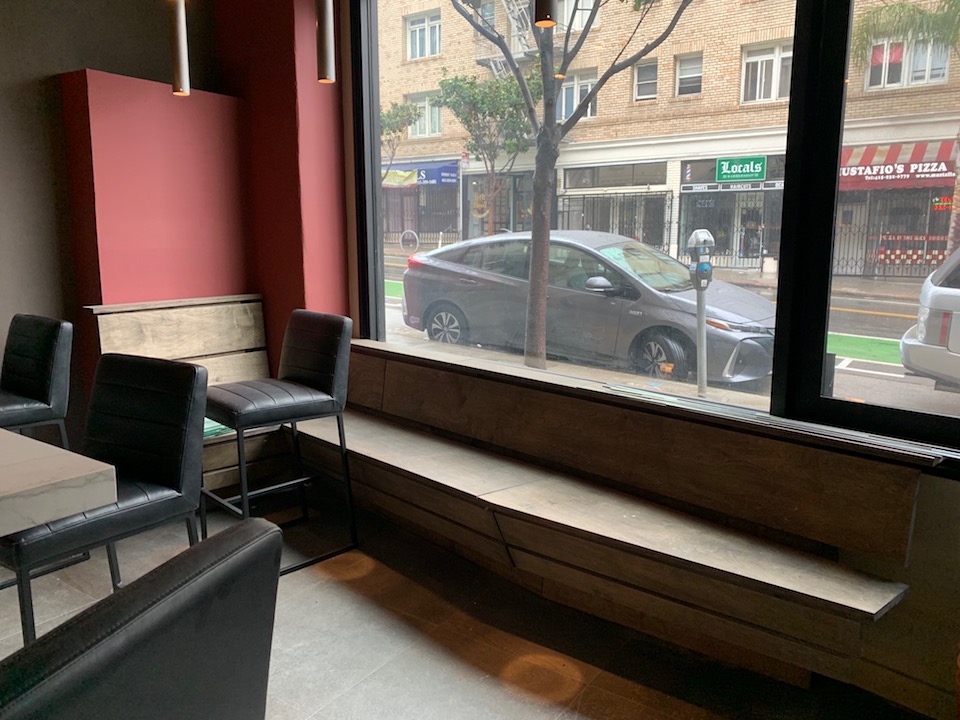 Some customer mural art will be featured in Bar Kuro, which is on the Polk Street side of the restaurant.
And in early 2022, the most intimate of the three spaces, Kuro, will open with an omakase concept that will offer beverage pairings from the house-made beer to Li's cocktails, Choe said.
"The craft goes across food and drink," he added.
"Kuro means black, so everything will be black," Choe said referring to the decor of the restaurant that will offer two seatings each night at the black lacquer finish chef's table and small, divided areas for private parties that be separated by wooden sliding panels to provide more intimacy. Customers will enter through Bar Kuro and can enjoy cocktails or small bites while they're waiting to be escorted to their table, he added.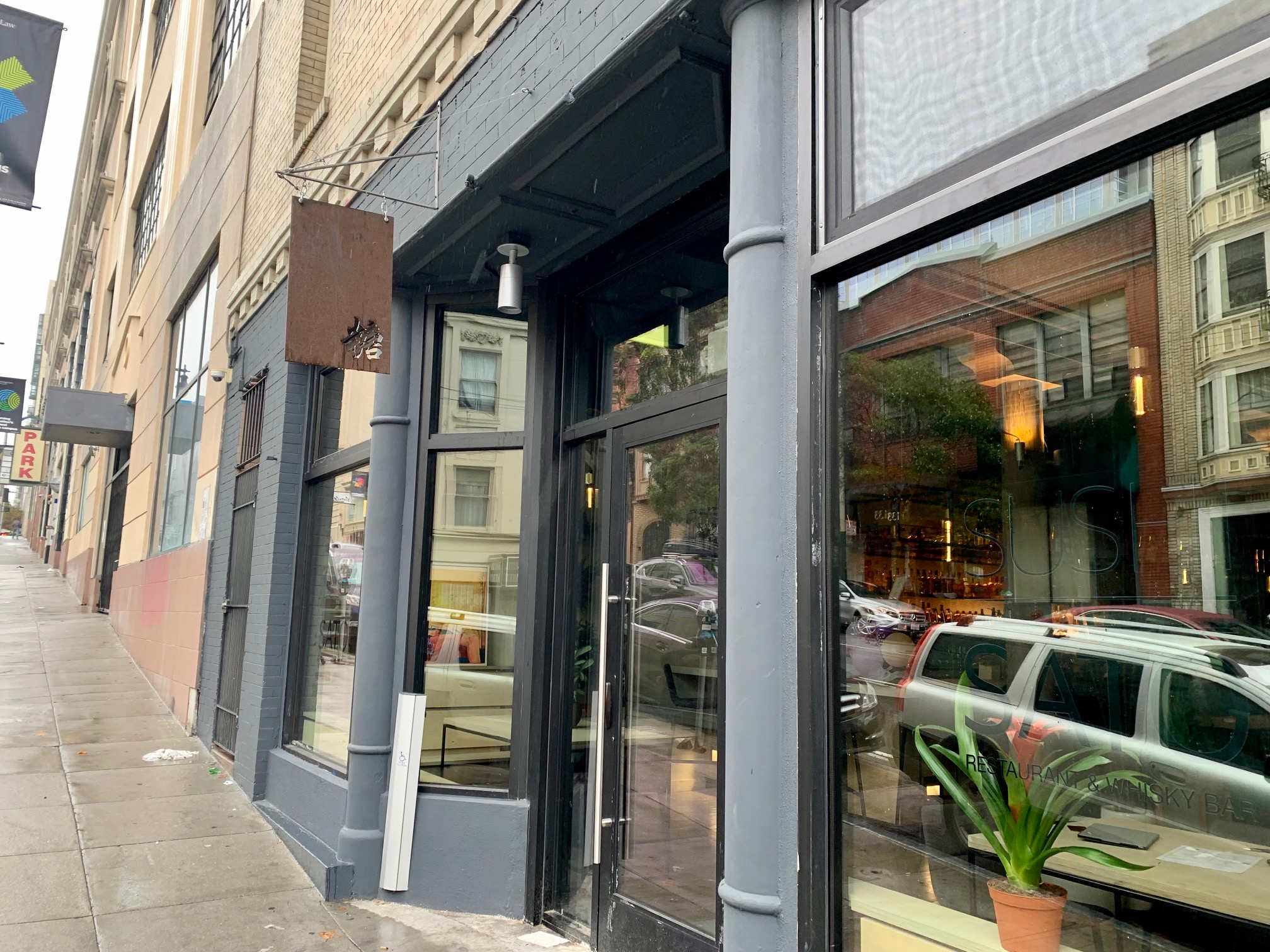 Sushi Sato is the only of the three restaurants customers will access through the entrance on Post Street (1122 Post St.).
Choe and Mins Group is also still working to renovate 250 Hyde St., the former home of Lafayette Coffee Shop (near Eddy Street). Once it's finished being built out, Choe's Korean comfort food restaurant, BarnZu, will move from its current location at 711 Geary (near Leavenworth) into the Hyde Street space. A new, upscale Korean restaurant will move into BarnZu's space offering a fine dining option, once the more relaxed atmosphere of BarnZu is relocated to Hyde Street, Choe said.
"We are bullish on the Tenderloin," Stanford said. But Mins Group has been expanding across the city, even during the pandemic. You can be one of the first to experience their newest offerings tonight, at Sushi Sato.
Sushi Sato is open from 5 to 11 p.m. on Tuesday and Wednesday, and 5 p.m. until midnight on Thursday, Friday, and Saturday. Reservations are encouraged.