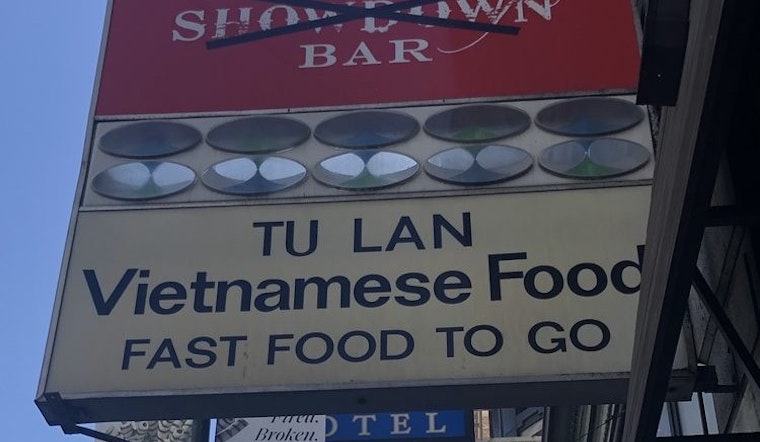 Published on January 11, 2022
There's not many San Francisco restaurants that can be shut down multiple times by the health department over vermin and sanitation issues, yet still maintain a devoted cult following for decades. But that is the case with Sixth Street greasy spoon Vietnamese restaurant Tú Lan, which was recently added to the San Francisco Legacy Business Registry.
Congratulations to Tú Lan Vietnamese Restaurant (8 6th Street), who joined the #SFLegacyBiz Registry in Dec. 2021. When it opened downtown in 1976, Tú Lan was one of the very first Vietnamese restaurants to open in SF.

📺 May 2020 ep. of Check, Please! Bay Area w/ @lesliesbrocco pic.twitter.com/qxfMmp32Ol

— SF Heritage (@SFHeritage) January 8, 2022
"When it opened downtown in 1976, Tú Lan was one of the very first Vietnamese restaurants to open in SF," according to the above tweet from SF Heritage News. "Tú Lan was originally opened by Thao Nguyen and his sister, Thu Hang Nguyen, who both wanted to serve affordable and authentic Vietnamese food. Decades later, the restaurant still remains in the family."
Hoodline has verified that Tú Lan does now appear on the SF Legacy Business Registry. Inclusion on that registry does not necessarily guarantee that a business will survive forever, but does "provide assistance to businesses that have been long-standing pillars of our community through marketing, business assistance, and specialized grants for our local small businesses that are a part of the Legacy Business Program."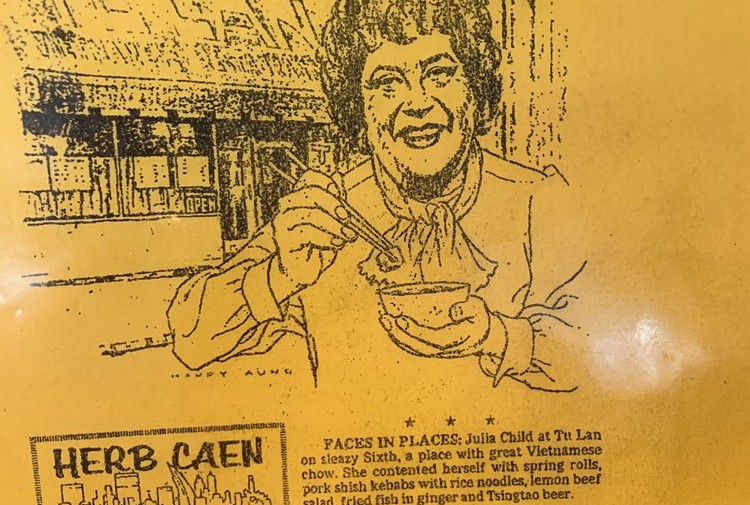 Image: Brian M. via Yelp
Any discussion of Tú Lan's legacy must of course address how Julia Child appears on their charmingly not-updated menu, in an undated Herb Caen claim of "Julia Child at Tu Lan on sleazy Sixth, a place with great Vietnamese chow. She contented herself with spring rolls, pork shish kebabs with rice noodles, lemon beef salad, fried fish and Tsingtao beer."
Did this really happen? The Chronicle verified this account in 2019, and yes, Julia Child did eat at Tú Lan and spoke highly of it. Chronicle archives show that the Caen column was published on Nov. 15, 1985, and that it also included the additional text, "The owner, Thao Nguyen, had never heard of Child, but was pleased she liked the food…"
Yet it was Examiner food writer Jim Wood, not Caen, who took Child and her husband to Tú Lan. And former Chron, Examiner, and KQED journalist Patricia Yollin chased Ms. Child down in 2002 to ask if she remembered the palace. And indeed, Julia Child did remember Tú Lan.
"The food was very good," Child told Yollin. "It was a very dirty place, but I enjoyed it and [it] had no ill effects."