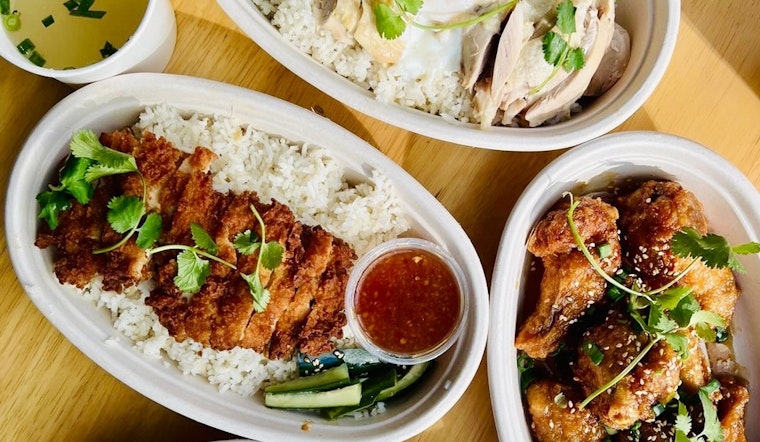 Published on January 31, 2022
Fast-casual chicken and rice restaurant Gai has opened its second location at 1001 Market Street (at Sixth), formerly Homeskillet.
Gai softly opened the new spot on January 22 and has a grand opening planned for February 5. In 2018, owner Kevin Lieu opened the first location of Gai on 16th Street in the Castro.
Gai (pronounced "guy-ee") means "chicken" in Thai, Vietnamese, and Cantonese. The restaurant serves a dish that is classic in all three cultures: poached chicken with rice, a selection of sauces, and soup on the side.
Customers choose a base of white rice with chicken drippings, brown rice, or salad, followed by a protein — tofu, chicken thighs, and breast, or only chicken breast. It's finished with one of three sauces: Hainan onion-ginger, Vietnamese Hoi An sweet and sour, or Thai soy sauce.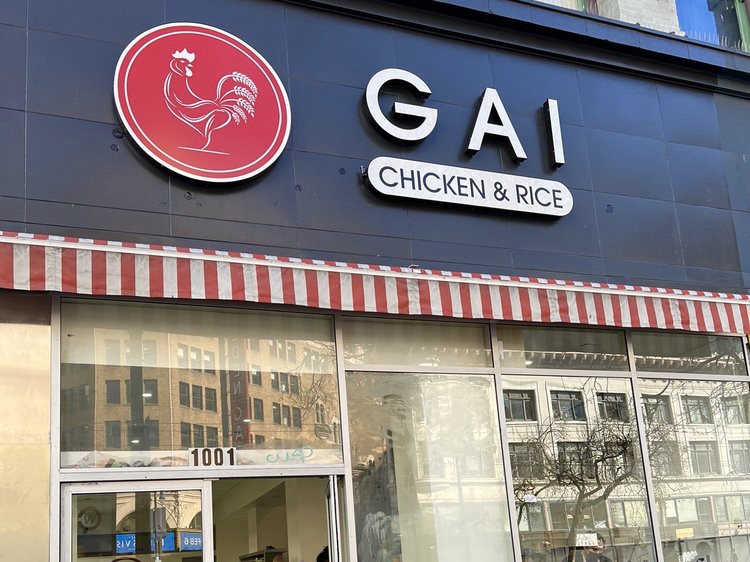 Gai is now open at 1001 Market St. | Photo: Jen W./Yelp
"The Castro was something familiar and felt like home," said Lieu of the original location. "For the Market St. location, we wanted to go to the heart of downtown."
Being close to Union Square and Mid-Market neighborhoods was important said Lieu. "For our second location we wanted something with more foot traffic and central to help get our name out there," said Lieu.
Additional menu options will be made available at the Mid-Market location including the Crispy Gai ($11.95), a lightly fried chicken thigh; and Mala Dan Dan ($11.95) noodles with a spicy Sichuan sauce.
Lieu tells Hoodline they will be transferring the beer and wine license from the Castro location. "The Castro location has become more of a pickup and delivery space," explained Lieu. "With the changing regulations, we don't think it's as valuable having an alcohol license there."
While alcoholic drinks are not currently available, customers can order Thai Iced Tea ($4.50), Mango Jasmine Ice Tea ($4.75), Vietnamese Ice Coffee ($4.50), and other soft drinks.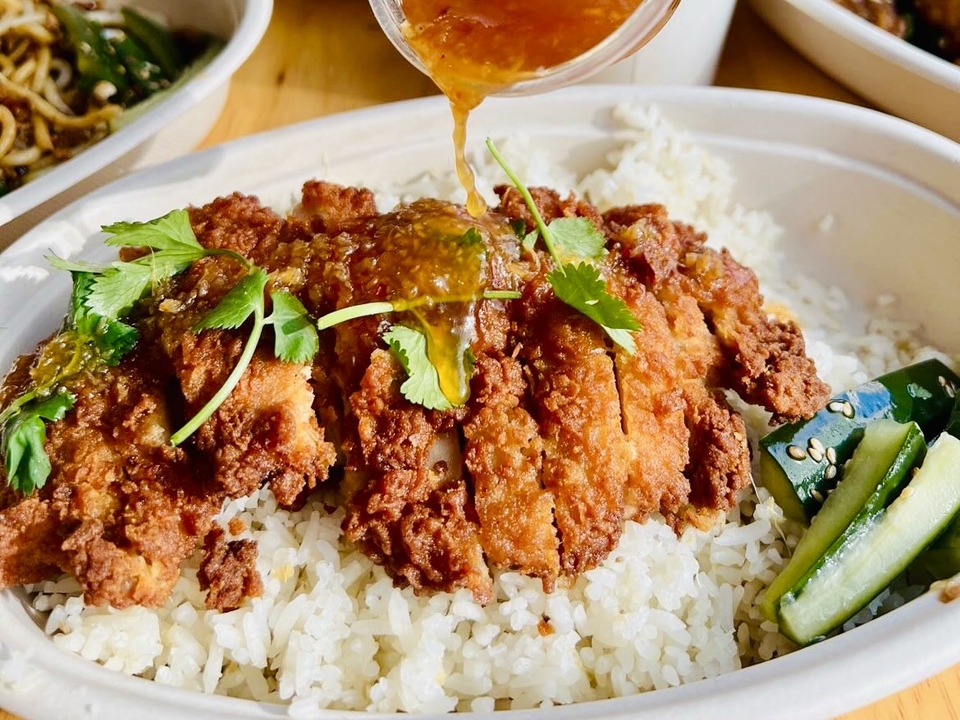 The crispy Gai. | Photo courtesy of Joods/Gai
To get ready for opening Lieu says they spent a lot of time remodeling the space, adding new tile, lighting, adjusting the seating arrangement, and painting.
While many restaurant owners are scaling down and cutting back on space, Lieu says they decided to take the risk of opening a larger restaurant. The larger space allows for a capacity of 32 customers.
"It's a lot more than our Castro location," said Lieu. "It was a way for us to go back to our brick and mortar roots."
Now three years into operating Gai, Lieu says business has been steady. "With COVID we definitely saw a dip in the beginning because we were just trying to figure out what to do next."
In order to adapt Lieu says, "We quickly moved into delivery and pick-up only, allowing us to maintain our business. We did see a huge shift from our customers dining in or taking out to delivery through third-party apps."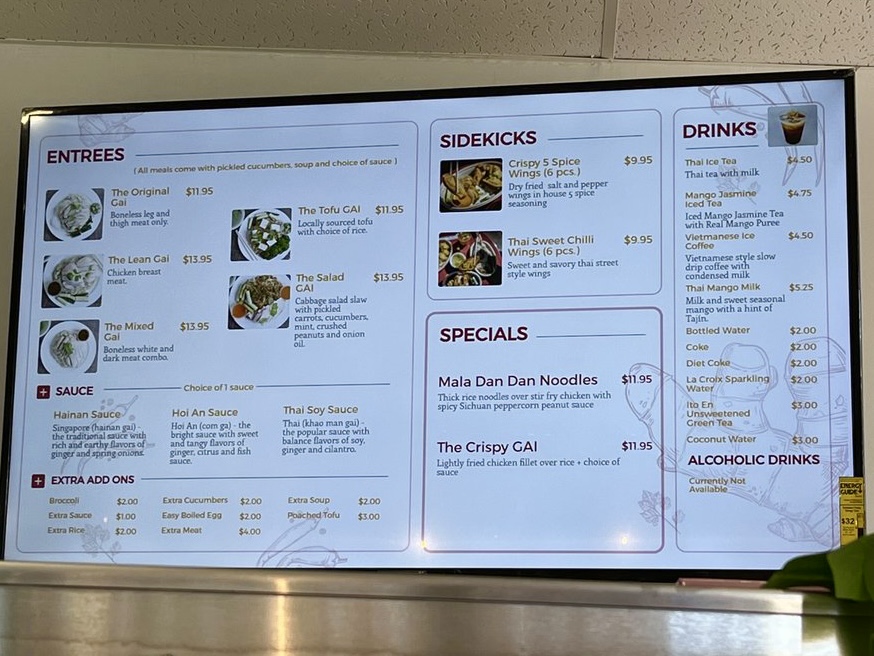 Menu at Gai. | Photo: Ann L./Yelp
Lieu says they were able to remain afloat when they received a Small Business Administration (SBA) Paycheck Protection Program (PPP) loan. Public records indicate Gai received $77,630 in February 2021.
"Once we understood what we were doing and had a goal of moving online, we were able to leverage the employee tax credit," said Lieu. "We actually brought people back and sustained the entire team."
Lieu is hopeful that as the city reopens and workers return to the Mid Market area they will want a sit-down restaurant option. "We still believe food is enjoyed over a good conversation," said Lieu.
During the soft-opening period, Gai is open daily from 11:30 a.m. until 3:30 p.m. After February 5, Gai will expand its hours to 11 a.m. to 8 p.m. daily.