Once upon a time, there was a cabaret-style nightclub in San Francisco's North Beach that featured a cast of female impersonators. The place gained nationwide notoriety, and became a go-to destination for tourists, sailors, and celebrities alike. And this was before anyone even called them drag queens, or thought that going to a drag show was something people could do.
That club was Finocchio's, and from 1936 to 1999 it played host to some of the greatest drag performers — or "male actresses" as proprietress Eve Finocchio liked to call them — that the country had ever known. Hoodline had a history piece about the club back in 2016, and now 24 years after its closure — upon which North Beach icon Laurence Ferlinghetti remarked "What a drag." — ABC 7 has a new piece remembering Finoccio's as the drag club that existed "long before Rupaul's Drag Race."
The club opened originally as a gay speakeasy in 1929 at 408 Stockton Street. Pioneering gay activist Harry Hay described the flirting protocol at the bar in an oral history thusly: "A waiter might approach you with a bottle of wine and a card sent over by a young man. If you weren't interested, you turned over your glass and that would be it. If you were interested, the waiter would fill your glass and bring another. Then the young man would come over and the waiter would introduce him."
After Prohibition ended, in 1936, the Finocchios moved the club to the prominent building at Kearny and Broadway — the downstairs, street-facing space at 504 Broadway would become home to Enrico's, and it is now Osmanthus Dim Sum Lounge. But Finocchio's address was 506 Broadway, and the club was tucked away from the street.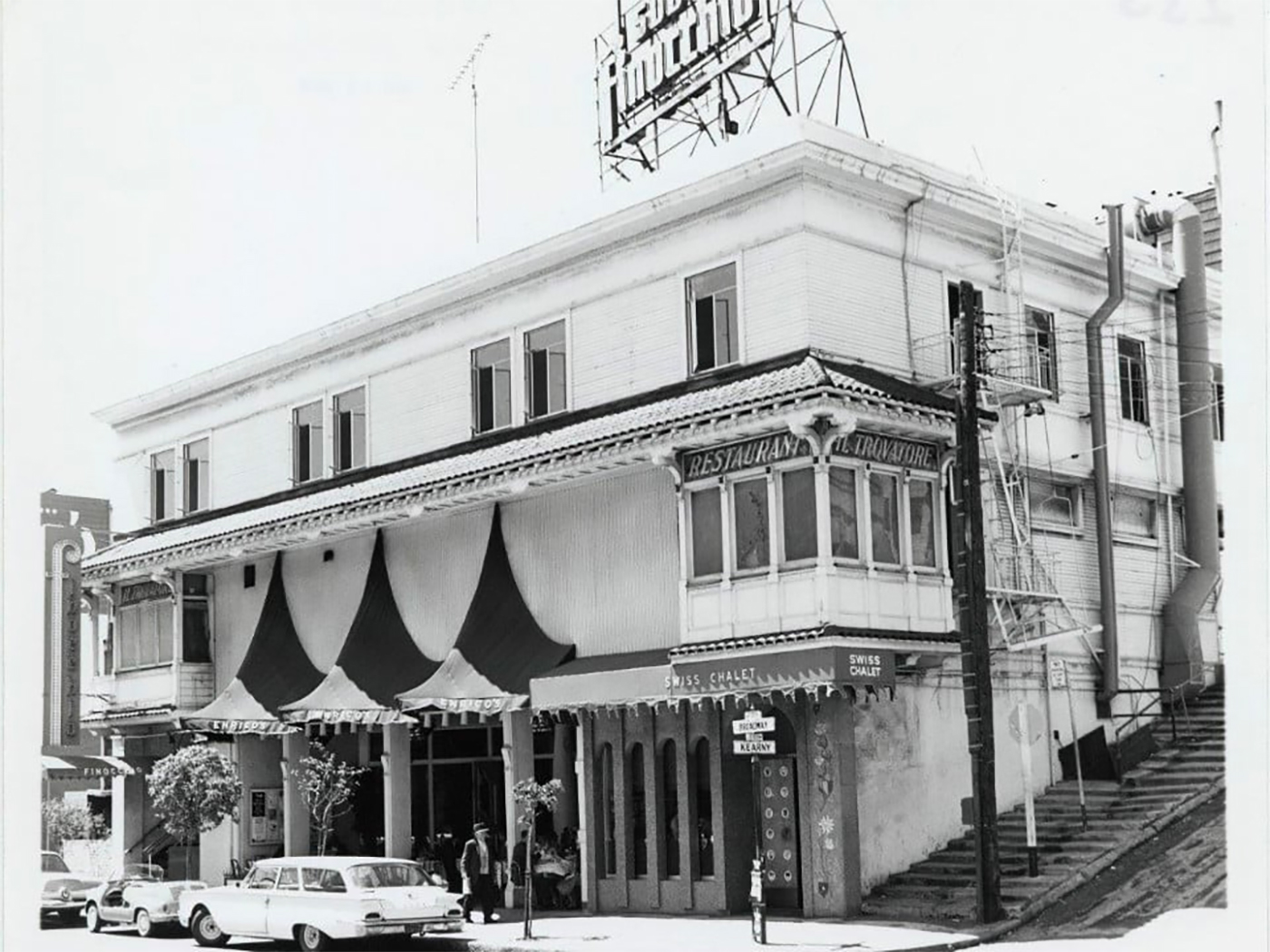 Finocchio's, seen at far left, with Enrico's at the center, in 1964. | Photo: Alan J. Canterbury, via the San Francisco History Center, San Francisco Public Library
Famously, emcee Carroll Wallace would open the show with the line, "In New York, Mr. Ziegfeld glorified the American girl ... Here at Finocchio's, we glorify the American boy." The performers used to do four shows a night, six nights a week.
You can see Wallace opening the show in a rare video clip from 1980, uploaded to YouTube.
Over the years, Frank Sinatra, Tallulah Bankhead, David Niven, and Errol Flynn would all be noted guests at Finocchio's. And according to one legend Hoodline's Art Peterson relayed, "When Howard Hughes saw the show with his then-girlfriend Ava Gardner, he returned to the club and whisked away one of the performers for what turned out to be an extended relationship."
Most of the performers were gay or trans — as ABC 7 reports, there were more transwomen in the cast starting in the 1950s and 60s, and they would later come to dominate. But there were also straight, or possibly bisexual men who performed in drag. As Peterson explained, a popular act for many years was the drag queen Lucina Phelps, who would do an impersonation of Sophie Tucker — and Phelps was married with children and performed at the club for 27 years.
One success story among the Finocchio's cast was Lori Shannon, who appeared on TV's All in the Family as drag queen Beverly LaSalle, as seen in the clip below of her first appearance.
Current-day drag performer Holotta Tyme talked to ABC 7 about performing at Finocchio's in its latter days in the 1990s.
"I think I took it for granted," Tyme says. "You know, when I left my dressing room and I shut the door and I walked out, I didn't really think about it for quite a while. Now I realize how historical and important this space is."
The collection of artifacts and costumes from Finocchio's was donated to the GLBT Historical Society in the Castro after the club's closure in 1999.
And while drag has evolved quite a long way from the days of Finocchio's "female impersonators," this is where it all began, at least as far as upscale nightclub drag in the U.S. is concerned, where straight audiences felt comfortable.
The closest thing we still have is probably the weekend show at Aunt Charlie's in the Tenderloin — longtime denizen and founder of the current show that's performed there, Vicki Marlane, also got her start at Finocchio's back in the day.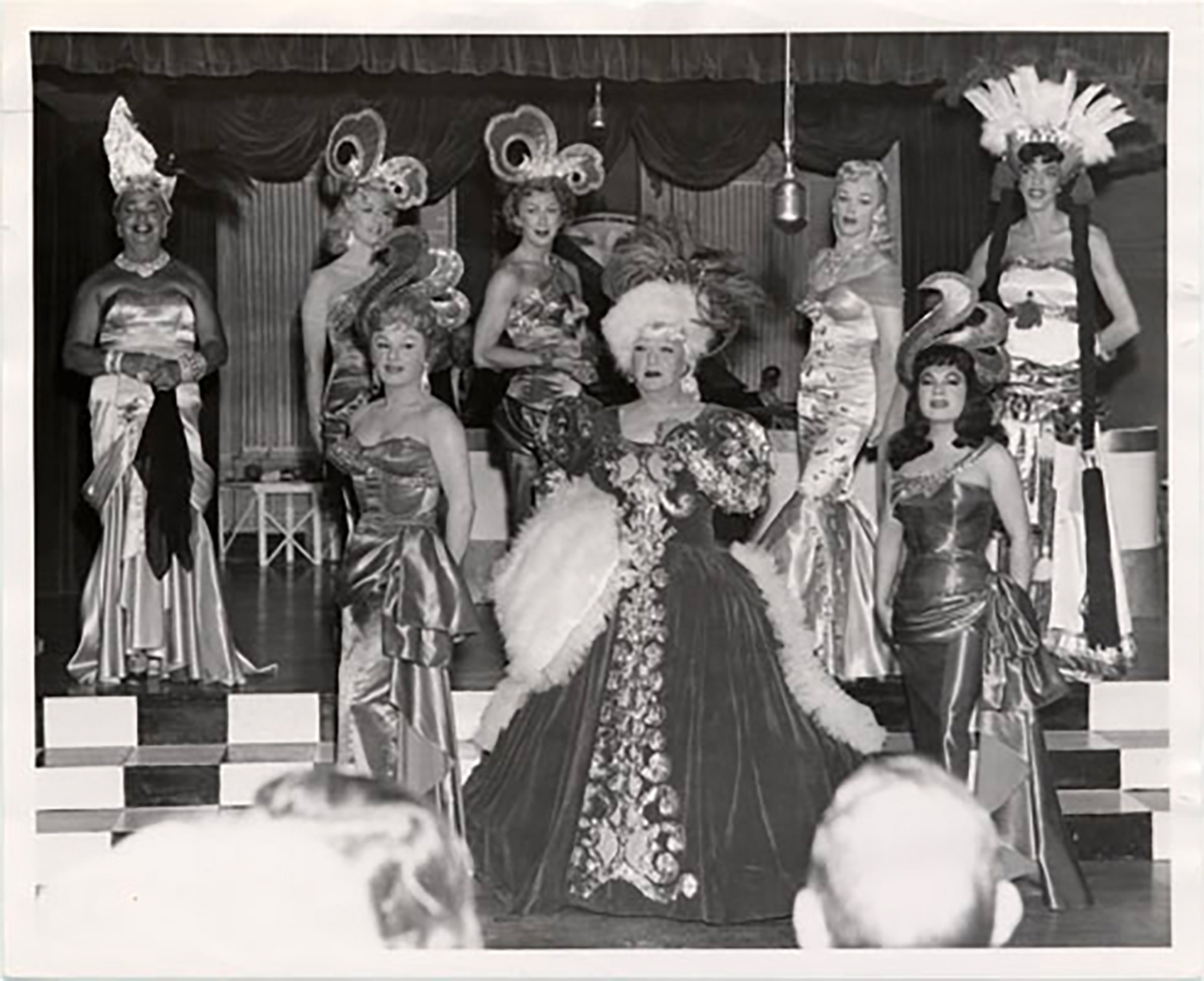 Cast of floor show at Finocchio's, June 28th, 1958. | Photo: Courtesy of SF Public Library Historical Photo Collection