By
Hoodline
- Published on December 18, 2018.
Looking to satisfy your appetite for Italian fare?
Hoodline crunched the numbers to find the best affordable Italian restaurants around Denver, using both Yelp data and our own secret sauce to produce a ranked list of where to meet your needs.
1. Sliceworks
Topping the list is Sliceworks. Located at 1433 17th St., Suite 100 in LoDo, the Italian spot, which offers pizza and more, is the highest rated affordable Italian restaurant in Denver, boasting 4.5 stars out of 358 reviews on Yelp. It has another location on Colfax Avenue.
Sliceworks offers New York-style pizza and other Italian eats like Eggplant Parmigiana, with layers of breaded eggplant, tomato and mozzarella; Penne Bolognese, with meat sauce; and Mozzarella Caprese, with sliced mozzarella served over fresh tomatoes and balsamic syrup. (Check out the full menu here.)
2. Brooklyn's Finest Pizza
Next up is Brooklyn's Finest Pizza, situated at 5007 Lowell Blvd. near Regis University. With 4.5 stars out of 261 reviews on Yelp, the Italian spot, which offers pizza and sandwiches, has proven to be a local favorite for those looking for an inexpensive option.
This Brooklyn-style pizza joint serves traditional Italian cuisine along with signature pizzas like The Godfather (bacon, sausage, pepperoni, salami, ham and mozzarella cheese), The Bronx Bomber (sausage, roasted red peppers, garlic, mozzarella cheese and balsamic glaze) and Central Park (feta, chicken, tomatoes, Kalamata olives, bell peppers and mozzarella cheese). Pizzas by the slice are also available. 
Pizza lovers rave about the pizzeria's authenticity: "It is as close to New York pizza as we have found in my 29 years of life living here in Colorado," wrote Yelper Leah A. "Tables are fully stocked with everything your heart desires to throw on top of your pie."
3. Pizzeria Locale
Pizzeria Locale, an Italian spot that offers pizza, salads and more in Speer, is another inexpensive go-to, with four stars out of 443 Yelp reviews. Head over to 550 Broadway Blvd. to see for yourself. 
Despite a setback and closure of five of its out-of-state restaurants, Pizzeria Locale is expanding locally with plans to open new locations to its loyal Denver-area fanbase. Its menu offers a variety of both red and white pizzas, along with salads and sides like cheesy bread, pork meatballs and prosciutto. 
4. Brava! Pizzeria Della Strada
Over in Highland, check out Brava! Pizzeria Della Strada, which has earned 4.5 stars out of 79 reviews on Yelp. Dig in at the Italian spot, which offers pizza and more, by heading over to 3200 Pecos St.
The popular Italian spot serves a variety of pizzas, antipasti and espressos, as well as desserts like tiramisu and Italian s'mores, with pizzelles, Nutella and marshmallow. (Take a look at the full menu.)
Yelpers write that the service is commendable: "Incredible pizza, awesome staff and a great outdoor atmosphere," said Leah G. "I didn't order off the menu — the team was kind enough to let me customize my own pizza which had basil, mozzarella and goat cheese."
5. Pizzeria Colore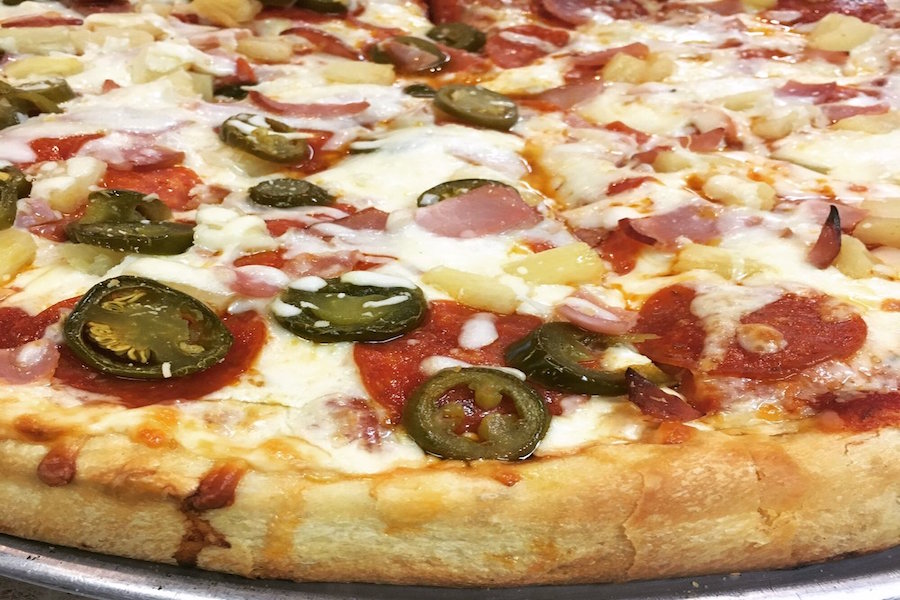 And then there's Pizzeria Colore, a Central Business District favorite with 4.5 stars out of 62 reviews. Stop by 1647 Court Place to hit up the Italian spot, which offers pizza and more, next time you're in the mood for cheap eats. 
The pizza joint serves a wide variety of casual eats, including chicken piccata, vegetable lasagna and Margherita pizza. Gluten-free options are available.
"Whenever I'm at work craving a good hearty slice of pizza, this is my spot," wrote Yelper Priscilla P. "Tasty, quick and the service is impeccable."