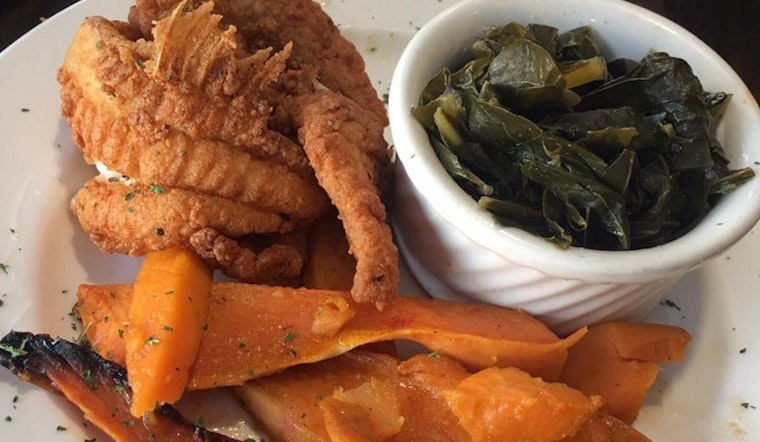 Published on February 06, 2019
A new spot for Southern food and live music has opened up shop in in Capitol Hill. Located in the former home of Banana Cafe & Piano Bar at 500 Eighth St. SE on Barracks Row, the new arrival is called District Soul Food.
Expect classic Southern sides, like hush puppies, crab dip, and mac and cheese, plus sandwiches like a cajun turkey burger and a shrimp po'boy. There's also numerous seafood options — from breaded catfish to lump crab cakes with remoulade sauce — and non-seafood entrees — including smoked ribs, braised oxtails and fried chicken.
In addition to the kitchen, there are two full bars, one upstairs and one down; a ventilated cigar lounge; and an area on the second floor set up to host jazz and soul musicians. 
With a 4.5-star rating out of three reviews on Yelp so far, the fresh addition has already made a good impression.
Danette T., who was among the first Yelpers to review the new spot on Feb. 2, wrote, "I sat at the bar with four strangers at noon. We were family by the two hours we were there. We shared all our food together. All four of us gave it our eight thumbs up."
Yelper Sae W. added, "The fried chicken was seasoned well and cooked to perfection. The sweet potato hush puppies were a hit and were served with a honey butter aioli. I love the concept of the restaurant, and the owners were extremely personable."
Interested? Stop by to welcome the new business to the neighborhood. District Soul Food is open from 10 a.m.–11 p.m. on Sunday-Monday, and 10 a.m.–2 a.m. on Thursday-Saturday.