By
Hoodline
- Published on May 07, 2019.
Driving may feel like a boring everyday chore, but it's probably the most dangerous activity you'll do today. According to the CDC, more than 32,000 people are killed and 2 million are injured each year from motor vehicle crashes.
Want to stay safe? When it comes to driving around Five Points, drivers may want to be extra vigilant when traversing the area's more collision-prone areas. 
Last month's most perilous traffic spot in Five Points was at the intersection of East Colfax Avenue and North Downing Street. There were four traffic collisions at that spot in April, the same number as in March, according to data on motor vehicle accidents from the City of Denver.
Three of the collisions occurred on a weekday morning; the fourth occurred close to midnight on a Saturday night. There were no deaths or injuries in April, though there were two serious injuries at the same spot in August of last year. Overall, the intersection has seen 28 collisions in the past year, almost double the 15 collisions at the same spot the year before.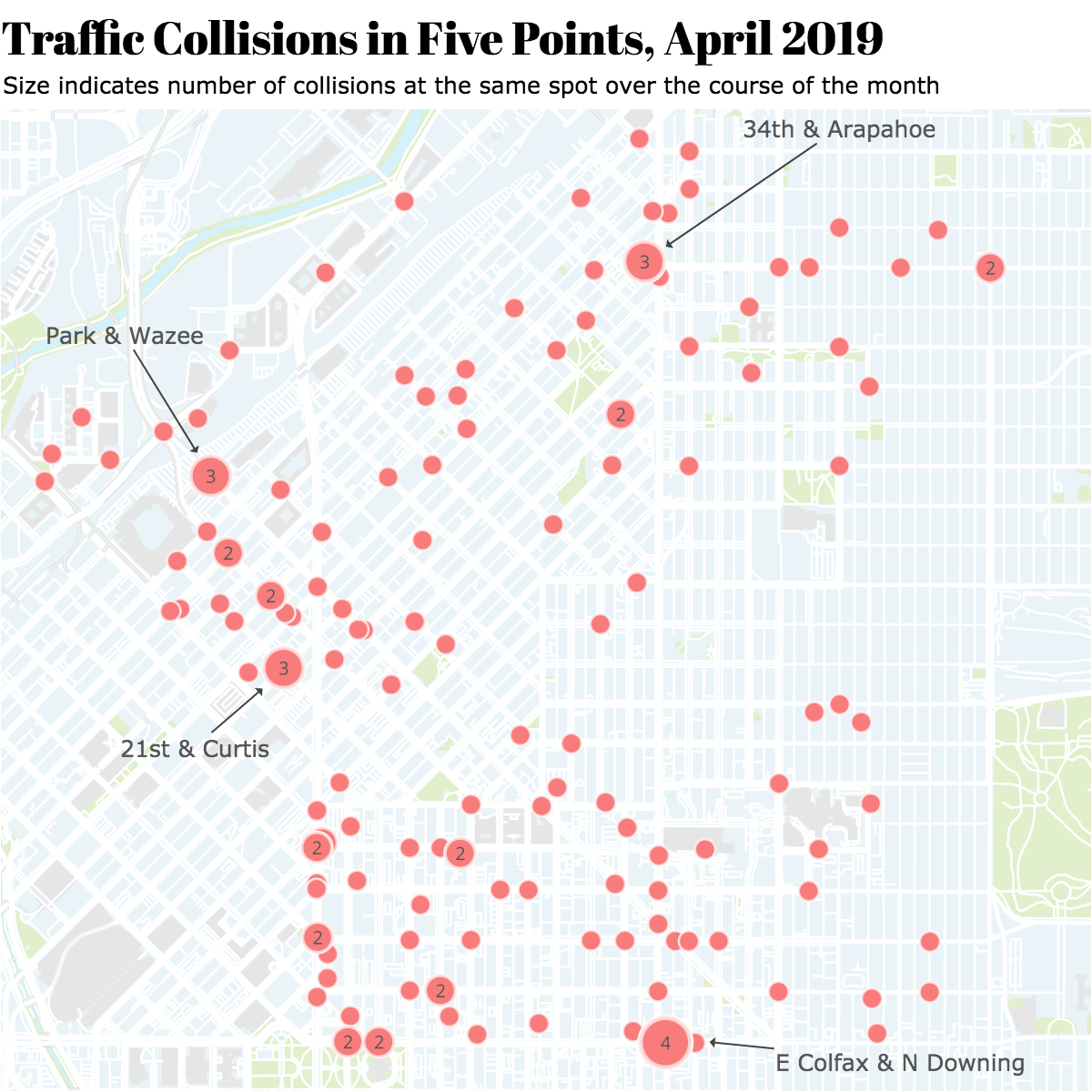 Other intersections at 21st Street and Curtis Street, Park Avenue and Wazee Street, and 34th Street and Arapahoe Street each saw three traffic accidents in April. At 21st & Curtis, one person was seriously injured on April 1 when a driver under the influence ran into the side of another passenger vehicle.
At Park & Wazee on April 24, a school bus making a lane violation ran into the side of a passenger vehicle, but no one was seriously injured. On April 8, an SUV sideswiped a car going in the same direction, and on April 5 an SUV driving aggressively rear-ended another SUV, again without serious injuries.
Park and Wazee has had 10 collisions in the past year, while 21st and Curtis has seen six and 34th and Arapahoe has had four.
On a more positive note, the intersection at North Broadway and Park Avenue has seen a considerable decline in collisions over the past year, dropping to eight reported incidents in the past year, down from 21 incidents over the previous 12-month period. There were two minor collisions in February of this year, but none in March or April.
The intersection of East 17th Avenue and North York Street also saw no collisions in April, and has dropped from 12 reported collisions in the previous year to just four in the last year. East Colfax Avenue and North Marion Street dropped from 10 collisions per year to just three in the last 12 months, but did see one minor incident on April 4.
The 1500 block of North Broadway and the intersection of 30th Street and Walnut Street have now gone a full year with no collisions. That's down from seven collisions on the North Broadway block and six at 30th and Walnut the year before. The last incidents occurred a little over a year ago, on April 21, 2018 for 30th and Walnut, and on April 2, 2018 for the 1500 block of North Broadway.
As always, safety-minded drivers should use defensive driving techniques like always wearing a seatbelt, using turn signals, and avoiding distractions — especially when it comes to navigating Five Points' collision hot spots.