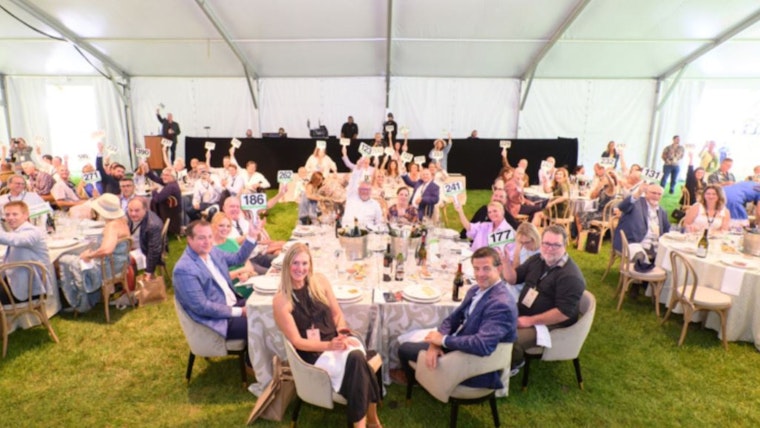 Published on September 21, 2023
In a glorious symphony of wine and generosity, the annual Sonoma County Wine Auction (SCWA) raised over $1.3 million recently. This event, organized by the Sonoma County Vintners Foundation (SCVF), took place at the picturesque La Crema Estate at Saralee's Vineyard on September 16. The funds raised will support nonprofit organizations in various fields such as education and literacy, human services, health, arts, and culture, providing relief and fostering a thriving community for Sonoma County residents. according to Sonoma County Wine Auction.
The roots of the SCWA run deep. Since its inception, more than $41 million has directly benefited community members in need. Mark Malpiede, President of Ernest Vineyards and Sonoma County Vintners Foundation, emphasized the importance of these funds, noting, "it is important to our local wine industry that we raise this critical funding to help create a thriving community and also help support our neighbors when they need assistance due to unfortunate circumstances."
The SCWA event itself boosted spirits with extraordinary dining experiences and even a pre-auction party. On September 14, the auction festivities started with a series of dinners hosted at Patz & Hall, Bricoleur Vineyards with Bob Cabral Wines, Browne Family Wines, and Pride Mountain Vineyards with Black Pig Meat Co. All of those events led up to the Best. Party. Ever. held at Rodney Strong Vineyards on September 15, where attendees enjoyed captivating music from Los Boleros, fabulous food, and Northern California's own Grupo Folklorico Quetzalen, a Mexican folk ensemble.
When the live auction began at La Crema Estate at Saralee's Vineyard, more than 200 guests eagerly participated in bidding for luxury experiences and products that would ultimately transform lives. Numerous lots garnered attention, as guests fervently expressed their desire to support Sonoma County nonprofits in extravagant ways. For instance, the highest selling lot was Lot #7, "Best of the Big Apple," which included a five-night stay in New York City alongside Michelin-starred dining experiences and Broadway show tickets, going for $47,000.
Another highlight emerged from Lot #16, "Celebrate Bhutan's First Harvest," extending a once-in-a-lifetime opportunity to participate in the country's first commercial wine industry endeavor, which eventually doubled for two bidders, raising $60,000. Additionally, Lot #11, "The Farmer, Butcher, Chef, and a Unicorn," offered an insider dining experience for 10 guests, tempting two bidders to each contribute $29,000 to the cause.
The Fund-A-Need Paddle Raise, another essential part of the auction, invited participants to collectively contribute to children's education and literacy programs, as well as address new challenges faced by the county. Notable donations from the paddle raise included those made by Jackson Family Wines, Foley Family Wines, and E. & J. Gallo Winery, collecting more than $454,000 earmarked for these programs
As a heartwarming example of the auction's impact, Duskie Estes, Executive Director of Farm to Pantry, shared her gratitude. Farm to Pantry, one of the over 400 nonprofits that benefit from SCWA proceeds, provides food harvested from farms and backyards for marginalized families. As Estes eloquently noted in her opening remarks, "When we show up with the food, the families cannot be more grateful. Thank you, Sonoma County Vintners, for supporting Farm to Pantry's work."
Meanwhile, the Wine Business Leadership Award, a new accolade created in partnership between Sonoma County Vintners and The Wine Business Institute at Sonoma State University, recognized Prema Kerollis as 2023's recipient. This award honors an individual demonstrating great wine business leadership, vision, innovation, inspiration, and impactful service to the Sonoma County community.
The spirit of giving does not end with this year's SCWA live event; the SCWA Online Auction will take place from November 17 to December 1. Anyone interested in donating directly to the Sonoma County Vintners Foundation can do so at sonomawine.com/foundation. To learn more about the Sonoma County Wine Auction and the 2023 recipients of the Sonoma County Vintners Foundation Community Grants, visit sonomacountywineauction.com.
All philanthropic eyes are now on the 2024 Sonoma County Wine Auction, scheduled to take place from September 19 to 21.