Oakland police and workers from Department of Public Works arrived at 36th Street & MLK Way this morning to evict residents from an unsanctioned homeless encampment created last week by housing activists.
Over several days, Feed The People and Asians For Black Lives Matter constructed shelters and installed portable toilets and other amenities to serve the area's homeless residents. On Tuesday, residents were notified that police and DPW crews would arrive at Grove Shafter Park today to clear the area.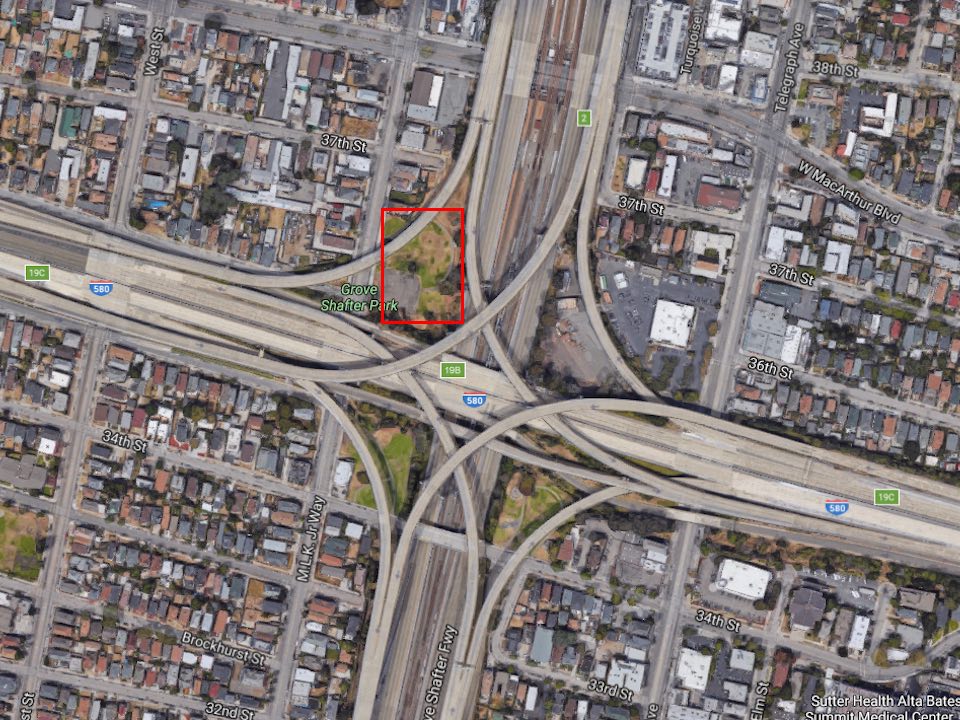 "They said this park was unlivable, uninhabitable and unsafe and that it would be destroyed," said Anita De Asis of Feed The People. "The city just displaced 15 people, mostly elderly, out into the rain," she said. "The city has no backup plan for housing or shelter for them," she added.
An aerial photo of some of the hard work that's gone into #TheVillage. Join us at Marcus Garvey Park (36th/MLK) #homesnow #feedthepeople pic.twitter.com/FHpLwgYvwm

— The Village, Oakland (@VillageOakland) January 30, 2017
Before today's abatement, organizers of the village created five wooden structures; several tents and RVs were also removed.
Last week, police cited RV owners in the park and cautioned residents against cooking with open flames. Undeterred, organizers held a "housebuilding" party last weekend to create as many new shelters as possible before the city could move to evict them.

Assistant City Administrator Joe Devries was at the encampment this morning to explain why the camp was being removed and to advise residents about their housing options. According to the city's Department of Human Services, there are about 370 beds in Oakland's homeless shelters.
Several village made impassioned statements at a City Council meeting on Tuesday asking officials to let them remain at the park. According to witnesses and organizers, residents are still removing their possessions, along with communal food and other supplies.
COPS ARE HERE TO EVICT THE VILLAGE - come to 36th and MLK to defend the land!!! #thevillage pic.twitter.com/zAaoeKAcEv

— #Asians4BlackLives (@Asians4BlkLives) February 2, 2017
Organizers said their outreach only uncovered one neighbor opposed to the encampment, but Amy B., who's lived in the area for 16 years, said the pop-up village was an unwelcome surprise. A homeowner with four roommates, Amy B. said the camp's creators did not talk to her, her housemates, or her neighbors.
"I'm pretty tolerant for camping beneath the overpass, because they've got nowhere else to go," she said, "but this is a whole different scene." According to Amy B., camp organizers have been "belligerent" to neighbors who've voiced their concerns.
While @LibbySchaaf and police sell oakland out, weve been tryna build a new world. Now in a show of power, they're working to destroy it all pic.twitter.com/lBmvSu7rjc

— Sammie Ablaza Wills (@FTWSammie) February 2, 2017
"The thought that they're trying to steal our park from us is pretty ridiculous," said Amy B., noting that entrances have been padlocked, grassy areas have been "torn up" by illegal driving, and village residents lit bonfires at night. "They had to do it in a way where they're forcing a showdown with the city, and it's a complete circus," she said. 
The area surrounding the park "is a low-income neighborhood with a lot of families who've lived here for a while," said Amy B. "I think they exploited that by putting the camp here for that reason, thinking nobody would care. But we do care."
Amy B. said she donates to homeless-advocacy groups and approves of the city's Compassionate Communities pilot program to provide encampments with basic services, but said the village is ill-conceived.
"There's a lot of vacant lots around here and underutilized areas that are not public open space that are benefiting the community," she said. "This was the one semi-nice thing in this neighborhood, and these people just trashed it," said Amy B.
Despite today's abatement, De Asis said she's determined to "keep building houses and keep fighting for homes for all."