Published on October 21, 2017
As any meat eater will tell you, all burgers aren't created equal. That's also true about Oakland's delivery burger options.
So where should you order when you don't want to leave the house, but also don't want to miss out on a premium patty slathered with the perfect blend of cheese and fixings?
To help you out, we've rounded up the Town's best delivery burger joints.
Disclosure: While this post is not sponsored, Hoodline may receive compensation from affiliate links used herein.

Camburger
430 13th St.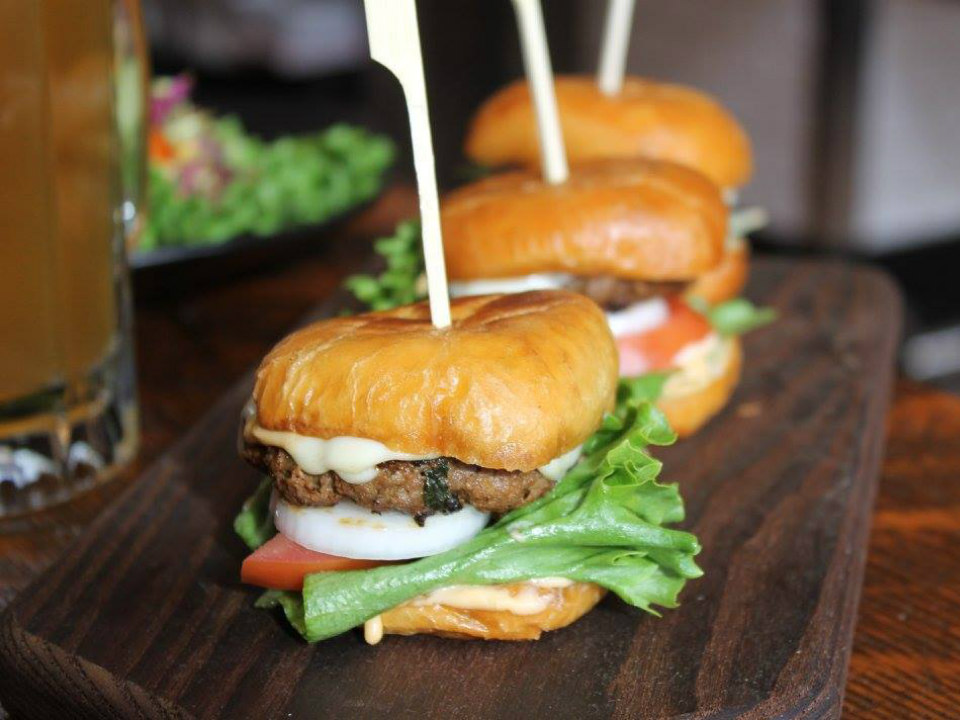 If you're a fan of the classic cheeseburger, you need to get your hands on The Jucy Lucy from Camburger. It's a cheddar cheese filled 1/3 lb patty cooked medium with red onions, Thousand Island dressing, lettuce, and tomato, and it's topped with your choice of cheese.
For those with a bigger appetite, order The Beast, which comes with bacon, an egg, avocado, Swiss cheese and all of the classic fixings. Tater tots are also on the menu, so need we say more?

TrueBurger
146 Grand Ave.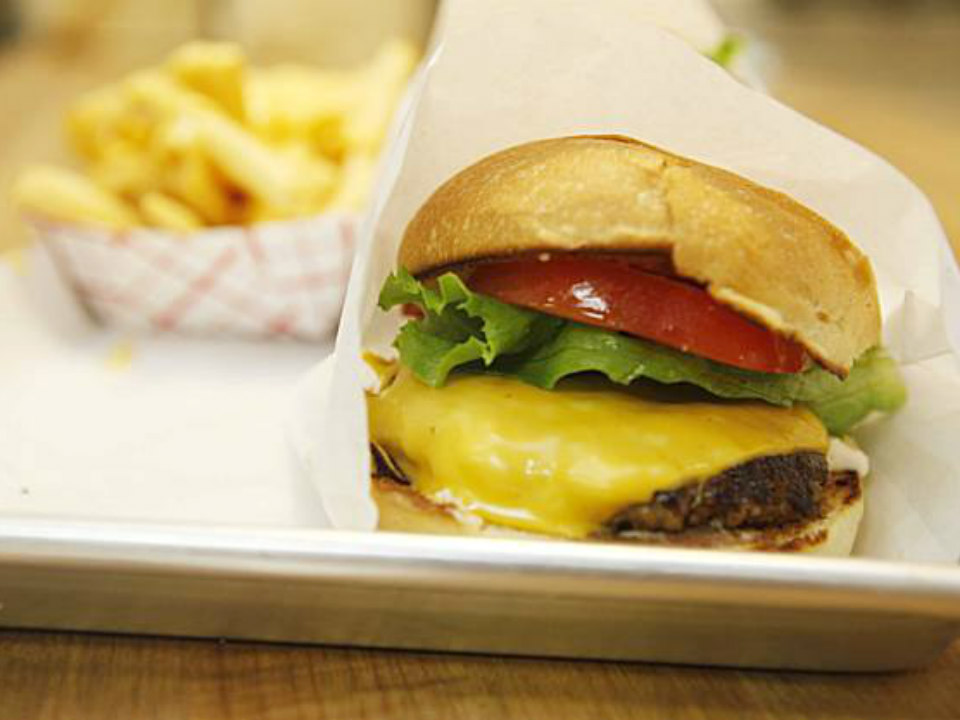 TrueBurger was an easy addition to our list. The classic TrueBurger is an obvious go-to; however, there's something to be said about the True Deluxe, which is a Cheesy TrueBurger topped with a crispy whole Portobello mushroom burger stuffed with smoked mozzarella cheese. It's served with lettuce, tomato and garlic mayo, and it goes great with a side of garlic fries and a shake.
Barney's Gourmet Hamburgers
4162 Piedmont Ave.
Barney's has over two dozen burgers on its menu from which to choose, and if you order a Barney's burger, you get to choose both your patty (ground beef, garden, ground turkey, chicken breast or salmon) and the kind of bread or bun you want.
We recommend the eatery's California burger, which comes with grilled ortega chilis, bacon, Monterey Jack cheese, and sour cream. Another crowd-pleaser is the Voodoo Burger: a patty topped with provolone and blue cheese, bacon, and mushrooms sautéed in Barney's spicy voodoo sauce.
Flipside
3401 Lakeshore Ave.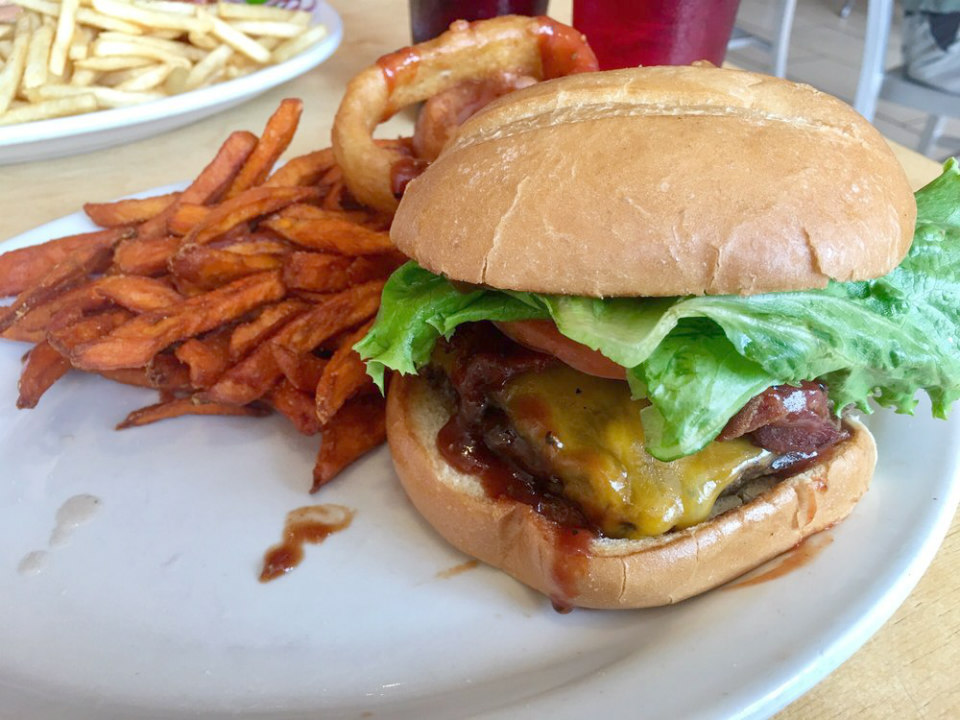 If you're a fan of bleu cheese, order Flipside's Bacon Bleu burger, which comes with bleu cheese crumbles, grilled onions, applewood smoked bacon and mayonnaise. There's also the spicy Lakeshore Heat: sautéed green chiles and grilled onions, jalapeño jack cheese, fresh jalapeño and chipotle aioli.
You can also order your fries 50/50, meaning you don't have to choose between regular fries and sweet potato fries.
Doc's Refresher
984 University Ave.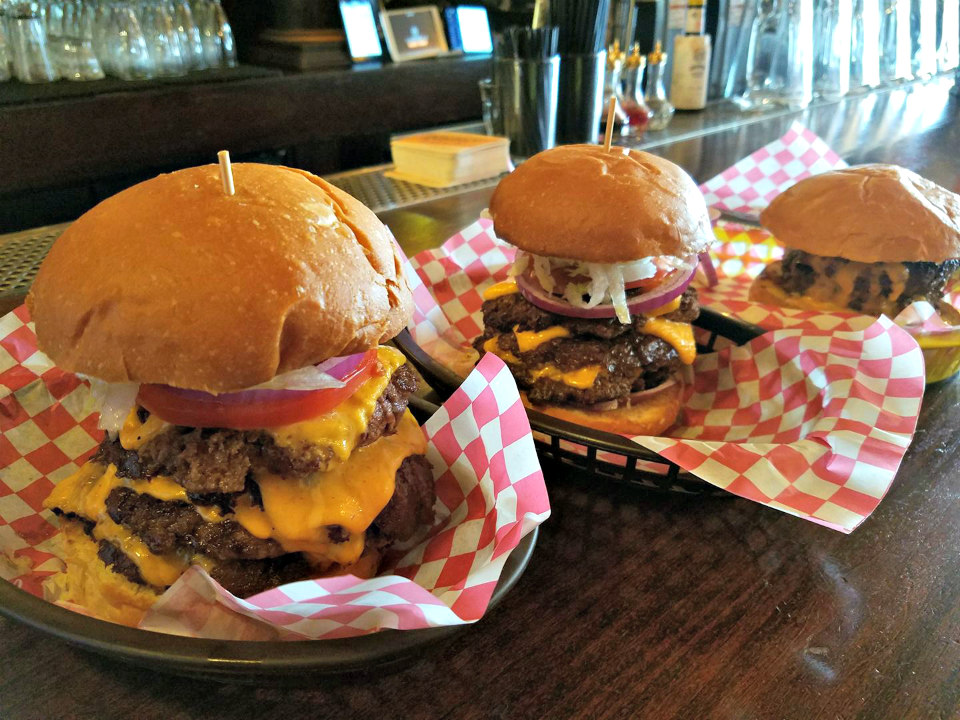 You'd think it'd be enough to just have the ever-popular quarter-pound "Classic" burger on its menu (think ground beef smothered in house secret sauce and topped with American cheese and all of the fixings), but Doc's takes it to the next level: you can order the Classic as a double, triple, or quadruple.
If you're going to spring for the four-tiered burger, you might as well order the Totchos — tots covered in homemade mac and cheese — while you're at it.