Bay Area residents from Haiti, Honduras, Nicaragua and El Salvador rallied on the steps of San Francisco City Hall yesterday to demand the renewal of their countries' Temporary Protected Status (TPS), an immigration status that is reviewed for extension every 18 months.
The TPS program, introduced in 1990, allows immigrants from countries made unsafe by armed conflict or natural disaster to live and work in the US until conditions improve, provided they are already present in this country.

The rally was organized by the Bay Area Coalition to Save TPS, a newly formed group of local advocacy networks.
Pastor Edner Eloi of the Novato Haitian Seventh-day Adventist Church spoke on behalf of congregation members who stand to lose their legal status when Haiti's TPS expires on January 22. "The skills, family ties and relationships they have built here will be destroyed," Eloi said.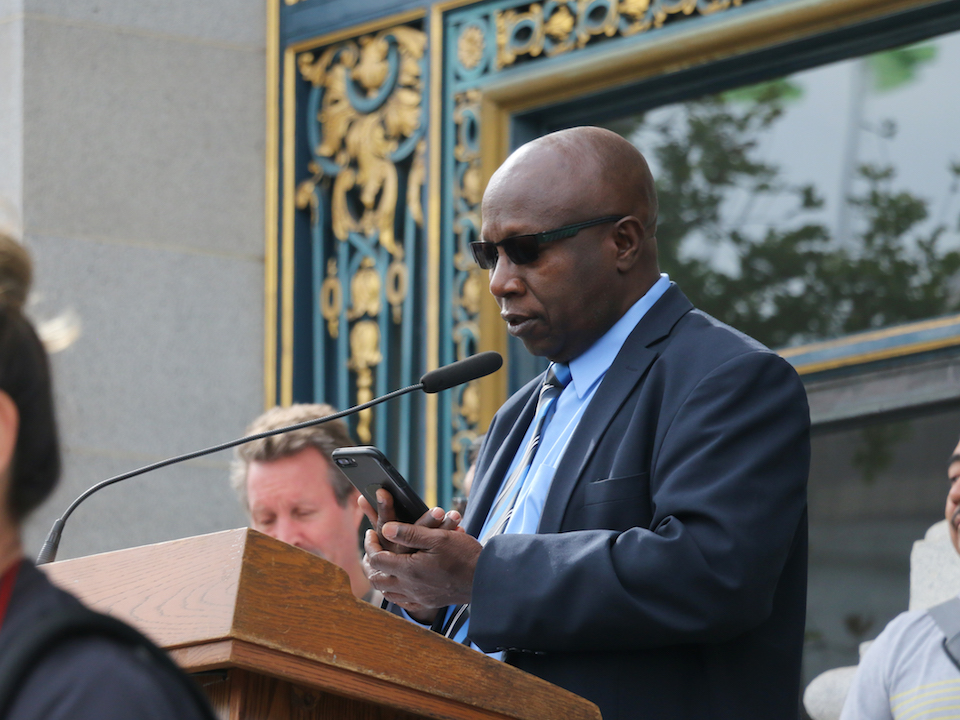 In a May 2017 statement, the Department of Homeland Security said conditions in Haiti may no longer warrant TPS extension and urged Haitian TPS holders "to use the time before January 22, 2018 to prepare for and arrange their departure from the United States." There are 59,000 Haitians with TPS living in the US.
The termination of Haiti's TPS, active since the 2011 earthquake, has raised concerns for immigrants from other countries that their protected status will also be terminated. Protected status for people from Honduras and Nicaragua is set to expire in January; El Salvador's expires in March.
The termination or renewal of their protected status will be decided by the Trump administration, which recently ended Sudan's TPS and has passed other policies stripping immigrants of their legal status.
"Right now, there's a real climate of fear," said Karl Kramer, a coordinator for the Committee in Solidarity with the People of El Salvador (CISPES).
There are about 400,000 people from 10 countries with TPS, not including their nearly 300,000 US-born children. A report released this year found that more than half of all Salvadoran and Honduran, and 16 percent of Haitian TPS beneficiaries have lived in the U.S. for more than 20 years, many arriving as children.
"It's tearing families apart," said Joanne Eloi, who is Pastor Eloi's daughter. "A lot of these people haven't been to Haiti since God knows when. Their children were born here and raised here."
For Haitians who rallied at City Hall, conditions in Haiti remain a concern. "Almost daily protests have been occurring in Haiti because of the horrible conditions," said Pierre Labossiere, who left Haiti in 1970 and now lives in Oakland.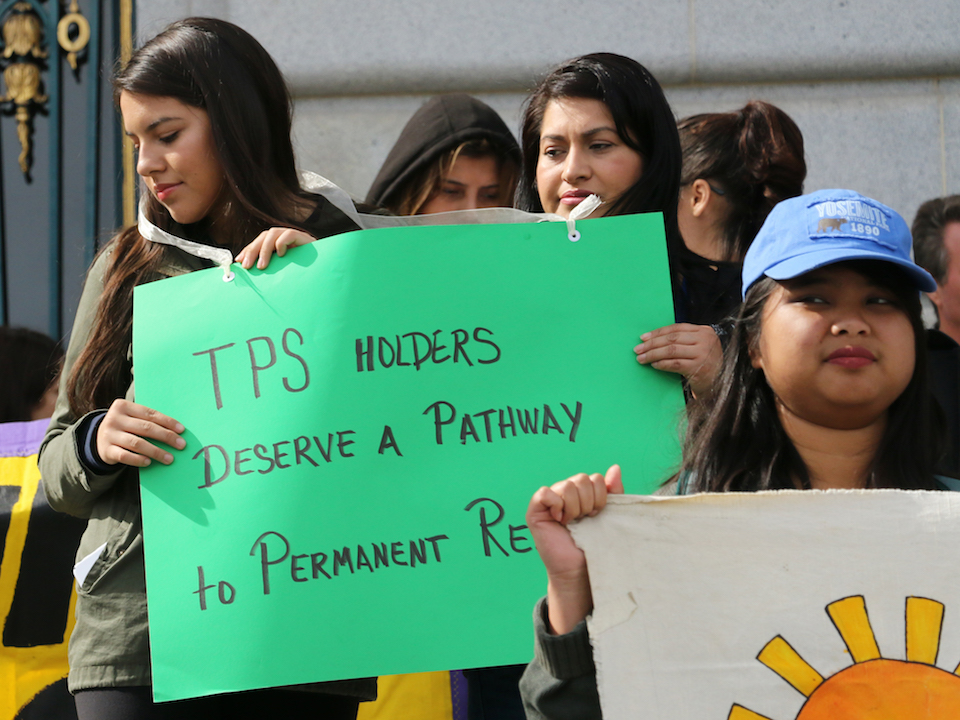 Labossiere mentioned the country's high cost of living and poor health care and education systems. "It's the same awful conditions that have pushed so many of our young men and women to leave Haiti," he said.
Haitian TPS holders who choose to stay in the US past January "will basically fall into illegality," Adoubou Traore, director of the African Advocacy Network said.
Many TPS holders are the main financial support for their extended families. When their TPS expires, so will their work permits. To continue sending financial support to family in Haiti, professionals currently working regular jobs may resort to work arrangements that expose them to "situations of abuse" or "being exploited by rogue employers," Traore said.
There are also fears of deportation.
"Their movements will be restricted," he said. "People will be afraid of driving, of taking their kids to school," as a speeding ticket or even jay-walking can lead to detention or deportation, he said. Traore expects it to be a tough transition. "There are going to be a lot of mental health issues," he said.
To take away the legal status of TPS holders, who are especially active in the workforce, would be a huge disservice to the economy, said Kramer. "We have an administration that's very uncaring towards people's life circumstances and is turning a blind eye to the economic benefit they're providing to our country," he said.
A recent study estimated that ending TPS for Haiti, Honduras and El Salvador would reduce US gross domestic product by $45 billion over a decade.
"We're trying to appeal to Congress so that they can give us the opportunity for these TPS holders to do things above the books and by the legal route," Joanne Eloi said.
"We have law-abiding TPS holders that are here trying to pay their taxes, live their lives peacefully and provide a better life for their families back home and out here."
The White House's final decision on Haiti's TPS is expected by late November, 60 days before the TPS expires. Decisions on Nicaragua, Honduras and El Salvador will also be made in the next few months.
"We will continue to protest this injustice until changes are made," Pastor Eloi said.