There's no place like home for the holidays, but preparing Christmas dinner can be a challenge, particularly when groups are involved.
As an alternative, we've rounded up eight restaurants in San Francisco and Oakland that are open on Christmas Eve and Christmas.
Christmas Eve
Oakland: Desco
499 9th St. (at Washington St.)
Desco, an Italian restaurant that opened in 2013, announced that its last day of service will be December 31st. According to its website, the reason for the closure was due to the "inability to come to a long-term agreement that would allow us to make updates to the restaurant space and concept."
However, before the restaurant shutters, it's offering a special Christmas Eve. dinner. 
From 4pm to 9pm, customers may order a la carte off its regular menu, which includes an assortment of salads, pizzas, pastas and more, or take part in a three-course prix fixe meal for $54. 
The tasting menu includes "Dungeness crab, mascarpone-filled pasta with blood orange and olio nuovo, whole cuttlefish stuffed with seafood risotto, and warm donuts with quince jam and pastry cream." 
Mission: Locanda
577 Valencia St. (between 16th & 17th streets)
Locanda, a Roman-inspired osteria and bar, is hosting its annual Christmas Eve all seafood dinner this coming Sunday. Chef Melissa Reitz, the chef in charge of this year's menu, has come up with a four-course, family-style option.
The dinner, which is $156 for adults and $72 for children 12 and younger, includes options like lobster risotto, baccala fritters with aioli, halibut crudo with uni vinaigrette, panettone taiyaki for dessert, and more.
Additionally, there will be a full bar available with wine and beer offerings, as well as the option of wine pairings for $77 per person. Tickets are available online.
Glen Park: Le P'tit Laurent
699 Chenery St. (at Diamond St.)
Le P'tit Laurent is having a Christmas Eve dinner for guests beginning at 5:30pm.
The French restaurant, in operation since 2007, is offering a three-course prix fixe menu for $85 per person.
Diners will begin by selecting an appetizer from four options, including lobster bisque, a crab and avocado salad, sautéed scallops and foie gras, before moving on to their entree of choice. Round out your meal with desserts like the 'Christmas yule log,' mignardises (small pastries), and a glass of champagne. (See the full menu here.)
---
Christmas Day
Financial District: Americano Restaurant & Bar
8 Mission St. (between Steuart St. & The Embarcadero)
Hotel Vitale's waterfront eatery, Americano Restaurant and Bar, will be open on Christmas with a special three-course prix fixe meal.
The cost is $70 per adult or $105 each with wine pairing, and $35 for children who are 12 and younger.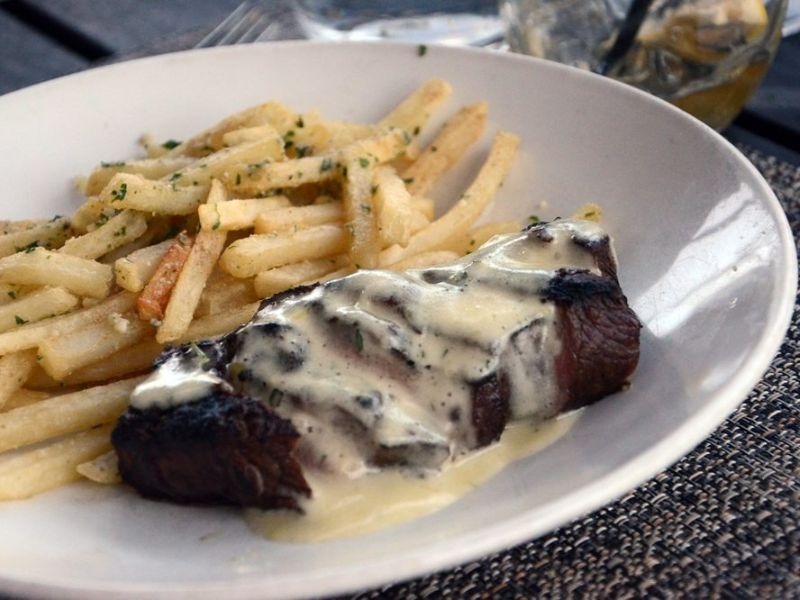 Diners will begin with a cauliflower soup, burrata or crispy pork belly for their first course, before moving onto the entree. Second course options include, roasted duck breast, butternut squash ravioli, prime rib or half of a Dungeness crab, along with three items for dessert. 
Dinner seatings are offered from 2-3pm, 4-5pm and 6-7pm on December 25th. 
Fisherman's Wharf: Pescatore
425 North Point St. (at Mason St)
Pescatore, the restaurant located inside Hotel Zoe, is offering a $50 prix fixe menu on Christmas.
The three-course meal, curated by Chef Rafael Mayoral, includes some of the restaurant's most popular items, including sole ceviche, butternut squash soup, braised veal shank and California halibut. 
Round out the meal with an order of pear crostata for dessert. The Christmas dinner at the seafood restaurant, which offers an "ideal setting for family and friends," is available from 5-10pm. 
Union Square: Campton Place Restaurant
340 Stockton St. (at Campton Place)
Campton Place Restaurant, the two-Michelin-star restaurant led by Chef Srijith Gopinathan, is hosting a special holiday dinner on Christmas day. The two courses, curated by the chef himself, will showcase "a mix of traditional holiday dishes with the restaurant's signature Cal-Indian cuisine."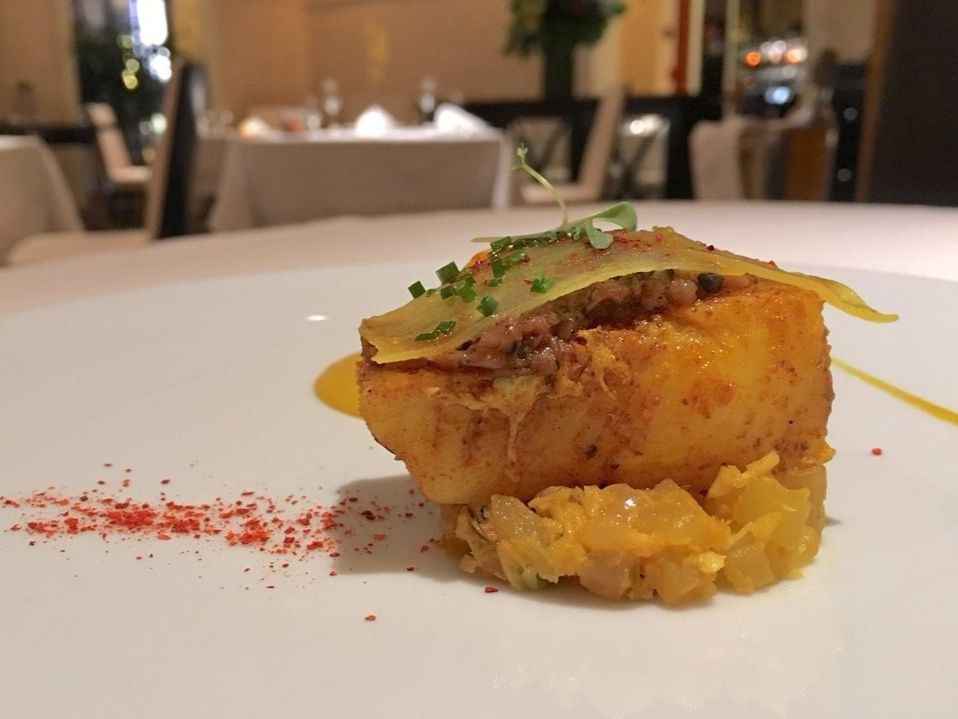 Diners can expect to see options including Maine lobster (savoy cabbage, hearts of palm, and spiced coconut broth), Angus beef ribeye (dry farmed potato mousse, black trumpets and Swiss chard with foie gras jus) and more. 
The holiday dinner is $165 per person. 
Financial District: The Grill
125 3rd St. (between Minna & Mission streets)
From 4:30–9:30pm on December 25th, The Grill at The St. Regis San Francisco in the Financial District is offering a special holiday dinner. 
For $125 per adult and $65 for kids 12 and younger, the eatery is offering a four-course prix fixe meal with butternut squash soup, grilled little gem greens and a pan-roasted Alaskan halibut for the first three courses.
The main entree of the night will be a prime ribeye, which comes with celery root purée, split beans, black truffle and frisée herb salad, before the meal concludes with a chocolate and raspberry yule log. (See the full menu here.)
Those over 21 are also encouraged to take part in the wine pairing, which is an additional $70. 
Oakland: Lungomare
1 Broadway
Lungomare, an Italian restaurant located in Jack London Square, is offering a special dinner menu on Christmas.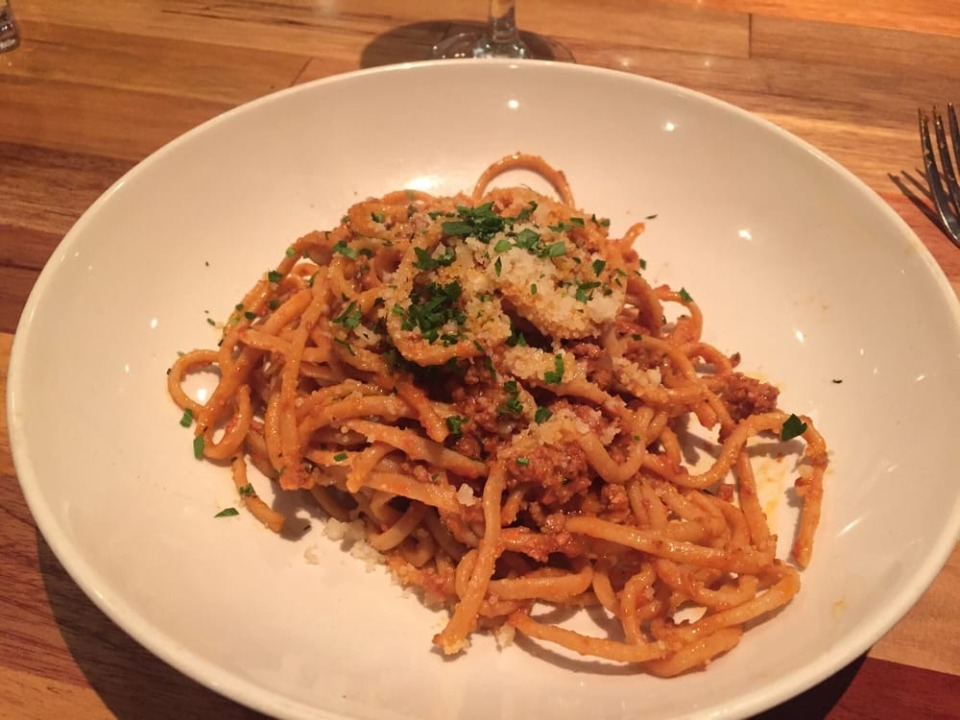 From 12pm to 8pm, diners will be allowed to order off the a la carte menu, which includes all of its dinner options. 

Items range from an organic mixed greens salad ($11) and prosciutto pizza ($21) to squid ink chitarra ($25), a Christmas Berkshire smoked ham ($30) and many more. (See the full menu here.)
In addition, the restaurant is also offering a prix fixe dinner on Christmas Eve for $65 per person or $85 per person with wine pairing.