San Francisco comedian, union organizer and landlord Nato Green recently uncovered a Bay Area cultural artifact nearly 3,000 miles away in Havana, Cuba.
The discovery? Ampy Café, which has appropriated the Oakland Athletics' team logo.
Days after recording The Whiteness Album, his second standup release, Green moved to Cuba with his wife and twin girls. Because his partner is doing her PhD dissertation research in medical anthropology, "[we] tagged along," he said via email.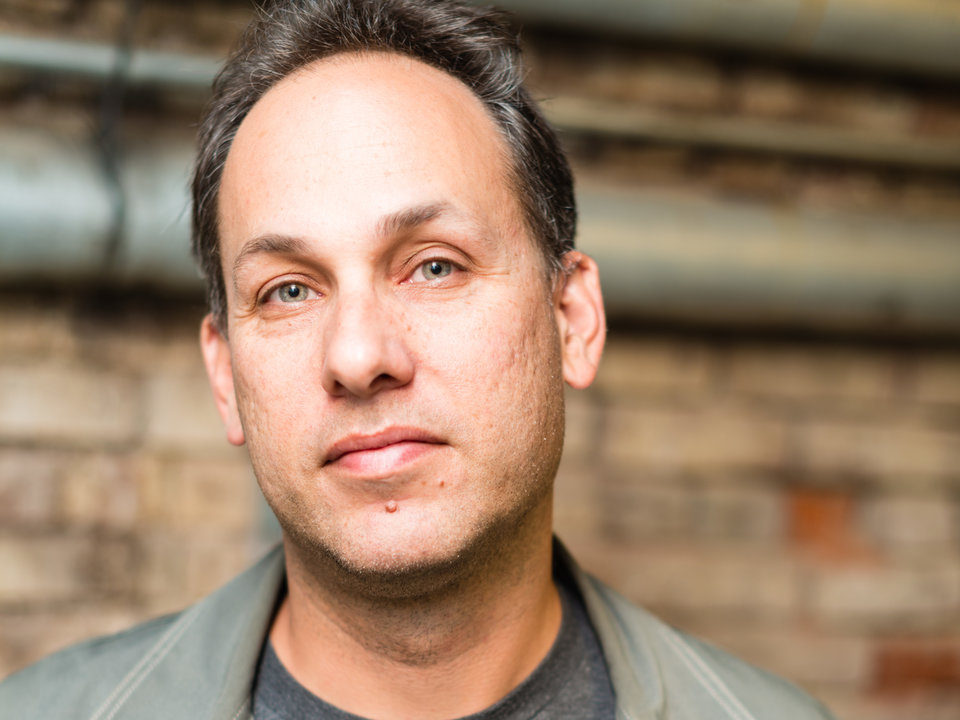 Green spends his time reading, exploring, and occasionally writing, but on one adventure, he stumbled upon the eatery with the A's trademark and snapped a photo for Instagram. 
"I thought the logo could be one of two things—either the owner was a rabid A's fan and I was about to see a bunch of obscure A's memorabilia, or he was kind of oblivious," he said. "The former was unlikely, but possible. Baseball is big in Cuba."
The sport has been played in the country professionally since 1878 and the Oakland Athletics have benefited from two notable Cuban players over the years; Jose Canseco and Bert Campaneris.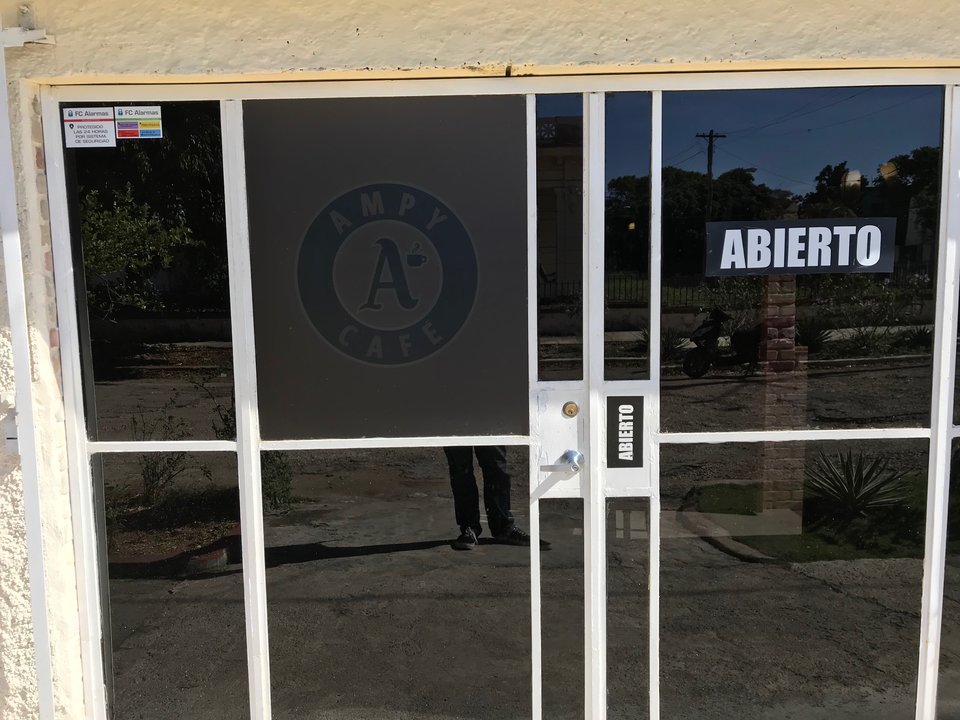 "I talked to [the owner] as he rushed around serving customers, making change, cleaning up, and talking to the kitchen," said Green. "He told me he was a baseball fan and was aware of a similarity between his logo and the A's logo, but he chose it because he liked it, not because he wanted to evoke the A's."
The café, which opened five months ago on the border of Havana's Miramar and Kohly neighborhoods, is named after the owner's mother, Amparo. Green said the eatery is comprised of four tables in a basement room, and four more on a covered patio.
"This area is a bit off the beaten path for regular tourists," he said. "It was a posh area before the revolution and still has nicer houses than other areas of Havana."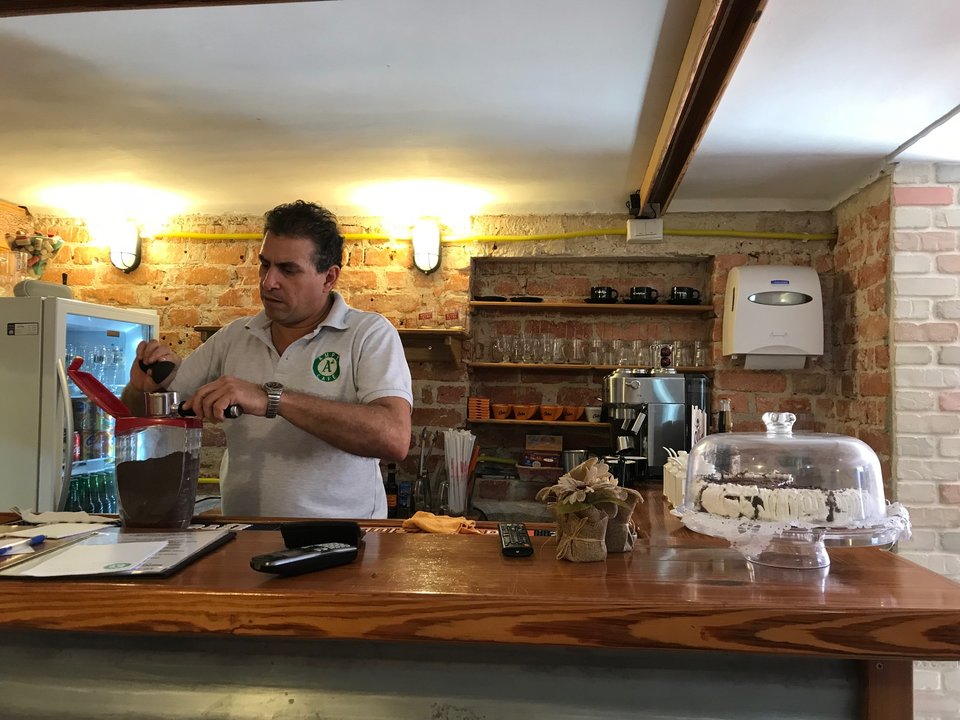 Ampy's unnamed owner spent nearly 15 years as chef de cocina at the Hotel Habana Libre, which opened in 1959 as the Havana Hilton before the revolution.
Later, the hotel "was commandeered by Fidel and some of the other guerrillas as their first headquarters immediately after the 'triunfo de la revolución,'" said Green.
The menu is geared towards middle-class Cubans, he said, noting that the country has two currencies, moneda nacional and convertible currency. 
"This menu is priced in convertibles called 'CUC' and often pronounced 'kooks,' Green said. "The CUC is pegged one-to-one to the US dollar, but because of the blockade, you can't change dollars to CUC without a 10 percent penalty."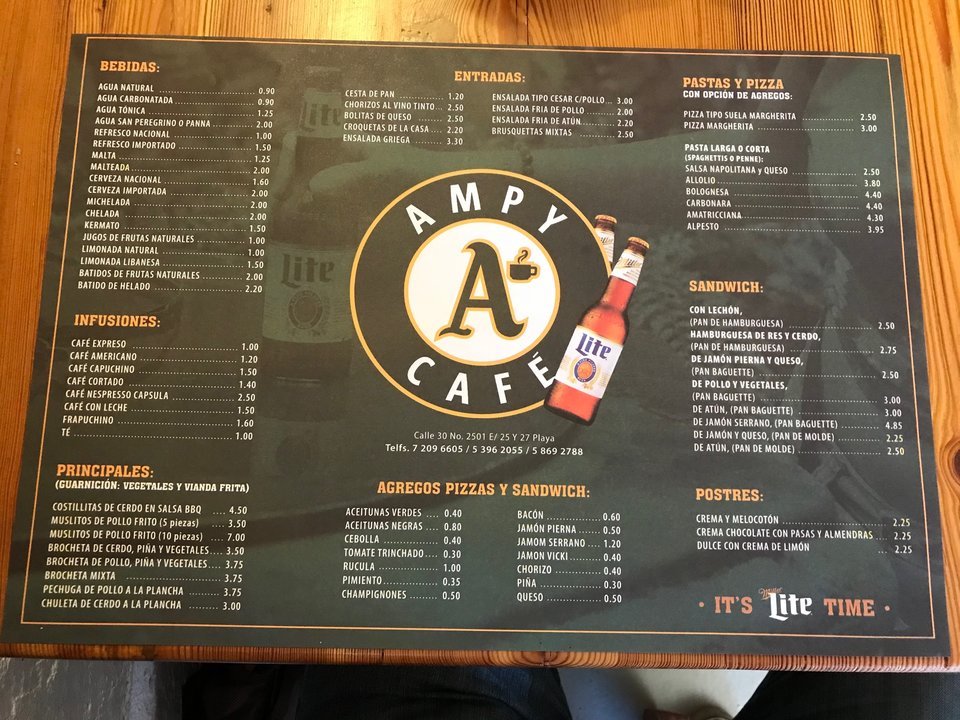 In the principales section, there's "brocheta, which is a skewer of barbecued meat speared into a pineapple slice, so the juices drip into the pineapple," Green said.
"The vegetable options are sparse. It's not kale or arugula. It will probably be shredded cabbage and carrot and pickled green beans. There's also vianda frita, which are chips made of slivered roots that grow on the island, such as yucca, boniato, and malanga," he said.
Ampy Café also serves a wide range of coffee and espresso drinks, along with pizzas, sandwiches and Cuban specialities like bolitas de queso (fried cheese balls).
We shared Green's photos with the A's front office, but did not receive a response.