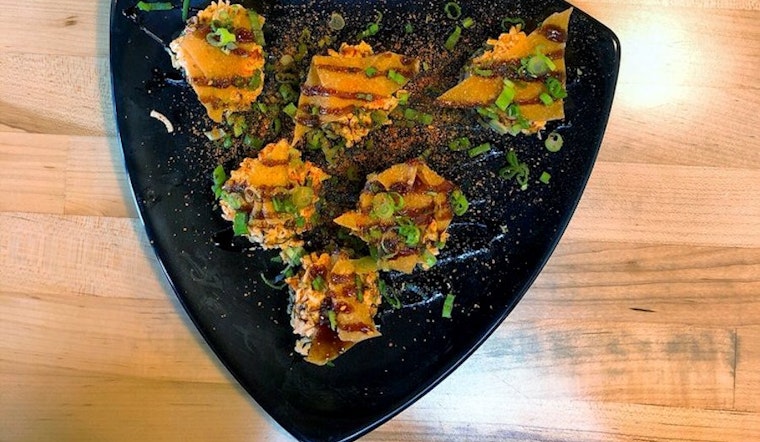 Published on May 31, 2018
A new sushi bar, SushiFork, has opened its first location in Dallas at 5600 SMU Blvd., just east of U.S. Highway 75, on the ground level of the Mockingbird Flats building. 
SushiFork comes to Dallas from Tulsa, Okla., and offers a twist on the traditional sushi bar, allowing patrons to build their own rolls. The new restaurant, helmed by local franchisee Todd Kuenstler, represents SushiFork's first expansion.
If you're not interested in building your own sushi roll, there are also prebuilt rolls on the menu, including house specials like Fire in the Roll with fried calamari, Hot Mess (crab mix, cream cheese and jalapeño) and Carnival (yellowtail, salmon, spicy mix and cream cheese).
With a five-star rating out of five reviews on Yelp so far, the new sushi bar has been warmly received by patrons.
The first to review the new location, Kristy G. said, "Fresh sushi at a great price! You walk in and order like at a Chipotle or Freebirds. Custom sushi made to order. And it's high quality!"  
And Yelper Siddhant M. added, "It's a nice little place right where I live and you can just walk in and order custom sushi, which I think is different. It's also decently priced and the place has a nice ambiance." 
Intrigued? Stop in to try it for yourself. SushiFork is open from 11 a.m.–10 p.m. on Monday, Tuesday, Wednesday, Thursday and Sunday and 11 a.m.–11 p.m. on Friday and Saturday.