Two new murals have made their debut along East Oakland's proposed East Bay Greenway, beneath the BART tracks at the intersection of 75th Avenue and San Leandro Boulevard.
The pair of murals, which debuted on July 26, are a collaboration between Oakland's The Original Scraper Bike Team, which supports youth entrepreneurship and cultural innovation through fixing and painting bicycles, and artist Desi Mundo of the Community Rejuvenation Project, which creates public art and beautification projects in Oakland.
Collectively titled "Rollin' to Tradition," the two murals face each other. The western mural depicts a scraper bike with wheels decked out in the colors of the Oakland Athletics, with details honoring Oakland's indigenous, East Asian, and African-American history.
The eastern mural shows a monarch butterfly, set amidst a trio of scraper bike wheels in the blue and gold colors of the Golden State Warriors, while a tree grows upwards from the central wheel. In the center of the mural, the words "Welcome to the East Bay Greenway" are emblazoned in a graffiti-style script.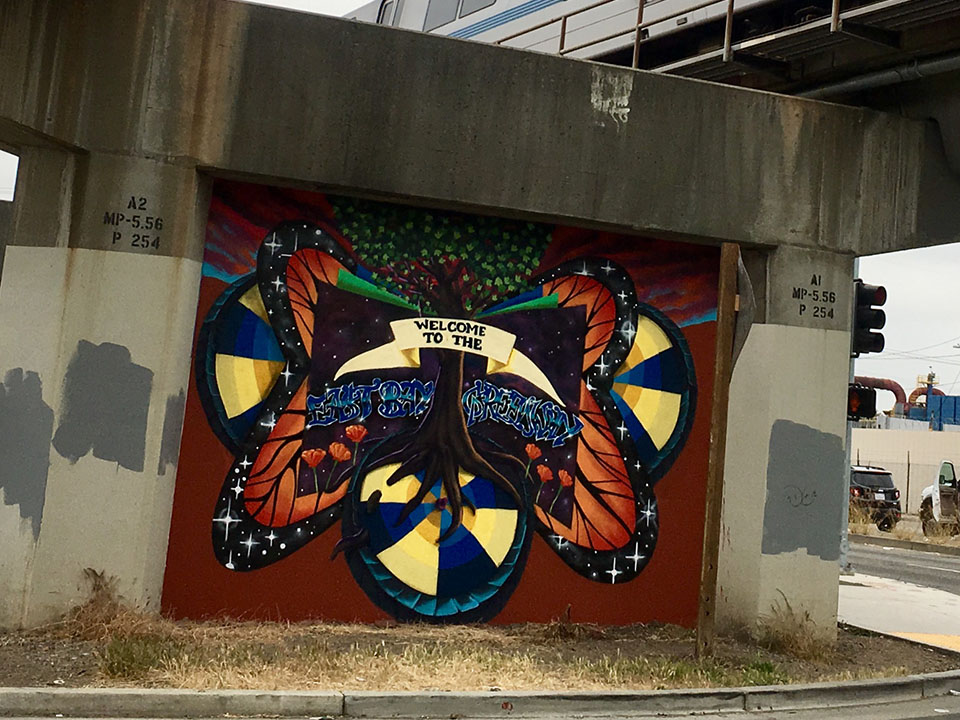 The murals were made possible with a grant from Rails-to-Trails Conservancy, a national nonprofit dedicated to creating a nationwide network of pedestrian and cyclist trails from former railway lines and other transportation corridors.
The Community Rejuvenation Project (CRP), which administered the funds, reached out to the Original Scraper Bike Team about creating murals to celebrate cycling in Oakland. The team's executive director Tyrone Stephenson, Jr. (a.k.a. "Baybe Champ"), welcomed the chance.
"The murals were an opportunity to bring more bikes and more art to that part of Oakland," he said. "The colors really pop out of the concrete."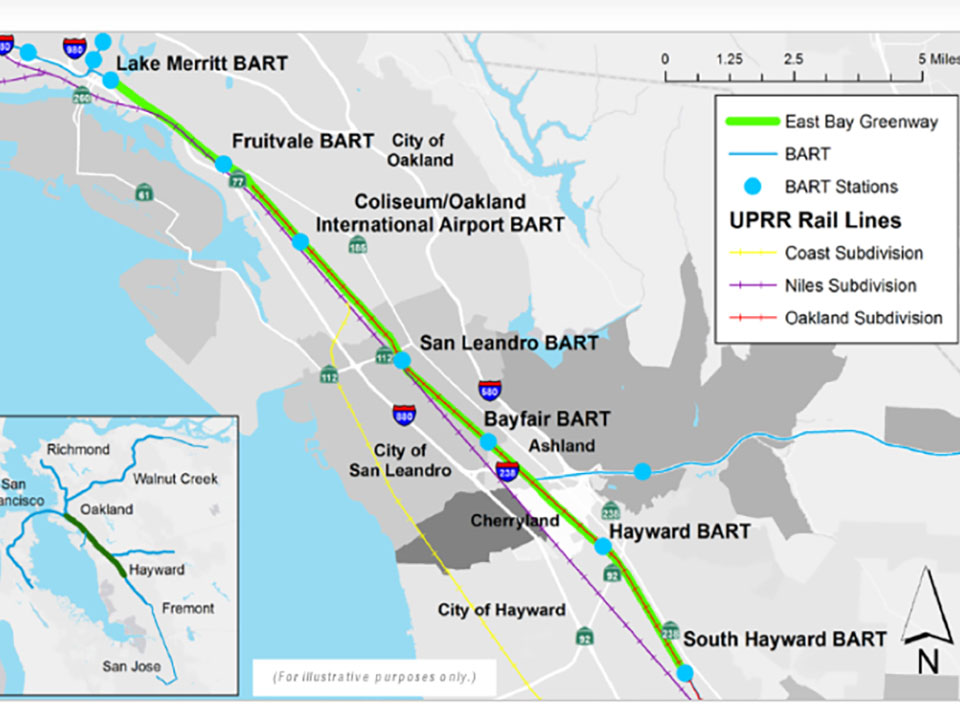 The East Bay Greenway is a planned 16-mile bicycle and pedestrian path connecting the cities of Oakland, San Leandro, and Hayward, as well as the unincorporated communities of Ashland and Cherryland.
Once completed, it will connect seven BART stations, as well as downtown areas, schools, and other major destinations. Led by the Alameda County Transportation Commission, the Greenway had its Environmental Impact Report approved earlier this year.
The path is intended to resemble the Ohlone Greenway, an existing bicycle and pedestrian path that follows converted railway lines and connects the cities of Richmond, El Cerrito, Albany, and Berkeley. Along with the planned Richmond Greenway, it will add a significant amount of mileage for cyclists and pedestrians looking for safer transit corridors in the East Bay.
"Rollin' to Tradition" is located along the first finished section of the East Bay Greenway, which opened in 2013. The Scraper Bike Team's Stephenson hopes it will encourage stakeholders to complete the project.
"We want to bring attention to the Greenway," he said. "We want it to be finished."