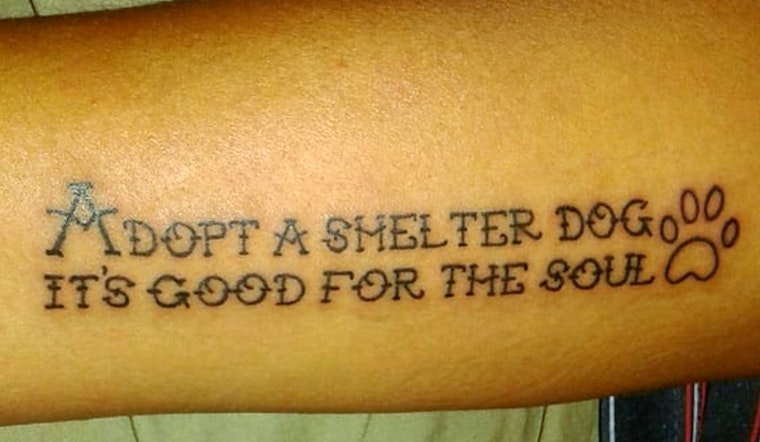 Published on December 19, 2018
In search of a new tattoo artist?
Hoodline crunched the numbers to find the best-liked tattoo parlors around Baltimore, using both Yelp data and our own secret sauce to produce a ranked list of the best places to venture next time you're thinking of getting some ink.
1. Have Fun Be Lucky Tattoo
Topping the list is Have Fun Be Lucky Tattoo. Located at 820 W. 36th St. in Hampden, it is the highest rated tattoo spot in Baltimore, boasting five stars out of 35 reviews on Yelp.
The website has links for examples of the artwork for each of the parlor's artists. Yelpers praise the professionalism and talent of the artists and the cleanliness of the location. Customers are requested to call the shop to set up an appointment and to email it with images or details of the artwork they need.
Yelper David T., who posted a review on June 21, wrote, "[I] went here today for my third tattoo [and] couldn't be happier with the experience. [The] place is clean, my artist was nice, professional and friendly. ... Overall, no complaints -- smooth as silk, I'm happy with the result and would recommend the shop."
2. Baltimore Tattoo Museum
Next up is Fells Point's Baltimore Tattoo Museum, situated at 1534 Eastern Ave. With 4.5 stars out of 37 reviews on Yelp, it has proven to be a local favorite. The shop is as much a history of the profession and gallery of designs as a spot to get a tattoo.
The walls and hallways are lined with examples of artwork and machines and tools that have been used. The shop welcomes walk-ins and will work with customers to turn an idea into a creation. To view images or read about its artists, click here. 
Yelper Ric F., who recently reviewed Baltimore Tattoo Museum on Sept. 16, wrote, "When they say museum, they mean museum. While you wait for your tattoo artist to get to work on you, you have the opportunity to walk around the shop to look at art and take a trip back into time of tattooing. It's a blast!"
3. Saints & Sinners
Fells Point's Saints & Sinners, located at 1610 Thames St., is another top choice, with Yelpers giving the tattoo and piercing spot four stars out of 65 reviews.
From a tattoo of Boba Fett to Pee Wee Herman to full chest pieces, Saints & Sinners offers an array of options. It does both tattoos and piercings and, according to its website, aims to be safe, simple and gentle. The walls of the location are dedicated to past artwork. 
Yelper Alex A., who recently reviewed Saints & Sinners on Dec. 13, noted, "Cheyne pierced my industrial and it was painless, clean and amazing. I was scared about it but they were super informative and friendly. [I] highly recommend."
4. Charmed Life
Charmed Life, an art gallery and tattoo spot in Beverly Hills, is another much-loved go-to, with 4.5 stars out of 26 Yelp reviews. Head over to 4505 Harford Road to see for yourself.
On its website, Read Street Tattoo Parlour states, "We are not a regular tattoo parlor. We ink tattoos as art, specializing in custom-designed, one-of-a-kind work in a variety of styles that you cannot get anywhere else." To review the backgrounds of the artists or the shop's gallery, click here. 
Yelper Amy C, who reviewed Charmed Life on Nov. 20, wrote, "There are a few artists here, and in addition to their awesome tattoo work, they are all artists of other mediums. They all have work on display all over the shop, which is great to look at while being tattooed, and they are happy to answer any questions you have about their work."
5. Read Street Tattoo Parlour
Over in Midtown, check out Read Street Tattoo Parlour, which has earned four stars out of 27 reviews on Yelp. You can find the tattoo and piercing spot at 882 Park Ave.
It offers both tattoos and piercings, customers can schedule an appointment in advance or just walk in. It has plenty of artwork hanging on the walls and in albums to help customers choose a design or refine an idea.
Yelper Jim M., who posted a review on June 21, commented, "Everyone here made this first timer comfortable from the time I entered the place. Mike was awesome during the process, working with me on design and placement, and he eased my mind about what to expect. He's also an incredible artist, giving me a finished product that exceeded what I envisioned. I definitely recommend him and this parlor. "