By
Hoodline
- Published on January 24, 2019.
Interested in medicine? This weekend's lineup of meetups offers a great chance to network and expand your understanding of the medical and scientific fields, from a health care conversation to a STEM expo.
Hoodline offers data-driven analysis of local happenings and trends across cities. Links included in this article may earn Hoodline a commission on clicks and transactions.
---
Susan Dentzer Presents: Healthcare Without Walls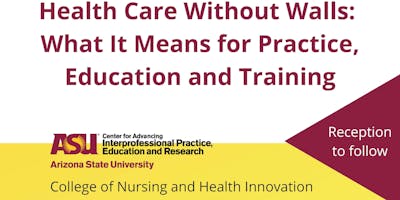 ASU's College of Nursing and Health Innovation will be hosting President and CEO of The Network for Excellence in Health Innovation, Susan Dentzer. In her presentation, "Health Care Without Walls: What It Means for Practice, Education and Training," Dentzer will conceptualize a convenient and accessible health care system that anticipates and meets the needs of its patients through the utilization of technologies like telemedicine and remote monitoring. 
When: Friday, January 25, 3-4:30 p.m.
Where: ASU Downtown Phoenix Campus - Health North Auditorium, 550 N. Third St.
Admission: Free
Click here for more details, and to register
Connect2STEM 2019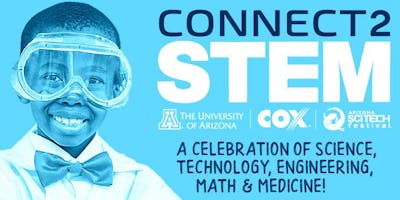 The University of Arizona is partnering with COX Communications in the fifth annual Connect2STEM, an event for children and families that focuses on science, technology, engineering and math. Attendees have a chance to win a free iPad and interact with over 150 hands-on scientific activities, including Suni the Robot, resources from the TechForce Foundation and more. 
When: Saturday, January 26, 10 a.m.-3 p.m.
Where: University of Arizona College of Medicine - Phoenix, 550 E. Van Buren St.
Admission: Free
Click here for more details, and to register
Connect2STEM 2019 Volunteer Registration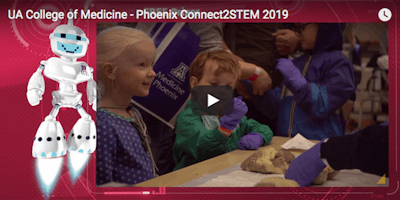 Hoping to volunteer for Connect2STEM? Register as a volunteer today to learn about the interactive exhibits and take part in encouraging students to pursue STEM-related degrees and occupations. 
When: Saturday, January 26, 10 a.m.-3 p.m.
Where: The University of Arizona College of Medicine - Phoenix, 550 E. Van Buren St.
Admission: Free
Click here for more details, and to register