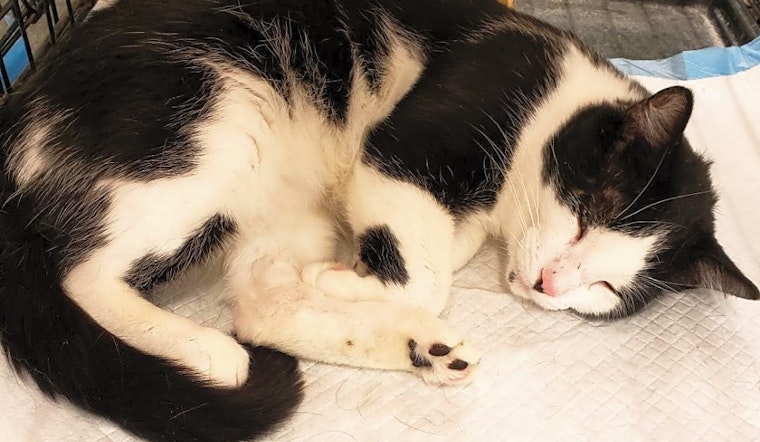 Published on May 08, 2020
Interested in adopting a pet — or just looking at some furry felines near you? There are dozens of great cats up for adoption at animal shelters in and around Cleveland.
Animal shelters and pet rescue groups work hard to care for unhoused pets and connect them to loving homes. Hoodline used data from Petfinder to power this roundup of cats currently available for adoption.
(Details like pet availability, training, vaccinations and other features are based on data provided by Petfinder and may be subject to change; contact the shelter for the latest information.)
---
Molly, domestic shorthair mix
Molly is an adorable female domestic shorthair mix that is being cared for at The Euclid Beach Cat Project.
Molly gets along well with other cats. She is already house-trained, has had all of her shots and is spayed.
From Molly's current caretaker:
Molly is three years old and a sweet girl who loves attention. Her favorite pastimes are eating and getting all the love. Molly is also quite vocal. She was found outside with her litter of kittens and had an ear already tipped; however, she was not fixed. Molly also seemed pregnant, but after x-rays and other diagnostics, we found she had pneumonia. She is FIV-positive but leukemia negative. 
Read more about how to adopt Molly on Petfinder.
Bowie, domestic shorthair
Bowie is a charming male domestic shorthair cat currently housed at House of Mews Rescue.
Bowie has mastered his house-training etiquette. He is already vaccinated and neutered. Bowie is a special needs pet, so please inquire about his specific care requirements.
From Bowie's current caretaker:
Bowie came to us because his owner passed away recently. He is a very unique, good boy. Bowie has all four paws declawed. He will come and cuddle for brief chunks of time but also likes his independence and personal space. Bowie is still very playful at 18 months old; he loves to roll over on his back to swat and bite at toys (and hands). 
Read more about how to adopt Bowie on Petfinder.
Elvis, domestic shorthair
Elvis is a handsome male domestic shorthair cat staying at Hood Catz Rescue.
Elvis is friendly as can be and gets along great with kids, dogs and cats. He's mastered his house-training etiquette. Elvis is also neutered and vaccinated.
From Elvis' current caretaker:
Elvis is a very loving, handsome cat. He has a calm and sweet personality. Elvis loves his wet food, so this will be a requirement of adoption he wanted us to mention.
Read more about Elvis on Petfinder.
Lola, tabby and domestic shorthair mix
Lola is a winsome female tabby and domestic shorthair mix staying at PAWS.
Lola loves other cats. She is already house-trained and has been vaccinated and spayed.
Here's what Lola's friends at PAWS think of her:
Lola was found as a stray kitten, along with her mother and two siblings. The words that describe Lola are delicate, gentle, fragile and sensitive. She looks like a porcelain baby doll. Due to her past experiences on the street, Lola has learned to be apprehensive of new environments and strangers. As a result, she responds well to gentle and slow movements. Any rough handling will send her into hiding. Once she settles in, Lola can be affectionate and playful. She enjoys chin scratches and gentle pettings; she purrs like a little engine when she is happy. Lola loves to play with toys, especially with the cat dancer or Da Bird feather teaser. Because Lola is shy and timid, she needs a family who understands her insecurity and lets her adjust to her new home on her terms. Lola will likely hide at first in a new environment; she will do much better in a home with another friendly cat or kitten to help her come out of her shell. She will make an excellent companion and playmate to a lonely resident cat. 
Apply to adopt Lola today at Petfinder.
Kris, domestic shorthair
Kris is a darling male domestic shorthair cat in the care of The Euclid Beach Cat Project.
Kris is a social animal, and he'll get along great with other cats. Good news: He is already house-trained, neutered and vaccinated.
Kris' current caretakers say:
Kris is a one-year-old all-black male who is just so handsome and sleek. He is a gentle giant with a kind heart. Kris enjoys hanging out with his foster friends. He is a cautious boy but does love his scratches. He's not a huge fan of being picked up, but he will show his affection in other ways. Kris opens his heart after he feels like he is home.
Apply to adopt Kris today at Petfinder.
Cowboy, domestic shorthair and tuxedo mix
Cowboy is a male domestic shorthair and tuxedo mix being kept at Viva Los Gatos Cat Rescue.
Cowboy is friendly as can be, and he loves other cats. He has had all of his shots, and he is neutered.
Cowboy's current caretakers say:
Cowboy and his little sister, Blackie, are the last remaining cats from a litter of ferals we named the "Scaredy Cats." As an adult, Cowboy is still a little skittish with strangers, but when he feels comfortable, he is inquisitive, playful, attentive and very loving. He has a perfect pink nose and pure white fur with black cow markings. Cowboy would do best with an experienced cat family in a home with adults and older children. He has been in his foster home for over two years and needs a patient family who can help him adapt to new humans in a new environment. In short order, Cowboy will be exploring the house, looking out the windows and napping on every available surface. He especially likes purring and stretching out next to his foster mom and foster sister. If Cowboy is not adopted with Blackie, he would be happiest in a home where he will have mellow feline companionship. He would need careful introductions to an existing adult cat, as he has not had positive experiences with the resident cats in his foster home. He has, however, quickly befriended the foster kittens sharing his space, so perhaps a kitten or younger cat could be adopted after Cowboy adjusts to his new home. 
Apply to adopt Cowboy today at Petfinder.
---
This story was created automatically using local animal shelter data, then reviewed by an editor. Click here for more about what we're doing. Got thoughts? Go here to share your feedback.