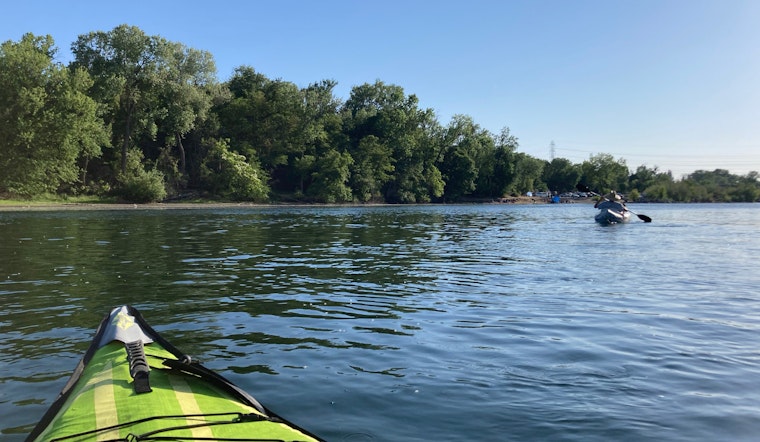 Published on June 18, 2021
This week, Hoodline's Bay Area Day Trips series is headed to the state capitol and heart of Old California. There's plenty to do, see and discover in Sacramento County, but during summertime in this landlocked county, we're all about the rivers. Read on for how to enjoy the stunning rivers and waterways of the county, plus other worthwhile excursions to sample some local history and ride the rails (both modern and historic). Enjoy!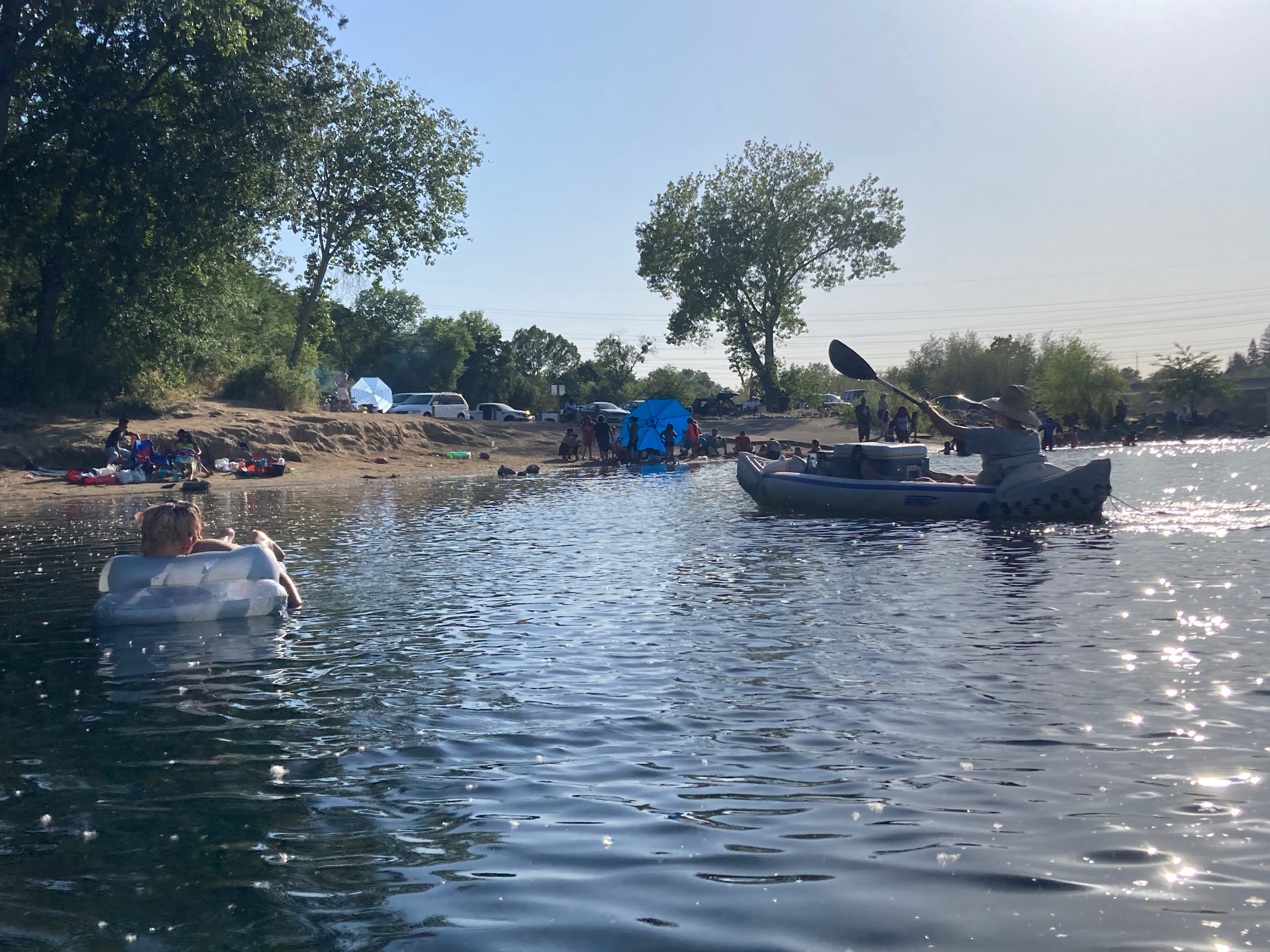 The Howe Avenue access point to the American River Photo: Laila Weir

Paddle, swim, or picnic along the rivers
Sacramento is home to two rivers, the Sacramento and the American, with an abundance of access points, picnic spots, and recreation opportunities. Bring or rent a stand-up paddleboard, kayak, or inflatable raft if you'd like to explore along these often-placid waterways, where you'll see all kinds of ducks, geese, and other river life. Or just pack your swimsuit and a picnic to enjoy the hot weather and pleasant swimming conditions.
The Howe Avenue access point along the American River is a good spot to launch a small boat or paddleboard. More information on the American River.
More information on the Sacramento River.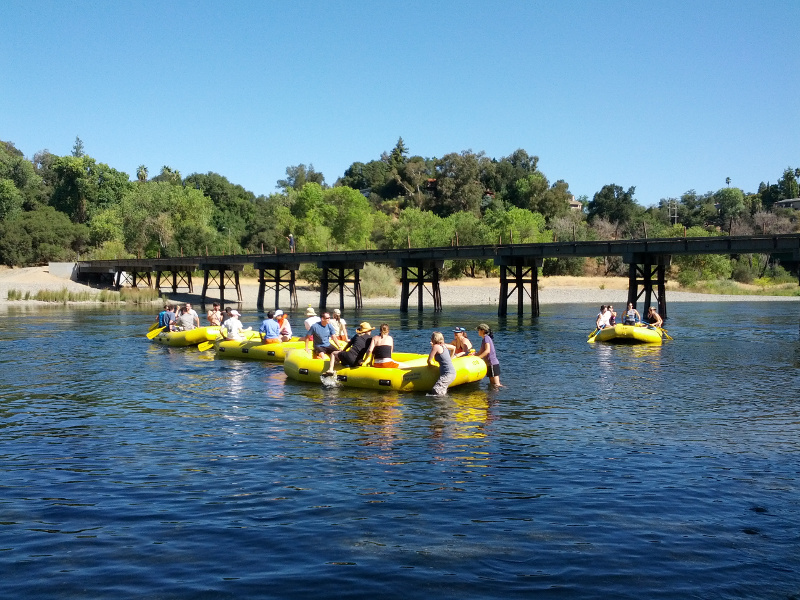 Rafting in Sacramento County Photo: American River Raft Rentals
Float downstream on a rafting trip
Try out some exciting white-water rafting or indulge in a gentle float downstream along the American River for some classic summertime fun. Great for groups, celebrations or just a fun family day trip. American River Raft Rentals and River Rat Raft & Bike both offer trips in the Sacramento area, well within reach for a day away from the Bay. You can also check out Oars for more rafting trip options.
More information: raftrentals.com, river-rat.com, www.oars.com/adventures/south-fork-american-river-rafting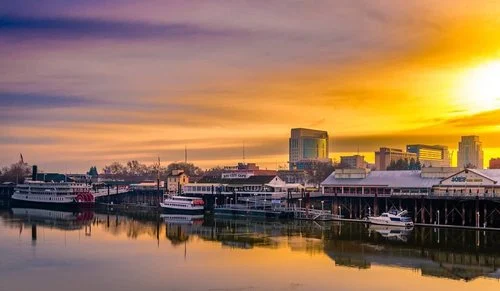 Photo: Cityexperiences.com
Take a river cruise through historic Old Sacramento
If you're looking for a more sedate way to enjoy the rivers of Sacramento, why not cruise along the waterfront of old-town Sacramento? Soak up the history of the Gold Rush days and the rise of our colorful state with a history cruise through its capitol city. Or enjoy eats and treats on any number of meal or cocktail cruises. An hour-and-a-half narrated historical lunch cruise offers the perfect combo and a great midday anchor for a day trip to explore the area. Spend the rest of your time onshore exploring the charms of Old Sacramento or historical landmarks like Sutter's Fort.
More information: You'll find numerous fabulous river cruise options in Sacramento. Check www.cityexperiences.com/sacramento/city-cruises/ and rivercityqueen.com

Beals Point, Folsom Lake Photo: Courtesy of California State Parks
Spend a day by the lake at Folsom Lake State Recreation Area
Located in the foothills about 25 miles east of Sacramento, this state park area is great for all kinds of recreation, from swimming, water-skiing, boating, and fishing to hiking, biking, horseback riding, and camping. If you're looking for a workout (and don't mind the heat), try the 32-mile bicycle path that connects Folsom Lake via various parks with Old Sacramento. Or just bring a picnic and maybe a fishing rod for a lazy day by the lake: Visitors can catch trout, catfish, bass, and perch. Swim areas can get crowded, but this sprawling park has many access points and something for everyone. The Folsom Lake State Recreation Area also includes Lake Natoma, downstream from Folsom Lake, which is popular for aquatic sports. But bear in mind that the lake's water level is very low this year!
The park has multiple entrances off both I-80 and I-50. For more information: www.parks.ca.gov/?page_id=500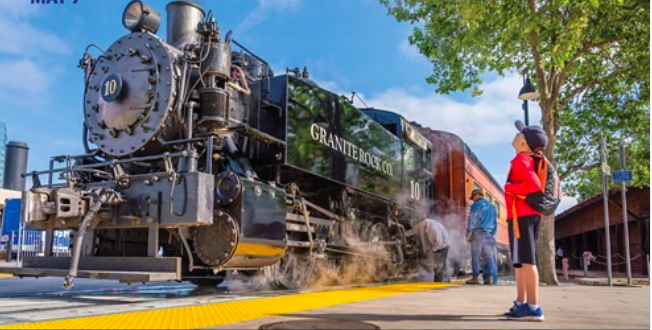 Photo: CA Railroad Museum Foundation / Instagram
Ride the train to the Railroad Museum
If you're looking to get out of the sun, consider a visit to the California State Railroad Museum and Old Sacramento State Historic Park. Visitors of all ages will enjoy this landmark, and families with train-obsessed kids especially (or railroad buffs young or old) will want to put it on their to-do list. You can even book a 50-minute round-trip ride in a train pulled by an historic steam or diesel locomotive along the Sacramento River.
Make a railway-themed day of it (and get a break from driving) by riding Amtrak's Capitol Corridor train to Sacramento from the South or East Bay, which stops within an easy walk of the museum. The train ride skirts the bay and delta, making for lovely views, and there's also wifi and a cafe car on board. Get off at Sacramento Valley Amtrak Station. Before or after your visit to the museum, grab a meal along the Old Sacramento waterfront, and maybe cool off with some ice cream or a beer before heading home. (Hey, you're not driving, right?)
For more information: www.californiarailroad.museum, www.capitolcorridor.org