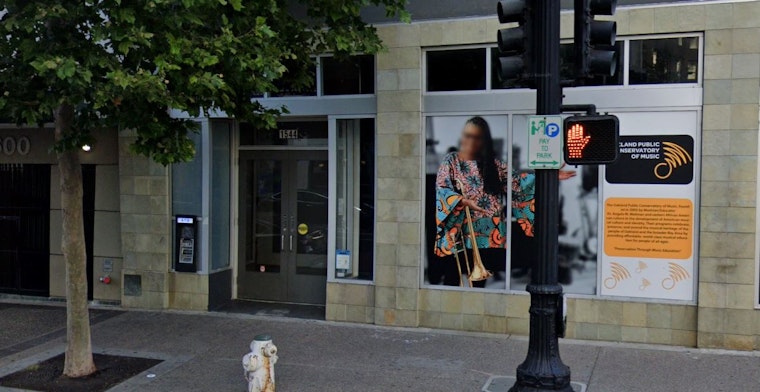 Published on July 27, 2022
A new LGBTQ bar that doubles as an event venue is in the works for downtown Oakland from the founders of Port Bar at 2023 Broadway, arguably the city's most well-known queer bar. Richard Fuentes and Sean Sullivan plan to open another place to party on Broadway called Fluid510 ("fluid five-ten"). The San Francisco Business Times reports that the pair has leased a 5,000-square-foot space at 1544 Broadway. It has 21-foot ceilings and will be flexible enough to host a regular bar crowd each night but also cabaret shows, art showcases, and even small conferences.
"There's such a need for event space, we're going to let the community program it," Sullivan told the SF Business Times. Fluid510 will achieve this by utilizing two bars, one near the entrance and one in the back, along with moveable furnishings and large curtain dividers. The plan for daytime hours at Fluid510 is to have the space have a more intimate feel with the back section curtained off. In the evenings, the curtains will be removed to reveal the large adaptable back area curated for electronic DJ concerts, drag shows, or theatrical-themed events. There will also be food service at Fluid510, but there's no word yet on what will be on the menu.
The goal is for the charismatic new bar to fill several voids in downtown Oakland. "Everyone is looking for midday places, after-work places, and nightlife options. The Oaklanders who were here before the pandemic and everyone who's moved into the towers need an elegant place to go — perhaps a place that hasn't existed before. This is about activation of the street," Sullivan told the SF Business Times. Helping Fluid510 stimulate the street will be a racy new nightlife spot called Feelmore Social Club which will be right next door at 1542 Broadway. PianoFight theater, which draws fans of film, art, dance, and comedy, is at 1540 Broadway.
We will see a preview of what Fluid510 has to offer in September, with the venue expected to host "afterparties for RuPaul's Werq The World Tour and Oakland Pridefest back-to-back," according to the SF Business Times. After that, it will be a while until we see the bar fully open. The goal is for Fluid510 to make its public debut around Christmas or New Year's.