The dream to turn an almost century-old movie theater near the eastern side of Lake Merritt in Oakland into the first-ever cannabis-friendly movie house is on hold, but it is apparently still in the works.
Oakland's historic Old Parkway Theater, located at 1834 Park Boulevard, was built in 1925, and the lobby now serves as a marijuana dispensary called Ivy Hill Cannabis. Over a decade ago, the theater was a mostly second-run movie house, with dorm-style couches instead of seats, locally famous for selling beer and pizza and allowing guests to eat and drink inside — sort of like a down-market Alamo Drafthouse, before Alamo Drafthouse was a thing.
Longer ago, it just a neighborhood cinema, like so many around the Bay.
"This was sort of like a lower-end art deco theater, not as grand as say the Paramount or the Grand Lake, they were all built by the same architecture group in the early 1920s. This was more like the working man's theater," Ivy Hill Cannabis manager Hilary O'Brien told KALW.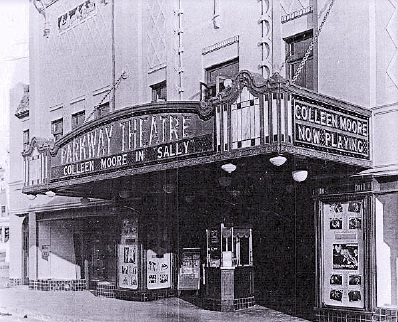 Photo Credit: CinemaTreasures.org
The former owners of the Old Parkway launched the beer-and-pizza thing back in 1996, but the movies stopped being shown at the 16,000-square-foot theater in 2009. Those owners moved on to open The New Parkway off a side street in the more bustling Uptown neighborhood, which is still in operation.
After the Old Parkway sat vacant for more than a decade, Bill Koziol, "a key member of Telegraph Patient's Group which operated the well-known dispensary Telegraph Health Center, secured a lease on the Old Parkway where he opened Ivy Hill Cannabis in 2021," per Oaklandside.

Photo Credit: @ivyhilloakland/Instagram
According to Oaklandside, Koziol has big plans for the theater, which include an area where "customers could consume or smoke cannabis inside while lounging on bar-styled seating and watching films." Plans would also include a pizza kitchen and a bar that serves cannabis-infused drinks. "The plan was to keep the sort of bar seating the way that the Old Parkway had it. To have a dab bar so you could come and get a cannabis drink," O'Brien told KALW.
Those plans, however, are on hold right now because of an ongoing lawsuit against Koziol. The legal action has put Ivy Hill under court-appointed ownership, which means someone new must purchase the dispensary before any renovations take place. "My hope, my secret, and not-so-secret hope, is that somebody sees the big vision with this place and buys it because they want to do the big vision. Renovating the theater, making this the first restaurant, entertainment complex, theater, and cannabis lounge that's ever existed. Legally," O'Brien told KALW.
For now, Ivy Hill will continue its normal cannabis operations in the lobby of the Old Parkway while the search for a new owner remains active. It could be years before a buyer steps in, but O'Brien and the rest of her 18-person staff are hopeful that the theater portion of the building will return to its former glory as a place where film fans can watch movies, but this time they'd be doing it while openly and legally using marijuana.